Greetings lads,
The turning of the calendar to 2019 has brought new conditions for us to take advantage of.  Climate change is more apparent than ever with weather volatility climbing to levels deniers and global warming believers alike have never seen.  Progressive leaders in Europe are actively shaping their policy to reflect these facts, as are the United States.  Here in America, our authoritarian leader is desperately trying to build a wall to keep the people attempting to migrate to livable parts of the earth down in their water-less deserts.  Until he does, Americans should consider us in a crisis state.  If  you have not secured land with a fresh water source you are setting your family up to be overrun by horrendous heat and desperate humans seeking asylum from the scorching sun.
Despite this national emergency, and the government shutdown, the systems we rely on to dictate our investment decisions have remained bullish.  Starting December 10th, Exodus flagged oversold.  It was very early and wrong, but just as the signal was drawing to an end on December 24th, another oversold signal was fired out.  This meant we had to hold our bullish positions.  While that secondary signal expired on the 9th, we had a less common but more bullish OVERBOUGHT signal on the 4th.  Therefore we continued pressing our longs throughout last week.  Here is what the entire cycle has looked like so far.  Quite the draw down, but back to UNCH…behold: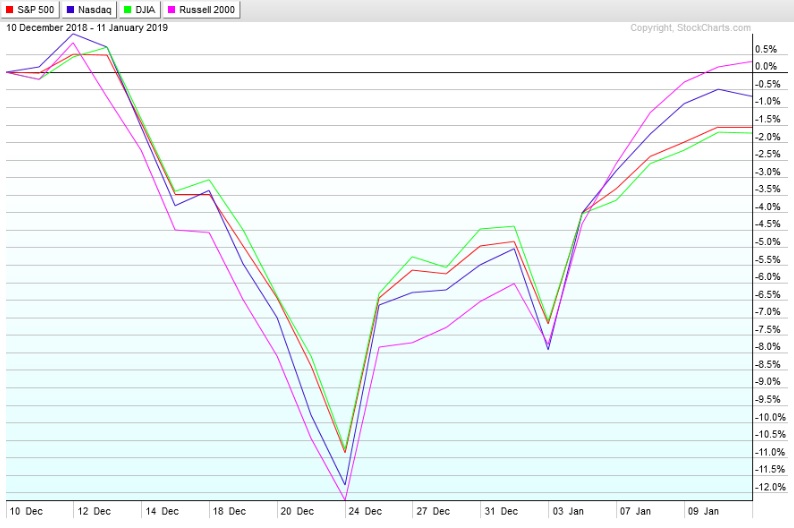 Now, heading into the second full week of 2019, the above signals have the added context of an extreme Rose Colored Sunglasses e(RCS) signal from IndexModel.  This signal calls for a calm, sideways drift in the upcoming week.
With the other context we cover in the Exodus strategy session, this all fits very nicely.  Expect to see a pause in price this week.  That would do wonders for easing recent volatility, and pave the way for some individual stocks to rocket higher.  In short, a stock picker's market.
You may not agree that the human impact on our planet is jeopardizing the ability for spaceship Earth to sustain life, but you cannot deny that taking our cues from the robots has been a better guide these last five weeks than the hair-on-fire government or media.
Choose your inputs wisely.  It's 2019.  Trust is hard to come by.  Robots expect a continued campaign back towards the highs.
Exodus members, the 217th edition of Strategy Session is live.  Check out the very telling context we discuss in Section III and at the end of Section IV
If you enjoy the content at iBankCoin, please follow us on Twitter