While tomorrow shows a slight statistical edge for a range extension down (per an outdated 3 consecutive unidirectional days study) and while the Russell futures are attempting to turn lower at a curious level (from Exodus Strategy Session) the KRAMPUS ALERT issued before Christmas has been lifted.
I scratching my $QID position in a non-event of a round-trip, but the alert still proved indispensable.  Over the course of our Krampus conditions, the /NQ_F went range extension down 8 out of 12 days.
Two of the days when the NASDAQ didn't go range extension down it offered huge morning rallies that faded.
Thus for ten days, or 83% of the time, it made sense to have a short bias, intraday.  Some of you may not grasp how valuable that edge can be.  For a small group who cares to study auction theory, good times.
It appears investors who held through the alert, long stocks, were good little boys and girls this Christmas—for they managed to escape the wrath of Krampus instead being showered with massive gains and winship on a national level.
iBC Labs threat level has been reduced to to Blue.
BULLISH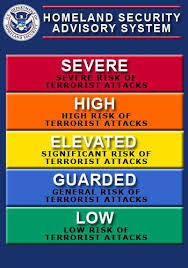 Exodus members, stay abreast with the Exodus Strategy Session. With a naked eye, it appears we are still near RCS conditions.  The next report will be out Sunday around noon.
However, also take a look inside the community notes regarding some observations of the system-wide algos.
Noobs, if you have any questions about my esoteric readings of the algorithms, auction theory, or plain old trading 101, fire away.  I'm grateful to understand many of these concepts and to be among others who are curious.
If you enjoy the content at iBankCoin, please follow us on Twitter