I was having a decent day in the markets. Recall, I have 50% of my money in the Exodus QUANT, which RAMPAGED THE FUCK HIGHER today for a substantial +4.2%. That pretty much negated yesterday's losses — so fuck yourself.
Then late in the day, NEWS HIT THE TAPE, that Trump wanted to buy off Black Americans to the tune of $500b, in what he calls an investment in Black America. It is The Godfather of all gibs and that shit, mind you, made black owned businesses that publicly trade — RAMPAGE THE FUCK HIGHER.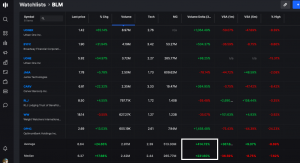 Lucky for me, as you can see above, I have a BLM index in Stocklabs and 1,000 traders in the Pelican Room, an army if you will, at my disposal. We got in heavily into those fucking bastards and I fleeced the market for +16% in BYFC and +20% in UONEK and hold CARV into Monday's jubilee.
In all, I finished the day +2.4% in my trading, +4.2% in my Quant. In other words, Le Fly is entirely back and yesterday's foray into misery, which with the benefit of hindsight, was nothing more than a way station to greater and much greener pastures.
Have yourselves a fruitful weekend, you fucking faggots. Off to drink some champagne.
If you enjoy the content at iBankCoin, please follow us on Twitter