In a surprise move, the ECB announced they would not end QE, as scheduled, in March of 2017 — but instead extend it through December of 2017 — albeit at a slightly slower pace. Instead of tossing 80b euro per mo into a flaming barrel of garbage, they'll toss just 60.
The subsequent result is a profound blowout between short duration govt bonds and long — a widening of the yield curve if you will. This is extremely bullish for European banks.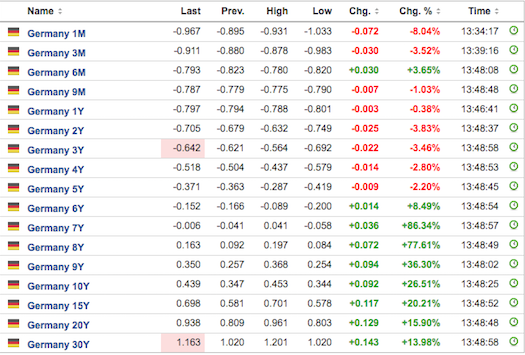 Additionally, the euro is down 1% v the dollar and bank stocks are raging higher.
The Eurostoxx 50 is higher by 1.7% — led by BBVA +5.2%, Intesa +5%, Santander +4.6% and Deutsche Bank +3.1%.
Italian banks are soaring too. Banca di Milano Scarl +8.8%, Banco Popolare +8% and Unicredit +5.8%.
Draghi: From April 2017, ECB net asset purchases to continue at monthly pace of €60 bn until end December 2017, or beyond, if necessary

— ECB (@ecb) December 8, 2016
Mario Draghi is explaining the ECB's decision to extend quantitative easing https://t.co/2bfL1H9OZK

Latest video: pic.twitter.com/ec7ZrjIidj

— Bloomberg TV (@BloombergTV) December 8, 2016
Bear in mind, the primary driver for the US bank rally was the widening of the yield curve, the spread between the 2s and 10s, from 70bps to 128bps. Right now in Germany, the spread is around 113bps — with the 2yr bogged down at -0.71%.
And this.
@ecb "without distorting them."

That was funny.

— Mark Vermeer (@IamTheDutchKing) December 8, 2016
Comments »