Example webinar from August 28, 2013
After Hours with the Option Addict
is a live interactive webinar/chat that takes place daily, after market close. Each webinar starts off by analyzing the day's market action. From this market analysis, a strategy is developed, supplying actionable ideas for the upcoming trading day.
Testimonials
"jbran" (Aug 8, 2014)
Swing traders take note: If you are looking to understand where the money is flowing  within the markets on a daily basis and learn how to trade set ups to follow that dough, then  After hours with the Option Addict is by far the best deal going. This one hour daily service is not a trading service per se, however with the setups that are brought to the table will outperform any "trading service". You will gain an understanding of the sentiment behind the curtains, which drives all market actions and reactions. Thanks Jeff for going above and beyond on a daily basis.
Shane W (Aug 8, 2014)
Joining AHWOA has been nothing short of amazing.  He has a unique ability to identify break out stocks over and over again based on technical analysis.  OA is not just a service, it is a community led by an experienced trader with great teaching skills.  I see myself being a member for a very long time and building equity right next to OA.
Rastgen (Aug 8, 2014)
OA has a unique grip on options trading, he can be a friend to you and your investment portfolio.  I am up a ridiculous sum of money after only a short time trading with the OA.  The education he offers you is priceless.  If you enjoy banking serious coin on a weekly basis as much as I do, you'll give his premium service a spin.
Mike R (Aug 7, 2014)
I've dabbled in trading options for over 8 years and have never been able to consistently make money; one decent win would be wiped out by a string of losses.  The After Hours service has taught me the thought process and trading strategy necessary to maximize the big wins in options trading while minimizing the losses.  Using the strategies and trade ideas discussed daily in After Hours with the Option Addict I have dramatically increased the returns in my portfolio. In the past two weeks I've realized option trade returns of 183%, 572% and 665%!  I can't recommend this service highly enough!
daveh (Aug 7, 2014)
I listen to Jeff's webinars religiously waiting for that next nugget of knowledge to better my trading.  In the past 8 months trading has become a part of me, something that I work at every day.  This drive is fueled by having the confidence and understanding that trading is not gambling, not luck but a skill.  Jeff teaches that skill with an honest no nonsense approach.
Anthony (Aug 8, 2014)
Ever since I joined your group last fall, it feels like the veil of mystery surrounding many aspects of the market has been pulled back. My understanding of the forces driving the market and my ability to find and execute high-probability setups have improved dramatically. Even though 2014 has been a challenging year for swing trading, it is primarily your guidance and the phenomenal support of the OA community that are allowing me to stay in the market and continue to succeed.
Lawrence (aka "CF4") (Aug 8, 2014)
OA has a unique and highly effective way to trade and invest, and AHWOA offers a chance to witness, participate, and learn on a real time basis.  Jeff is also an excellent teacher.  While I have only followed several of his trades (which already paid for this subscription many times over), the knowledge and perspectives are my true reward.  It's been a privilege to be part of this kick-ass community.
"Susan P" (Aug 7, 2014)
I joined AHWOA in mid-Dec, having followed blog for a couple of months, and after 4 years of beneficial PPT subscription.  Two months later I sent my first commendation to Jeff having booked gains that were previously unimaginable to me. Since that time the challenge has been to manage choppiness and ensuring that my losses are kept to a minimum – while taking advantage of upside opportunities.  Through Jeff's tutelage I have learned to have the discipline to minimize losses, not chase prices, and most of all – let winners run. Sounds easy – in reality terribly difficult. Till now.  The cost of the AHWOA is one of the best investments I have made to date.  I look forward to many years of informative webinars and "Banking Coin" with Jeffs guidance.
"Hattery" (Aug 7, 2014)
Although many sites are littered with disclaimers of how "results aren't typical", in my view Afterhours is the place where you go to learn how to get atypical results consistently. Thanks!
"Hisnibs" (Aug 7, 2014)
Jeff, it continues to be an awesome run. Based on how I have been trading for the past 6 months after about 9 months of your service I have boosted my expected value per trade dramatically... According to my simulations with conservative estimates... With 2% at risk per trade, those numbers project in my simulations to lead to an 87.6% chance of doubling your portfolio in 200 trades.
"J Michael McKay" (Aug 7, 2014)
I have been enjoying After Hours with Options Addict.  I am very new to options trading and have had wavering confidence about continuing to trade options until now.  Since I discovered After Hours with Options Addict I am learning "patience," "position sizing," "sentiment analysis" and "technical analysis" thus building my confidence and independence in stock picking.  I look forward to knowing I can share some of my "great" picks with the group as well.  I have started to get my accounts back on target.  I am also setting more aggressive goals. I intend to continue with After Hours with Options Addict for the long term.  Thanks Jeff!
"Michael M" (Aug 7, 2014)
Just booked a nice hotel room for a nice end of summer get away in NYC for the wife and I. Hat tip to you for us able to do this. Last year I had only 4k in savings and was almost unemployed. Now have close to 70k (small company dad owns is turning around but still only getting half pay). You change a lot of lives around here. You are an incredibly generous person. Will be in Vegas to shake your hand.
Halloween Pleb (Aug 8, 2014)
I've been trading unsuccessfully since 2004, my accounts have been deteriorating. I used to be one of the freeloaders on Ibankcoin and follow randomly a stock pick here and there. But it was until I heard about OA and his After Hours service and his huge gains with his famous TWTR call that got me hooked. On Halloween 2014 IBC opened a 3 days free access to everyone. Afterwards, I gifted myself the Gentleman Subs to all 3 services. Since then, I have rebuilt one of my account from -55% to +20% and working on the other one.
Jeff's ability to teach, his patience his us and our daily stupid questions and his genuine willingness to help us, put him in a category all by himself.
The only regret I have is that I didn't get to know about him 5 or 6 years ago.  If you're out there and debating it, just sign up now you piker! You won't regret it.
"matt_bear" (Dec 10, 2013)
If I were broke, jobless and homeless id pan handle my way to 100 bucks, show up at the local scottrade branch in dirty rags, and throw it into the next OA pick.
"Sethster" (Sep 20, 2013)
OA, I have no idea how you do it. I have been watching your picks for a while. It seems like 90% of the time, your stocks go up regardless of what the market does. Like today, YGE, FSLR and ANGI up while the rest of the market is down. I am a proud member of your service and will be signing up for a full year at the end of this month.
"Lanforce" (Sep 18, 2013)
Jeff, I have learned more from you in a week of membership than in 6 months of active option trading and membership in Zacks, Street (Options Profits), Option Risk Management and Stock Winners. For the first time, I feel like I can actually "see" a trade without doing 9 hours of technical analysis that still leaves me undecided.
"Uncle Buccs" (Sep 11, 2013)
I have watched in amazement this year as Jeff has eerily picked multiple BIG winners with pinpoint precision on iBankCoin. But Jeff isn't just going over 'hot picks'; there is significant time spent on how he finds these trades, and how one deals with the ever changing market. I'm receiving a valuable education from one of the best, and banking coin as well. I'm really pleased with the "After Hours" membership.
"Stocksrider" (Sep 11, 2013)
Your stock picks have been uncannily on the money. The service has been a sounding board for all kinds of ideas, trading philosophies, and crucial decision making process for my option trades. You have gone into great lengths to not just share the picks with us but also highlighted broader concepts like momentum, sentiment and volume in a far more practical manner than I have ever seen before. I have gained a lot of insight and a lot of coin following your advice.
"Cooper C" (Sep 10, 2013)
Jeff's service "After Hours" has been the best "No B.S." service I have subscribed to yet since I have started following the markets. True, I have made a little bit of money so far with his recommendations, but as cliché as it sounds, the educational factor of his lengthy daily videos has been far more valuable. This is stuff that would take years to learn from books, crammed into fun and actionable video recaps.
"Kevin" (Sep 11, 2013)
Aside from the enormous advance in understanding of technical analysis through the unique lens of Jeff's particular style, the most important impact "After Hours" has had on my trading stems from behavioral shifts and perception of sentiment. Jeff retrains you to NOT think like average Joe. Beyond that, the strategies he shares regarding managing trades are invaluable; things learned from decades of trading he is willing to share in a concise format for a ridiculously small price. The portfolio gains are a plus but the knowledge transfer is what will keep me coming back.
"Queen" (Sep 10, 2013)
I started reading your blog and I realized that you not only nailed trades, you took the time to explain your thought process and reasoning. You made a lot of sense of a very (at first) confusing and intimidating method of investing. I jumped at the chance to sign up for the after hours webinar and after only two weeks I am up $10,000. (This in a relatively small IRA). I love how you explain your ideas and give me expectations of the next moves in the market. I will stay a follower until you decide to stop. Thanks again.
"Sean P" (Sep 10, 2013)
OA, first and foremost, is clearly committed to the subscribers and their success as traders. This isn't just a service of "follow my entry into and exit from trades". This service teaches the subscribers how to look at the broader market on a daily basis and how to search for stocks that have a high probability of moving.
"Roberto" (Sep 10, 2013)
Option Addict's premium site has the uncommon ability to not only provide you with daily stock picks (which payed my yearly subscription in the first 2 trades) in addition to nightly tutorials that provide great insight into trading options, with an overall view of markets and market sentiment.
"Jack B" (Sep 11, 2013)
In the past 3 weeks your service has done a great job of removing all of the noise that is out there and helped me hone in on what is important. You have gone over a ton of information from market correlations, to sector rotation, to having the right mind set and even how much to put into each stock position. Without a doubt I think this is the best money I have ever spent on increasing my knowledge and skill set.
"Dan H" (Sep 11, 2013)
I have been a professional options trader for 14 years, and I am impressed with the way OA demystifies the world of options and puts it into terms that anyone can grasp.
"Adam" (Sep 16, 2013)
Afterhours with the Option Addict is a service that truly caters for all levels of trader and should not be missed by anyone. I signed up to the service as somewhat of a bigger when it comes to short term trading and options and feel like I have already learned so much in the first month that it has taken my trading to the next level! Not only in terms of the great stock picking that happens daily but in actually understanding the market and how to effectively manage your portfolio. If you are on the fence do not hesitate, I can comfortably say that you will make your money back and then some.
About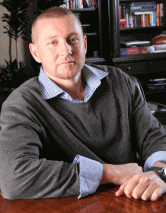 While his stock picking and trade timing efforts have made him extremely popular within the investment community, Jeff will be illustrating how he finds his trades and locates explosive price movements, with less than an hour of prep time each day.
Members of this service will have exclusive access to after-hours webinars, available after the U.S. market close, Monday-Friday.
These instructional webinars will last roughly an hour, and will be recorded for archiving purposes. In addition, time will be allotted for Q&A.
The service also features a blog detailing Jeff's market insights, and also a live chat room.