This is the stupidest shit of all time. How many faux rate hikes do we need to endure before people finally realize the Fed cannot hike? I'll play along. Don't worry.
Yesterday's housing numbers were so terrific, investors are anticipating a rate hike, especially ahead of Yellen's speech at Jackson Hole–later this week. Futures are mildly higher, so there's no immediate risk to equities. After all, the economy is great. However, the specter of higher rates has people curiously selling off commodities, en masse.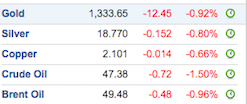 Also curiously, that same tentativeness is not being found in the bond market safe havens–with TLT still straddling record high territories at $140. It's worth noting, there haven't been any meaningful pullbacks in either the utility or REIT sectors–making the sell off in commodities all the more beguiling!
Comments »