Both Spanish and Italian markets are off by 2% and 1%, respectively, on political turmoil fears. In Spain, the government is corrupt and they got caught. This might lead to new election, which may bring forth a power who hates the EU and the institutionalized cronyism that is implicit with the bloc. In Italy, their new government are stacked with EU skeptics who might opt to leave the euro — all of this is wreaking havoc on confidence, a wholly necessary ingredient to keep the house of cards intact.
Spain. After Italy… Political Risk on the Rise

Bond Yields Soar, Ibex down. pic.twitter.com/BvInOjtePv

— Daniel Lacalle (@dlacalle_IA) May 25, 2018
Here is the news in the nutshell.
#BREAKING Spain's Socialists file a no-confidence motion against Prime Minister Mariano Rajoy after his Popular Party were found guilty of benefiting from illegal funds in a mega graft trial

— AFP news agency (@AFP) May 25, 2018
Italy's new pro-Italian gov is planning to deport 500,000 invaders over the EU's objections. This would be a crucial first step in reclaiming the West, both from a practical and psychological standpoint. Hopefully the rest of Europe will find the courage to follow Italy's lead pic.twitter.com/ga0nIzp4gZ

— Ciceros Son ?? (@CicerosSon) May 24, 2018
ITALY: Country potentially one step closer to leaving Euro as prominent Eurosceptic is favourite to become Finance Minister.

Paolo Savo said single currency is 'historic error'.https://t.co/JqGjVquY4Z

— Westmonster (@WestmonsterUK) May 25, 2018
Stocks will eventually recover from this tumult. The bonds in Europe will stabilize — because they always do, and those left holding the bag will be penniless and homeless again. After a decade of seeing these panics come and go, I really can't take them seriously anymore. It has a boy who cried wolf quality to it, so I'm going to assume this is all transient. Nevertheless, it's worth reminding readers of how very delicate the EU is and how their debt structure is lopsided in favor of the weakest countries, who, at some point, might opt out of the EU in order to print money.
Bad timing: #EU unveils pooled sovereign-debt plan amid German resistance despite debt standoff w/ #Italy. https://t.co/8GJXWRMC7P pic.twitter.com/Y4h1PcgmYn

— Holger Zschaepitz (@Schuldensuehner) May 25, 2018
Across Europe and in America, bonds are rally — classic risk off. All are rallying, with exception to both Portugal, Italy, Greece, and Spain — classic PIGS action. Look at the divergence.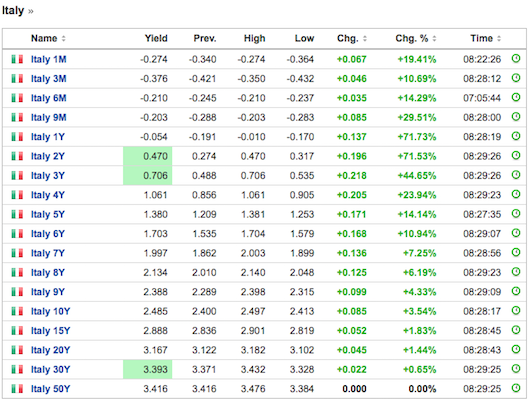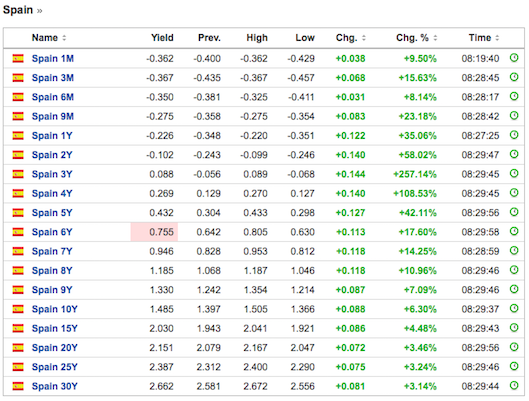 Another 'red flag' is the divergence between Spanish and Italian bonds.
The big story in Italian bond selloff isn't spread widening v Germany. It's v Spain. Italy/Spain yield spread now 103 bps, widest in over 6 years. Since euro launch, this is historically wide. HT @gusbaratta pic.twitter.com/t8fkx2gX31

— Jamie McGeever (@ReutersJamie) May 25, 2018
And let's not ignore the spread between Italian and German, right now at 2013 levels.
Italian 2-year bonds are now yielding the most versus German bunds since 2013. The move has been dramatic. pic.twitter.com/fGy8ncK1W4

— Lisa Abramowicz (@lisaabramowicz1) May 25, 2018
But are we really scared? Come on.
If anything, the N. Korean summit cancelation is a bigger deal — because it could affect Trump's negotiation tone with China. This very idea was floated by a fake news artist this morning.
I'm told there is an expectation inside the White House that President Trump will take a much harder line on China trade now that the NK summit is off. Aides believed that Trump was soft pedaling his natural instincts until June 12. Now that is gone.

— Eamon Javers (@EamonJavers) May 25, 2018
Last night futures were sharply higher — more than 35 NASDAQS; but now we're looking at a negative open. More panic, more nothing, great.
Pre-market, several retail names are shooting higher on better than expected results.
FL +15%, SCVL +6% and DECK +5% after earnings, NVS +1% after upgrade: ZOES -28%, HIBB -16%, ADSK -5%, SPLK -2%
Lastly, crude is getting poleaxed, off by 2.6%. Perhaps the negative seasonal trends have begun and WTI has finally topped? The dollar is also +0.4% on this very busy Friday.
Oh, and Happy Bday to me. Now I'm going back to bed. Wake me up if my stocks break out.
If you enjoy the content at iBankCoin, please follow us on Twitter