What brainlet thought this was a good idea?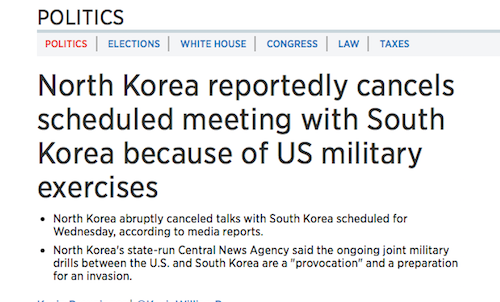 I can see how this went down.
"Mr. President, fuck N. Korea, let's bomb them."
"No, I want a noble peace prize. Let me talk to them first."
"Okay but let's do some military drills right before meeting."
"Won't that upset them?"
"No, quite the opposite Mr. President Sir. The only thing those savages understand is strength and power."
"So you're saying this will help me get a noble peace prize? I can't wait to see the look on Wolf Blitzer's face when I get one."
"Correct Sir. The N. Koreans will quickly surrender after they see how serious you are. Promised kept, remember?"
"Ok, do it. This is a good thing, right?"
"Absolutely."
BOMB N.KOREA.
If you enjoy the content at iBankCoin, please follow us on Twitter