Russia's Ambassador to the EU, Vladimir Chizov, made the bold claim today that the recent outrage over a chemical attack in the city of Douma, Syria was a complete farce, a hoax concocted by the 'white helmets' in Syria in an attempt to get US forces to bomb Assad.
Speaking with EuroNews, Russia's ambassador to the EU, Vladimir Chizov, said "Russian military specialists have visited this region, walked on those streets, entered those houses, talked to local doctors and visited the only functioning hospital in Douma, including its basement where reportedly the mountains of corpses pile up. There was not a single corpse and even not a single person who came in for treatment after the attack."

"But we've seen them on the video!" responds EuroNews correspondent Andrei Beketov.

"There was no chemical attack in Douma, pure and simple," responds Chizov. "We've seen another staged event. There are personnel, specifically trained – and you can guess by whom – amongst the so-called White Helmets, who were already caught in the act with staged videos."
Lending to the credibility of this claim is the fact that Russia had warned of this very thing last month.
"We have reliable information about militants preparing to falsify a government chemical attack against civilians. In several districts of Eastern Ghouta, a crowd was assembled with women, children and old people, brought from other regions, who were to represent the victims of the chemical incident, " Gerasimov said.
In regards to the reliability of the sources on the ground in Syria, from a media perspective, here's a Canadian journalist laying waste to the propaganda being fed to you by corporate controlled media.
Here's Russia's take tonight, which is getting more pointed towards Trump, to say the least.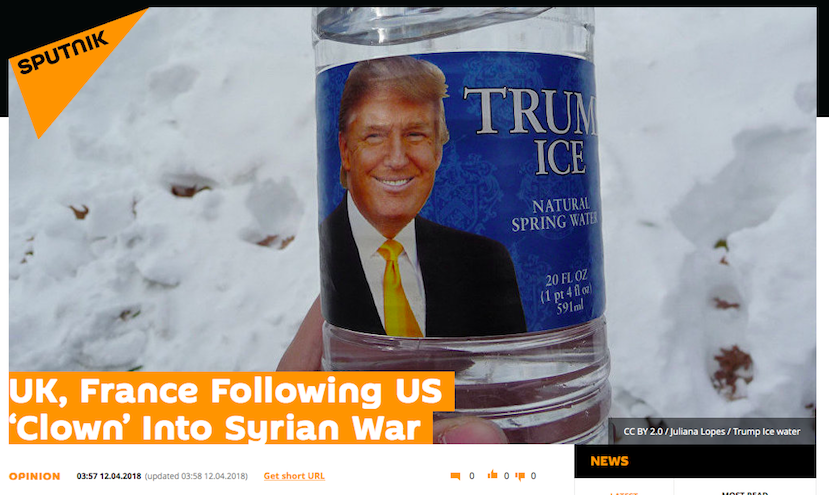 The buzz on twitter tonight is backchannels are being used to deescalate the crisis. Let's hope American warmongers STFU and mind their business.
If you enjoy the content at iBankCoin, please follow us on Twitter