Get inside of the fucking seed box.
This one is simple, since there are only 3-4 related names in the space so far.
RKDA came out with news regarding their Frankenstein wheat.
Arcadia Biosciences, Inc. (RKDA) has achieved two key technology milestones in its High Fiber Resistant Starch Wheat program. First, through advanced screening and traditional breeding techniques, the company has developed non-transgenic wheat varieties that contain up to 94 percent amylose, the highest levels available. Increased levels of amylose correspond to high levels of resistant starch, which has been proven to deliver significant health benefits. Second, these same wheat varieties deliver levels of total dietary fiber high enough to meet the threshold required by the FDA for a "Good Source" of fiber or "High in Fiber" designation on consumer packaging.
As a result of curing world hunger, this shit happened.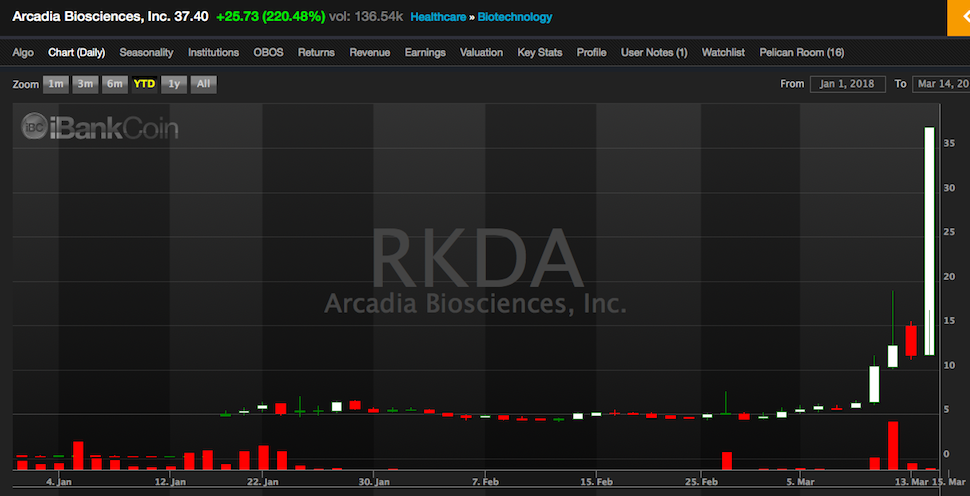 Doing a cursory keyword search in Exodus, I found three other companies in the agricultural biotech space: SEED, YTEN, and FLDM.
I bought both YTEN and SEED.
Regarding SEED, this one has an added bonus. Last year they inked a deal with RKDA to codevelop some Frankenstein corn. Should the corn work out half as well as the wheat, well then, the stock should trade to a billion.
Origin Agritech & Arcadia (RKDA) announce a collaboration to achieve the export of a corn biotech product developed in China to the US for completion of global regulatory trials; financial terms not disclosed (2.08) Arcadia and Origin signed an agreement under which Arcadia will assist Origin in developing information for submission to regulatory authorities in the U.S., China and other countries for the approval of their traits in corn. This project involves production of inbred and hybrid seed lines under quarantine conditions in Arcadia greenhouses. "The successful movement of this corn seed, containing an insect resistance/herbicide tolerance trait discovered and developed in China, to the Arcadia greenhouse represents a key milestone in Origin's strategic business plan to achieve global regulatory approvals for cultivation and international grain movement."
Markets are Yellen soft right now — but I am hopeful that the aforementioned companies above can soar on news of curing world hunger, feeding the children and the babies, making food great again.
If you enjoy the content at iBankCoin, please follow us on Twitter