Although tempted to criss cross in the opposite direction and stick a spear into the head of Cramer and his bearish semis call — the man is right. There is a very large brain inside of that very ugly head of his. The lot of you are Cramer haters because you're jealous of his success. Admit it you fucking faggots.
Here's Cramer saying the recent rally in the semis is based on 'absolutely nothing', a fucking byproduct of asshole 'pajama traders' not knowing what to do with themselves. HINT: stop making bad decisions.
Cramer says fade semis — only 'pajama traders' are retarded enough to bid them up pic.twitter.com/TCjqFXVWQx

— The_Real_Fly (@The_Real_Fly) March 14, 2018
I posted that vid on Twitter and this just about sums up the people's reaction to it.
Buy semis!! pic.twitter.com/WJEtwxsTxT

— ?? (@HODLSatoshi) March 14, 2018
But hang on there a second, fucked face. Have a look at this chart.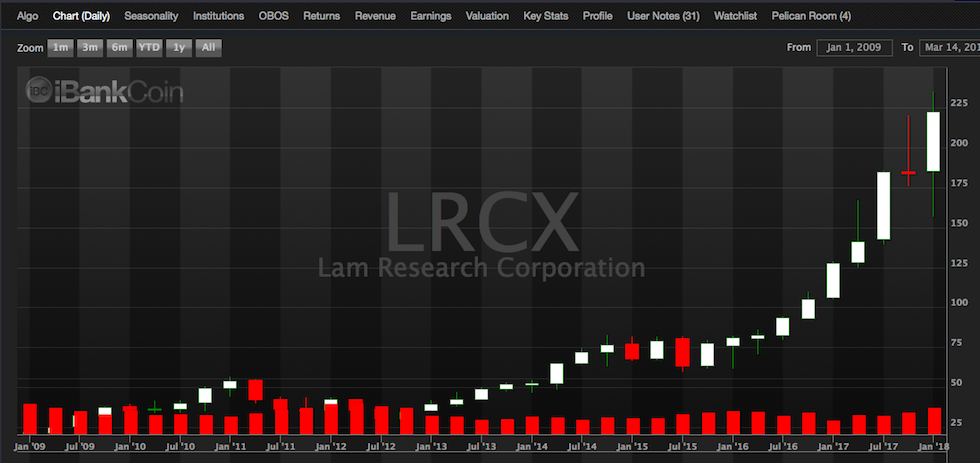 Fuck LAAAAMB research. Don't sit there and tell me that shit is normal. How many times have the semis crushed investor portfolios over the past two decades? I recall making so much bank in the sector in 2004, only to get shredded in January of 2005. It really was something to behold and will not reflect in the indices or the records that you could access now. You just had to be there.
Now if you're an investor in the semis today, you think it's all peaches and cream. Why, you think NVDA and LRCX just invented time machines and managed to figure out how to create money out of thin air, just so your fucking share price could keep climbing up. But the world doesn't work like that, asshole. What is good today is rotten tomorrow. Go chop open an avocado and leave it unattended for a few hours and then try to eat it. It'll be black and disgusting and you won't like it one bit.
That's what the semis will look like very soon — a disgusting black avocado that has been left out on the table for too long.
As such, I bought SOXS. I am now long LABD and SOXS — positioning for the era of the short.
If you enjoy the content at iBankCoin, please follow us on Twitter