Big deal, right? He's been short TSLA for a few years now, stacking up the losses. Now, all of a sudden, he's figured out that McDonald's is doing well. What sort of rock has this man's head been under?
I love it when these elitist try to take positions in eatery stocks that they've never dared to step into in real life. Chanos sees McDonald's and Shake Shake and only acknowledges the numbers — not the distinct differences between the fare.
Nevertheless, he's letting the world know his biases, short the American hammed burger. As a vegan/pescatarian, I applaud his efforts.
Source: CNBC
The "problem in the burger space, where we happen to have a number of shorts, is that the 800-pound Big Mac got better. McDonald's righted the ship and has now reinvested aggressively in its restaurants, in its franchisees and upping the game for everybody else," he said. The burger market "is a shrinking pie. When the big guy begins to take more of the shrinking pie that leaves a lot less for everybody else."

The investor did not specify which companies he is short. He did say his firm is not short McDonald's nor Shake Shack, but "everybody else pretty much is fair game" to bet against in the burger industry.
He explains…
"Because you can only increase as a franchiser, your revenues by increasing units, increasing same-store sales for which you get royalties, or increasing your royalty rate. The restaurants are struggling so you can't increase the royalty rate. The reason why they are struggling is that same-store sales are declining, which means therefore to meet Wall Street's sometimes lofty goals you have to increase unit openings …. which exacerbates the [negative] trends."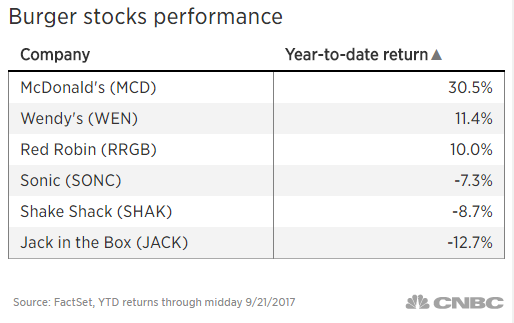 If you enjoy the content at iBankCoin, please follow us on Twitter