The run in Bitcoin was never a grass roots moment of human enlightenment like so many advocates want you to believe. It started off as a pyramid scheme and then morphed into a denizen for money laundering and financing criminality. Now it's simply a manner by which wealthy Chinese can move their yuan out of China and into safer currencies.
The price of Bitcoins are crashing this morning, after it was revealed that the PBOC have visited three Bitcoin exchanges in an effort to reign in investment and to make sure people are taking a rational approach to the faux currency.
In other words, they want people to cut the shit out and leave their money in Chinese banks — because the country is doomed.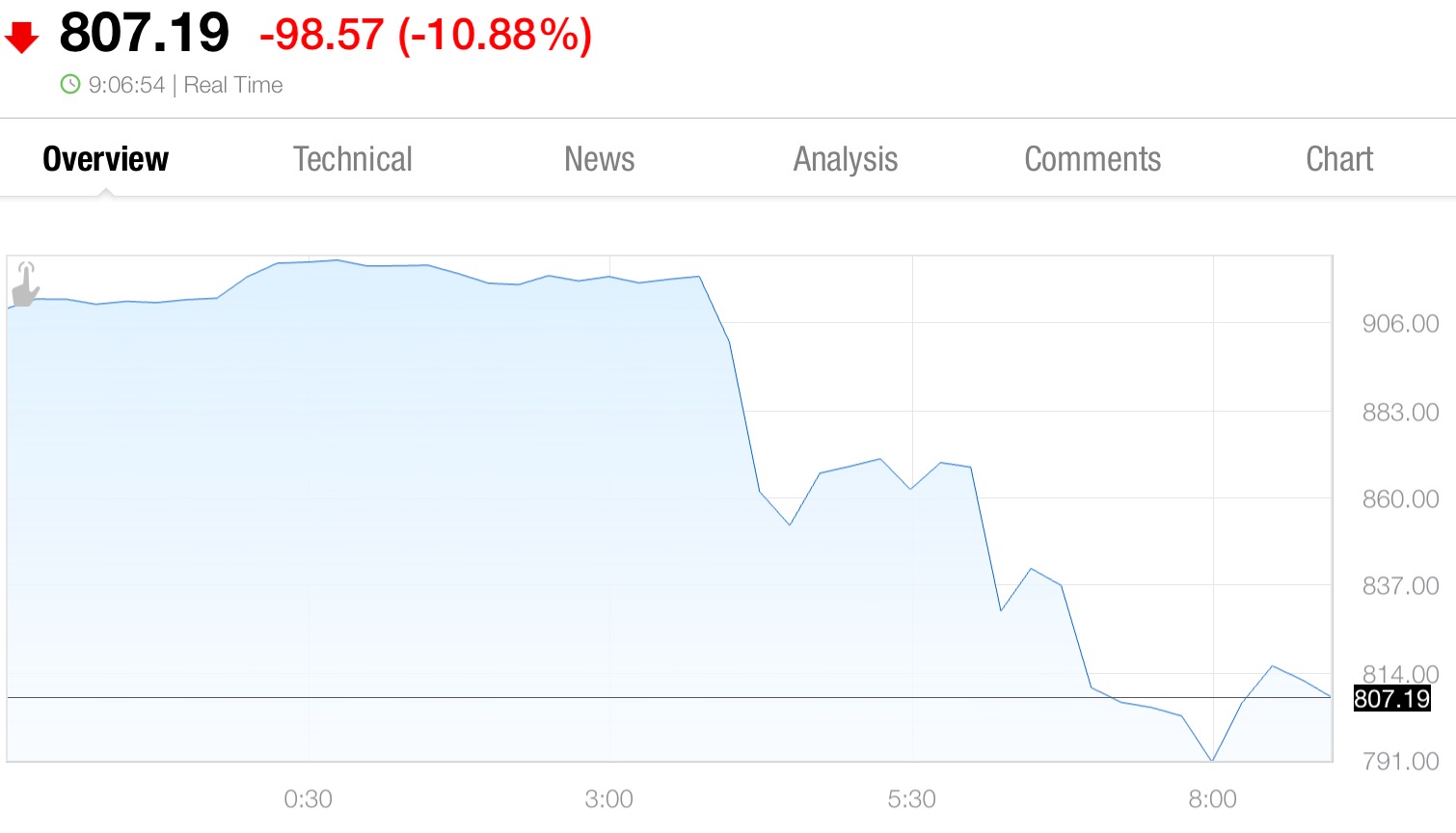 The People's Bank of China (PBOC) said its probe of bitcoin exchanges BTCC, Huobi and OKCoin was to look into a range of possible rule violations, including market manipulation, money laundering and unauthorized financing. It did not say if any violations had been found.

The PBOC in Beijing, where officers visited the offices of OKCoin and Huobi on Wednesday, said in a statement that "spot checks were focused on how the exchanges implement policies including forex management and anti-money laundering".

Separately in Shanghai, the PBOC said it visited BTCC, noting its checks "focused on whether the firm was operating out of its business scope, whether it was launching unauthorized financing, payment, forex business or other related businesses, whether it was involved in market manipulation, anti-money laundering or (carried) fund security risks."

"Selling is being driven by China. The fear is that … this investigation could lead to, worse-case scenario, funds being withheld from them (Chinese investors) or one of the exchanges being found to have acted improperly," said Charles Hayter, CEO of digital currency analytics firm Cryptocompare.

"This is a ratcheting up of the rhetoric from the Chinese authorities – instead of 'we're watching' you, it's now 'we're investigating' you," he said.

According to his analysis, Hayter says trading between the yuan and bitcoin accounted for around 98 percent of the total market in the past six months.

"The long term implications of this are positive as more rigor in the Chinese market only matures and brings respectability to the industry – but in the short term this could effect volumes which have been one of the key drivers of the recent rally," Hayter added.

Bobby Lee, CEO of Shanghai-based BTCC, confirmed the PBOC visit, but said he believed the company was not out of line.

"We're definitely vigilant. We think we are in compliance with all the current rules and regulations of running a bitcoin exchange in China," he told Reuters by phone.

"I wouldn't call it an investigation. I think they are working closely with us to learn more about our business model and the bitcoin exchange industry. We had a very fruitful meeting today," Lee said.

A Huobi executive, who declined to be named, confirmed the PBOC visited its office on Wednesday, but declined to provide details. A spokeswoman for OKCoin told Reuters its platform was operating normally, and the exchange was working with the authorities.

Last week, PBOC officials met with the three exchanges, and the central bank publicly urged investors to take a rational and cautious approach to investing in bitcoin.
If you enjoy the content at iBankCoin, please follow us on Twitter