Listen to me you late Lucy's: the biotech index comprises of 75% of the winners up more than 30% for the year, thus far. In other words, all of the spec money is being made in one fucking sector. Let me remind you, this is a sector without profits and in many cases revenues.
As per Exodus, have a look at the valuation of the biotech sector, compared to previous years.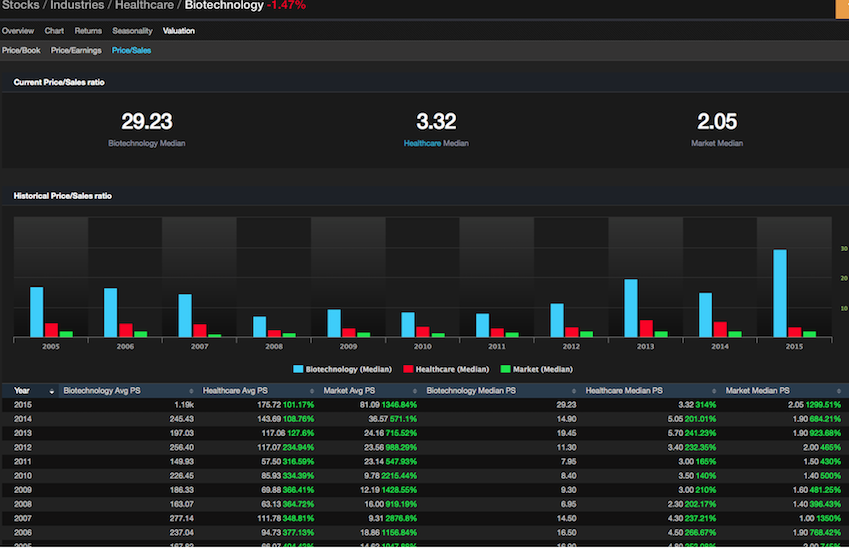 The median price to sales ratio is now upwards of 29x. That's fucking lunacy. Within the drug sector, the majors, the median PE is 40 and the median p/s is 7.69–taking into account all drug companies with caps greater than $5 billion.
Naturally, you're inclined to disagree with me, as is the case during most euphoric runs. While it's true, innovation and evolutionary change is transpiring in the biotech sector right now; it's also true that many of these companies are merely in phase 1. In the past, a phase 1 company would be valued in the low $100-$200 million range. Now they're worth in excess of a billion. Too much dumb money is abundant in this one space. Get out now, else lose your nuts in the great biotech collapse of 2015.
I am not calling for a market pullback. Instead, I think we will see a rotation out of biotech into stocks that are growing fast, but haven't run yet.
Names that pop up in my screens include: SBNY, BIDU, BABA, GLW, PCLN, AAP, PACW, FB, CMG, MIDD, SWI–just to name a few.
A rotation out of biotech into tech, banks and retail would be healthy for a prospective bull market in 2015. Should we continue running up biotech like this, the eventual collapse is going to be worse and investor sentiment and subsequent washout will be exponentially more painful.
If you enjoy the content at iBankCoin, please follow us on Twitter