Something doesn't feel right about losing all of this money. I can't put my finger on it. Rumors of hedge fund blow ups. The media is crapping on "momentum stocks" when in fact they are growth stocks. I was told a long time ago to buy when there is blood in the streets. When everyone is running one way, go the other. This has to cessate and we must bounce. Even in the worst of markets, you get a bounce. I have one more slither of cash left reserved for averaging down and I have no choice but to save it for Monday.
I'd like to buy now. Then again, why should I since everything might crumble to pieces on Monday?
In all of the years that I've been in this business, I've NEVER seen the IPO whorehouses, assisted by the vulture capitalist houses, be so blatant in their disregard for the investor. To hell with GRUBHUB and all of these S-1s that are being filed. How the hell can you justify bringing a tech company public in the midst of an epic rout in tech stocks? It's borderline criminal, at a minimum morally corrupt.
Have a look at how many IPOs are on deck to be priced. It's amazing.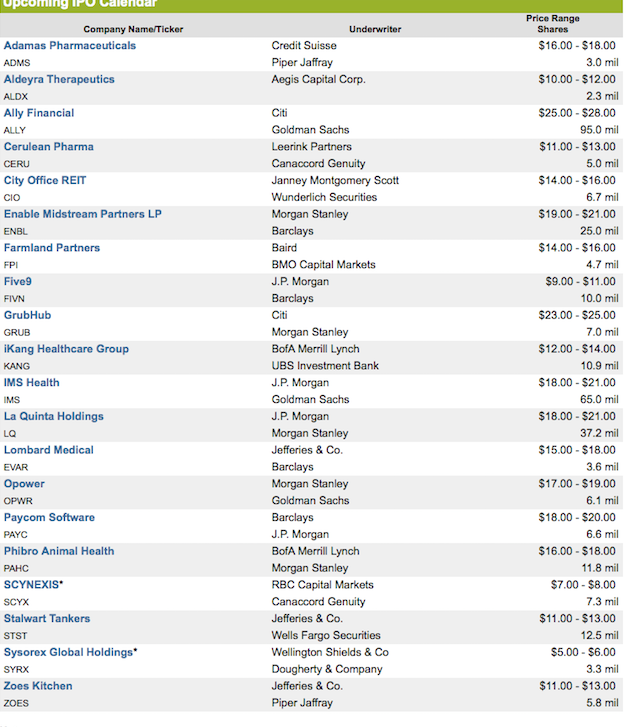 Anyway, keeping with the standards of iBC, all tabbed bloggers will be catering to you this weekend, with ChessnWine doing a special video overview Saturday or Sunday. Additionally, I might allow for free passage to all premium services, After Hours with Option Addict, The PPT and 12631, on Monday and Tuesday. We will get through this, one way or another. We always do.
Right now I am trying to put together a list of hedge funds who are getting smoked. I might post something about that this weekend.
If you enjoy the content at iBankCoin, please follow us on Twitter