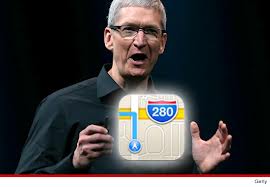 Timothy Cook, Bozo in Chief, Apple

It was an impossible task, following in the footsteps of a modern day legend, the boss of all bosses: Steve Jobs. Since taking the helm, Timothy has done nothing but collect cash. Like an old man during the great depression, Timothy Cook has presided over the largest hoarding of cash the world has ever known. More so, he has refused to share the wealth with his indoctrinated, yet depressed, cabal of apple sycophants, in favor of sitting back and eating yams. You heard me: YAMS.
After the stock had shed more than $300 BILLION in market cap, Timothy Cook announced "big news" this evening. It wasn't a flashy conference, where he'd unveil a new product, whether it be a teevee or a Dick Tracy styled watch–a bone of sorts to the hounds who follow Apple. Instead, he announced the company would buyback $50 billion worth of its shares, borrowing from the playbook of the incompetent idiots at HPQ. He also announced they'd increase the divvy on AAPL to 3%,  still 0.1% below the S&P 500 average–a great tragedy.
This man is an outsized idiot.
Initially, Wall Street cheered the news and popped champagne corks into the faces of those who bought puts–sending the stock up by 6%. However, the rally was quickly crushed, alongside the spirits of the indoctrinated, when Timothy announced Apple had nothing going on until the Fall of 2013–with regards to product development. Naturally this leaves the company exposed, gives license even, to Samsung and others to continue feasting off  of Apple's fat belly.
There is no man who can equal the idiocy exhibited by this man.
All the market wants is a screen, mind you, that is 1-2 inches bigger. If Mr. Cook and his merry band of cash hoarders had caved into the whims of the world, the market cap might have increased by $75 billion this evening. Instead, the shares have done nothing, because Timothy Cook has done nothing.
The good folks over at iBankCoin call for the immediate resignation of a Mr. Timothy Cook. He may take his degenerate board of perverts with him and sail the seven seas until the salt dehydrates them into dust.
The next CEO will borrow $100 billion at absurd interest rates and give it back to the people, the indoctrinated, so that they might go out and spend said dollars on a new Apple teevee device, which will be smartly retailed at $3,500 per unit.
Until Timothy leaves the company, I'm afraid the shareholders of AAPL will be prisoner to his autocratic ways, subjected to harrowing indecencies and lack of proper corporate decorum/etiquette.
May his head hang in shame, as he sullies the good house of Jobs.
If you enjoy the content at iBankCoin, please follow us on Twitter