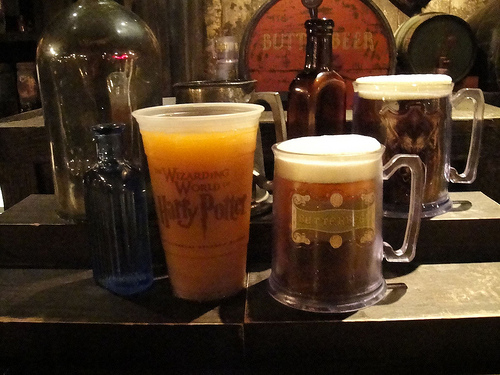 If there is one word that summed up today, that word would be "BUTTERBEER." Whilst my wife, daughter and two sons made their way to some lunatic air swing ride thing, I made my way to the BUTTERBEER line. To be honest, I had no fucking idea what BUTTERBEER was, nor do I know why I keep capitalizing the word each and every time I write it. Nevertheless, I wanted to drink it because I am a purveyor of butter and I've been known to quench my thirst with select artisan beers. Granted, both butter and beer in the same sentence makes as little sense as China loosening bank reserve requirements while dealing with $119 Brent crude; I wanted it nonetheless.
As fate would have it, my family ended up scrapping their plans to partake in aerial lunacy, specifically due to the long line. They had no idea where I could have drifted off to, as I was supposed to meet them in exactly 1 hour. However, my reputation tends to precede myself in the most egregious way, helping them pinpoint my locale without equivocation: THE BUTTERBEER line.
Ashamed to be seen on such a line, I wore a hat and pulled it close to my eyes, so that no one could see me (please note, this same hat was later eaten or lost or knocked off my head–gone forever– done in by a T-rex/rapidly falling boat combination); but it was of no use. I drank up the BUTTERBEER and felt disgusted by the whole ordeal. I tossed it into a trash bin after drinking just 5/6th's of it, then headed off in search of a disgusting and absolutely grotesque turkey leg–unnatural in both elephantine size and brackish taste.
If you enjoy the content at iBankCoin, please follow us on Twitter