We are fast approaching one month of static returns for the book of Raul.  November 18th my book peaked in tandem with the swing high in ONVO and turned lower.  Still much a drunken off my superfluous hot streak, I bought WLT with funds from cashing out of AAPL (note: this required me buying said shares a few days later.  It was a sublime exit and reentry, traded like a true scalper, but perhaps more than necessary for a swing book) and cut losses on SFM and YGE.
A few short days later I bought the dip in GOGO and more CREE.  The GOGO and AMBA are who returned me to prior portfolio highs and propelled my book gingerly above prior high mark last Wednesday…you know, back when the market was going down and I was 90% long.  Then starting Thursday the bulls stampeded higher.  SOL also sent a chill across the collective spine of solar stocks, especially the YGE I have been so eagerly accumulating, effectively sending me back to Mid-November gains.
So much progress forfeited in the name of MOAR. The worst part is I like solar stocks even more at these prices.  Goodness, if my book had any cash lying around I would have been buying FSLR today.  Am I sick?  I do not believe so, when I observe the FSLR weekly chart (I know, stretching my timeframe to justify a trade) I see exactly the type of conditions I thrive in.  Have a look: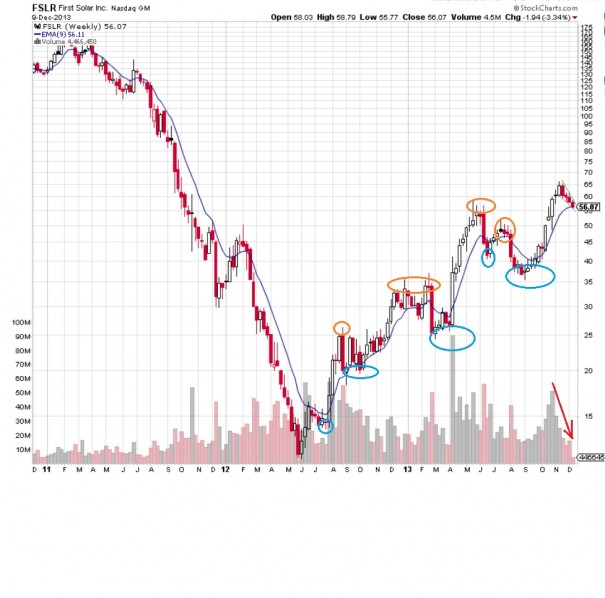 So I may forego hitting my 33% return goal on my swing portfolio, darn…I really need that money January 1st to buy tacos and such.  I suppose what I am saying is I do not answer to anyone, this is my money, and I like my odds over the next few weeks.  It is the god damned holidays anyhow, who wants to be ferreting for giblets when they can play Edward ham hands?
I doubt however that I could play this trade as slow as LED.  That trade has been violently dead since the summer.  Net-net they are a very green shoot in my annual performance, but we have been operating on the wrong side of the chart for quite some time.  I suppose the shear age of this correction and my optimism for the industry as a whole is what has me currently positioned more aggressively now than I have been since early March.
Final thought, the NASDAQ is up 3% since November 18th.  I am unchanged.  This means nothing to you.  It means everything to me when I glue my brain to NASDAQ 2-6 hours per day.   Here's me verses the indices: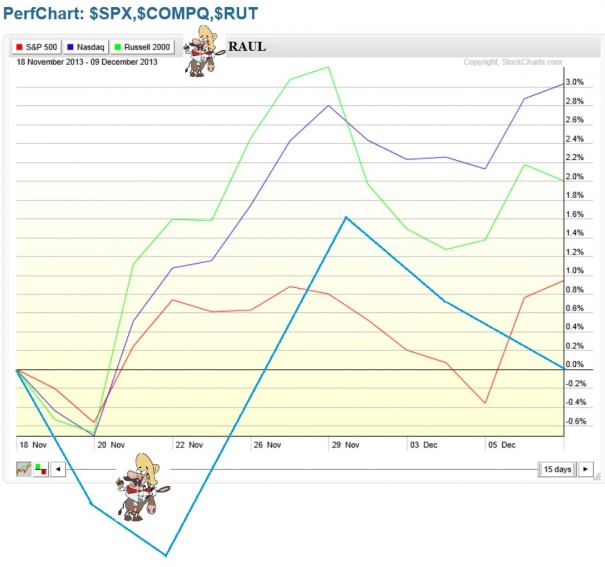 I am still 100% long.  I tried doing something, anything today, and no matter how hard I tried I could not justify selling anything.  I feel good about that.  Selling for the sake of selling, driven mainly from emotions associated with wheel spinning, seems like work for the sake of work.
When something breaks I will fix it, and I can't sell YGE down here.  I can sell it lower.  I can sell it higher, but I can't sell it here.
If you enjoy the content at iBankCoin, please follow us on Twitter