Bunker has been busted. But now the model is bearish.
My brains a bit mushy lads. I worked the streets hard, 6am – 11pm, selling corns and peppers and whathaveyou, then went to a disco rave until about 4am.
Fueled only on cheap swill and Italian rage.
And while you may wonder if this depleted state affects the ability to perform an analysis, rest easy knowing that this is the 400th report. I've been doing this for 400 weeks good loard.
Pretty much just a robot at this point. I am actually typing this out whilst being on a phone call. Clicking the keys extra loudly to let them know I am sick. If I was halfway decent at coding this whole thing could probably be automated.
But for now I am the cog in the machine and I went in and spun the drive and voila! Data.
Okay that's it. I added some META and AMZN and /eth last week. To the long term accounts. If those entries go under water — so be it.
Raul Santos, September 11th 2022
And now the 400 strategy session. Enjoy.
---
Stocklabs Strategy Session: 09/12/22 – 09/16/22
I. Executive Summary
Raul's bias score 3.45, medium bull*. Buyers continue to press the tape higher early on. Then look for sellers to step back in, perhaps after the Tuesday morning CPI data, and work price lower on the week.
*Rose Colored Sunglasses bearish bias triggered, see Section V
II. RECAP OF THE ACTION
U.S. markets were closed Monday in observation of Labor Day. The holiday shortened week kicked off with some sharp selling which continued overnight into Wednesday. Then we had a sharp rally across the board Wednesday. Choppy Thursday. And then a continuation rally Friday and into the weekend.
The last week performance of each major index is shown below: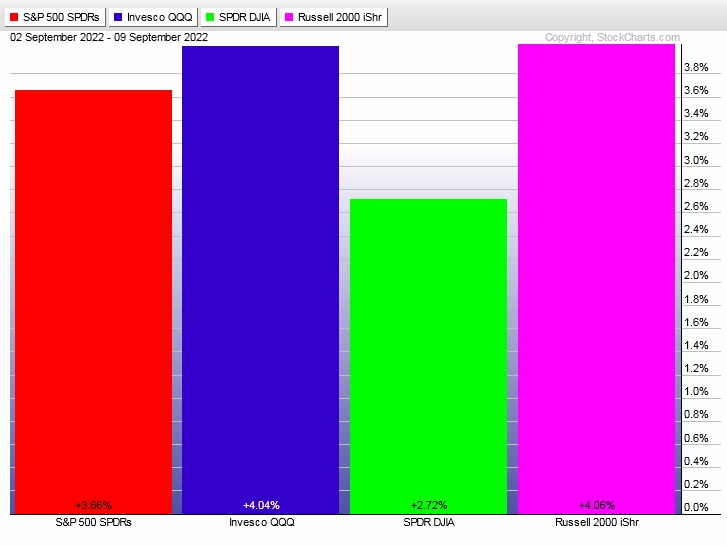 Rotational Report:
After two consecutive weeks of total risk off rotations, last week essentially saw the opposite – buying rotations across the entire equity complex. Energy lagged but has been fairly independent of the overall market. Discretionary leading but Tech lagging a bit.
neutral
For the week, the performance of each sector can be seen below: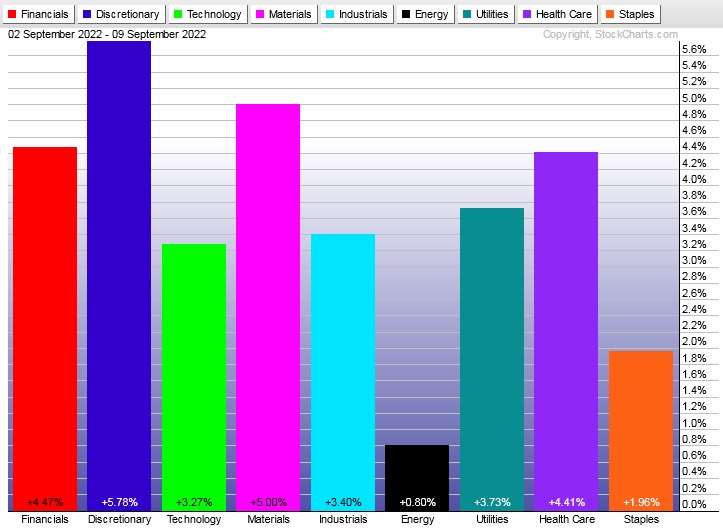 Concentrated Money Flows:
Interestingly, money flows slightly skewed to the sell side of the ledger.
slightly bearish
Here are this week's results: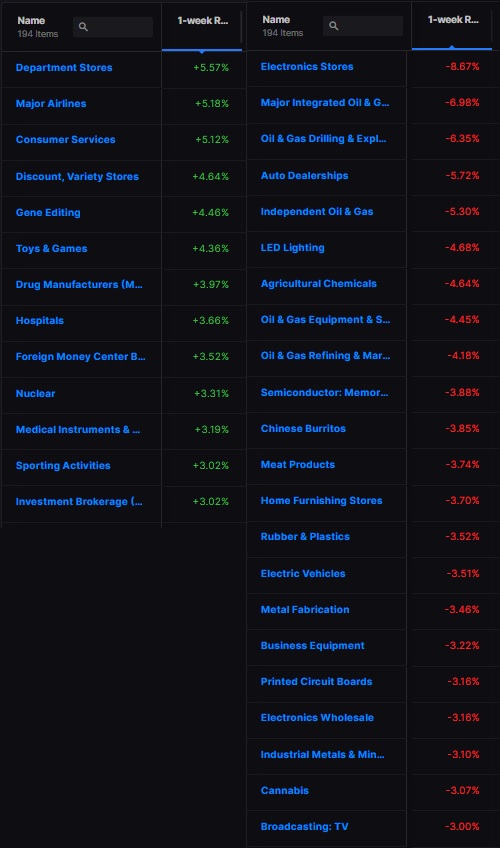 III. Stocklabs ACADEMY
Bunker Buster into an RCS
Bunker Buster seemed to fit the behavior of last week's tape well. We printed that sharp low Tuesday and then started to rally.
But will it mark the low of this valley? As always we don't know.
The model flipped bearish this week, meaning if I were actively trading, I would only be looking for ways to short the market all week.
It doesn't change what I did last week which is add to some long-term positions.
But my bias is for lower prices this week. Being that it is opex, I could see it playing out as a slight move higher, than a slightly bigger move lower, with little being accomplished except to burn up option premium.
Note: The next two sections are auction theory.
What is The Market Trying To Do?
Week ended searching for sellers.
IV. THE WEEK AHEAD
What is The Market Likely To Do from Here?
Weekly forecast:
Buyers continue to press the tape higher early on. Then look for sellers to step back in, perhaps after the Tuesday morning CPI data, and work price lower on the week.
Bias Book:
Here are the bias trades and price levels for this week:

Here are last week's bias trade results:

Bias Book Performance [11/17/2014-Present]: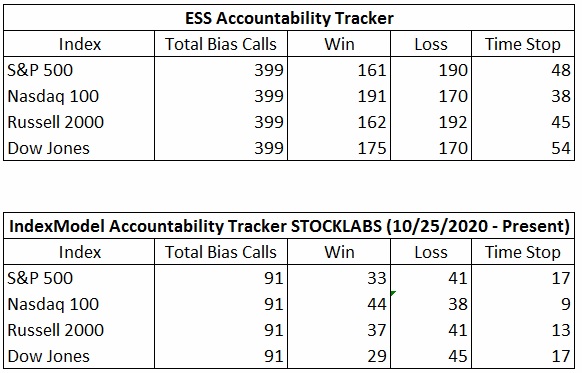 Seeing lots of balance and a clear sign post
Readers are encouraged to apply these techniques to all markets. Markets fluctuate between two states—balance and discovery. Discovery is an explosive directional move and can last for months. In theory, the longer the compression leading up to a break in balance, the more order flow energy to push the discovery phase.
Market are most often in balance.
Every week this newsletter uses auction theory to monitor three instruments, the Nasdaq Transportation Index, PHLX Semiconductor Index and ethereum
Leaving this note up until something changes: That weak low on Transports irks me. We've rallied far from it, that we're likely to encounter support ahead of any retest of the lows, but it poses a risk to a sustainable low.
Transports show balance despite that weak low.
See below: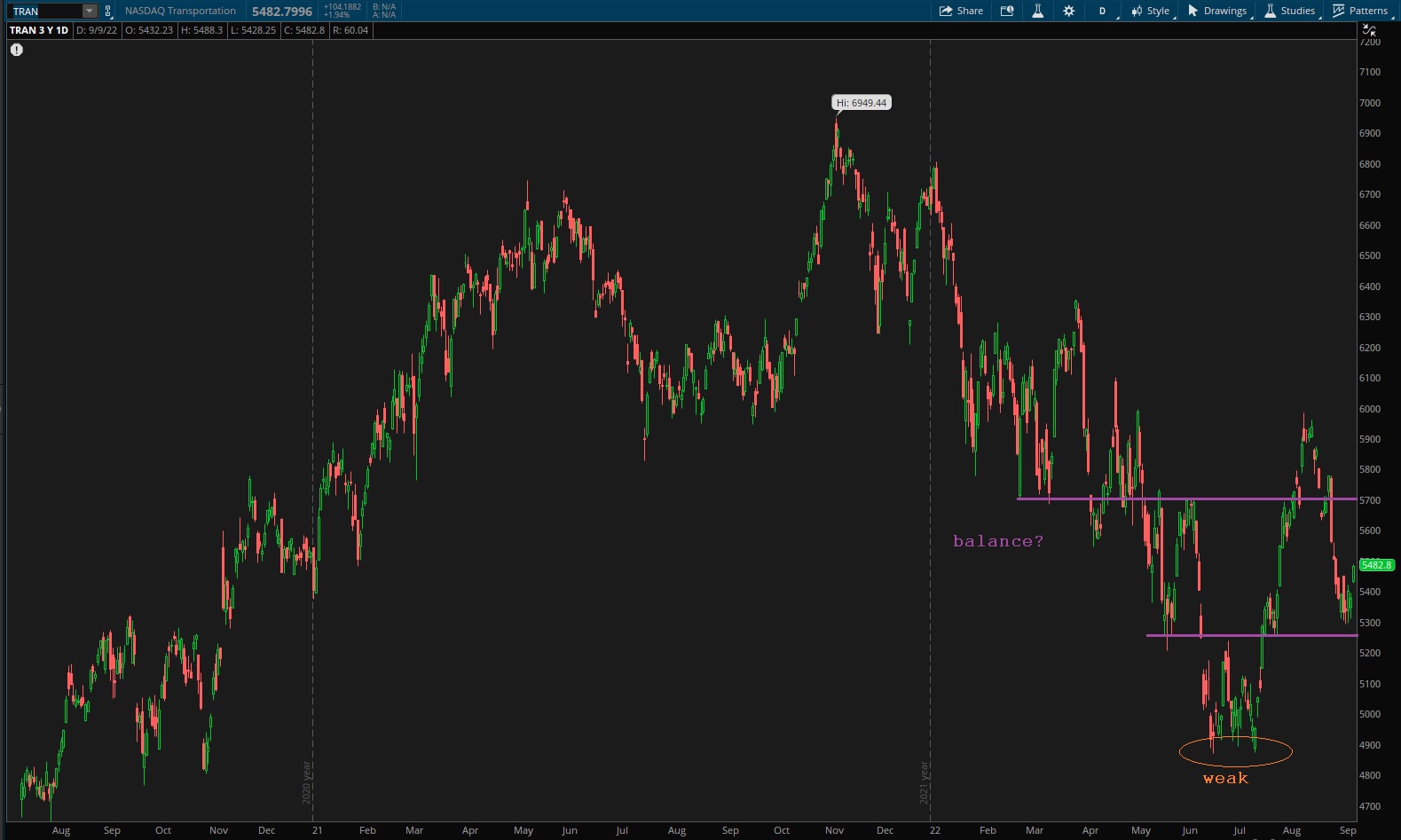 Semiconductors appear balanced also. That big gap we printed Friday morning could prove a useful bias pivot in the upcoming week. If buyers cannot defend that zone, we could fall right down out of balance.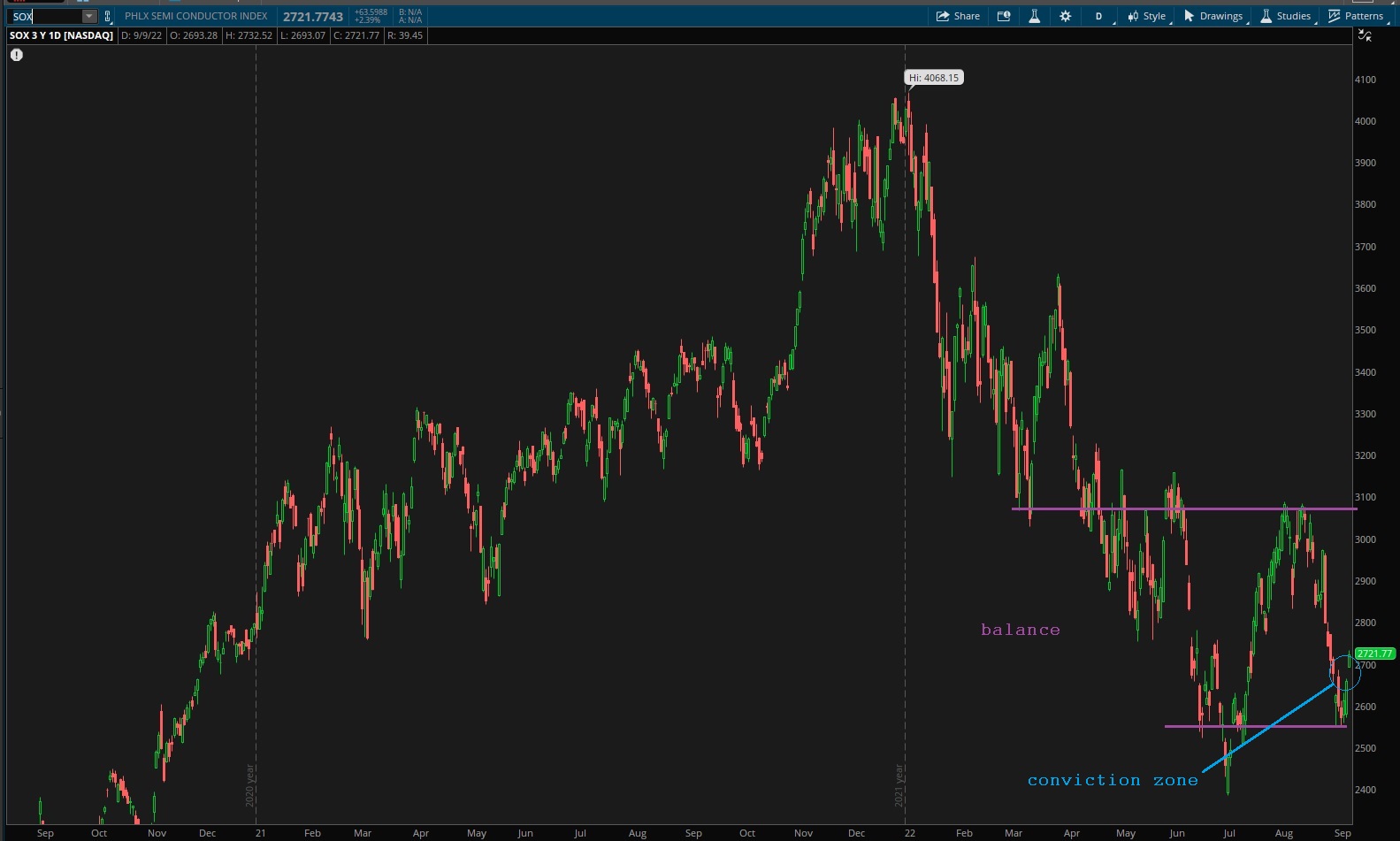 Ether showing a big balance.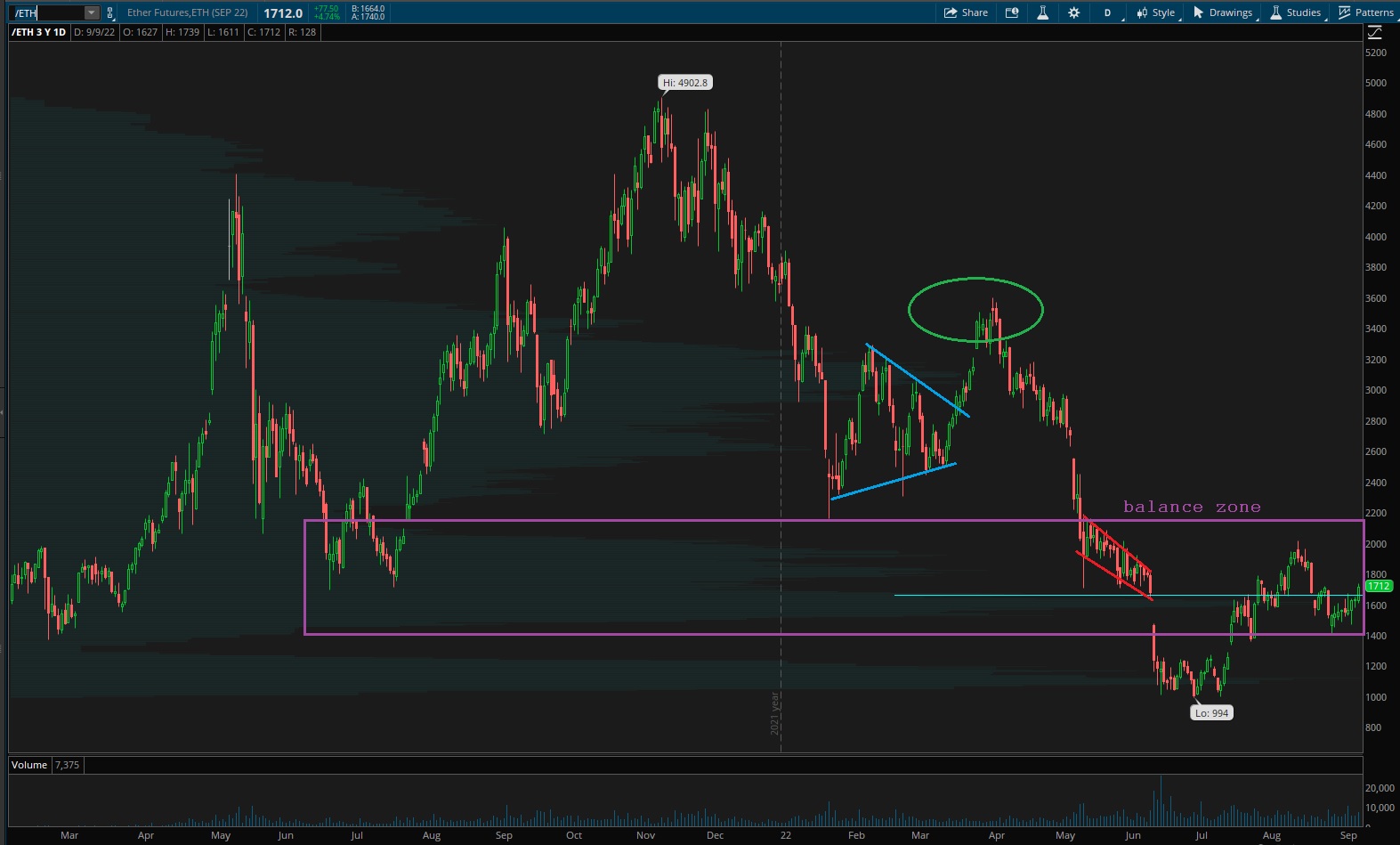 V. INDEX MODEL
Bias model is signaling Rose Colored Sunglasses. This signal calls for downward price action on the week.
There were five Bunker Busters in recent history — last week, ten weeks back, seventeen weeks ago, thirty reports back and a third thirty-eight reports back.
This week's report is the fifth (fourth in 2022).
Here is the current spread:
BIAS-SPREAD
Vi. QUOTE OF THE WEEK:
"Let's not take ourselves too seriously. None of us has a monopoly on wisdom." – Queen Elizabeth II
If you enjoy the content at iBankCoin, please follow us on Twitter