No bunker buster yet.
The Jackson Hole selling that hit Friday took us to a new low-of-month but did not destroy the charts. Yet.
Contextual charts still in range.
Debt. Relieved. 'Bare Minimum' Joe signed off on $10-$20k in relief for learned adults in America — many whom are carrying bags much heavier than low five figures. No one seems thrilled, but it is thrilling. A new era of irresponsibility and a nice cherry for any cheeky chaps bright enough to game the system.
Europe is freaking out about heating costs and the energy markets are going bananas. Once again Can-America stands to benefit the most. We have abundant gasssssss and anthracite, which we murdered our way into controlling long ago.
King of the North Justin Trudeau is keeping those lug-nuts-for-brains obedient and driving our loads. At least long enough for Elon to build electric semi convoys to be operated exclusively by engineering graduates from modest universities.
Silicon Valley elites are cosplaying end-of-days out in the desert, flooding their nervous systems with chemicals in the name of enlightenment and world domination.
And your dear and humble pal Raul is poking around in the post-apocalyptic dirt of Detroit, making delicious corns and punkins emerge — generally improving the morale of alls who see.
Spooky season is nearly upon us. You'd think I'd be over dressing up as a hobo clown and terrorizing the townsfolk for a few weeks. That I'd be on to better things. Starting a family or, I don't know, golfing. But alas, there is a defect in this one. Boy ain't right.
Hold steady lads. Doomsday predictors are still fools. For now.
Raul Santos, August 28th 2022
And now the 398th edition of Strategy Session.
---
Stocklabs Strategy Session: 08/29/22 – 09/02/22
I. Executive Summary
Raul's bias score 2.23, medium bear. Markets drift lower early in the week before turning higher to start September. Then look for Friday's non-farm payroll data to show direction into the weekend.
II. RECAP OF THE ACTION
Started the week gap down after Sunday evening sellers took control of the tape. Choppy through early Wednesday before we began campaigning higher. Upward action into Friday morning, when information coming out of Fed Chairman Powell at Jackson Hole introduced heavy selling. Ended the week at new monthly lows everywhere except the Russell 2000, which continues to demonstrate some relative strength.
The last week performance of each major index is shown below: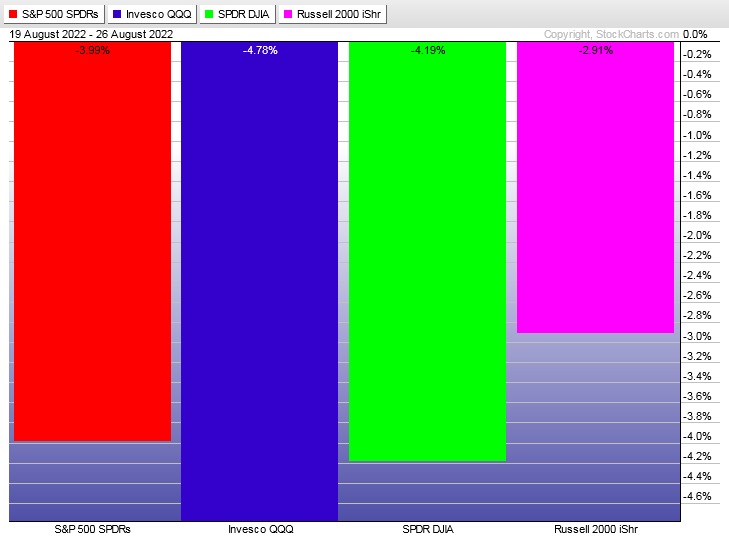 Rotational Report:
Full on risk off rotation away from equities. Energy still trading independent of the overall market.
bearish
For the week, the performance of each sector can be seen below: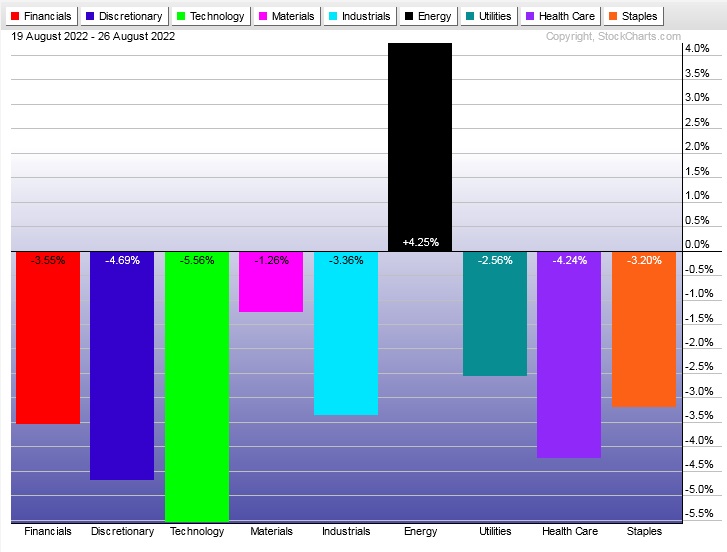 Concentrated Money Flows:
Money flows skewed heavily to the sell side. Interestingly, most of the negative returns are in the about -3% range. Broad selling but not super intense. Not yet at least.
slightly bearish
Here are this week's results:

III. Stocklabs ACADEMY
When our edge evaporates, we step back
The nice thing about only engaging the market when this Sunday report defines a clear edge is it means more time to develop as a trader both financially and emotionally. Right now we have no edge. Therefore we simply do not trade. We wait until there is an edge again.
This does not mean we're not actively observing. Down time is best used sharpening our tools, cleaning our offices and preparing for the next engagement.
Note: The next two sections are auction theory.
What is The Market Trying To Do?
Week ended searching for buyers.
IV. THE WEEK AHEAD
What is The Market Likely To Do from Here?
Weekly forecast:
Markets drift lower early in the week before turning higher to start September. Then look for Friday's non-farm payroll data to show direction into the weekend.
Bias Book:
Here are the bias trades and price levels for this week:

Here are last week's bias trade results:

Bias Book Performance [11/17/2014-Present]: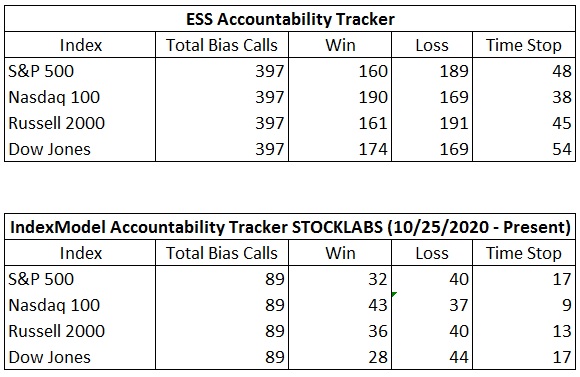 The edges of balance are becoming more clear
Readers are encouraged to apply these techniques to all markets. Markets fluctuate between two states—balance and discovery. Discovery is an explosive directional move and can last for months. In theory, the longer the compression leading up to a break in balance, the more order flow energy to push the discovery phase.
Market are most often in balance.
Every week this newsletter uses auction theory to monitor three instruments, the Nasdaq Transportation Index, PHLX Semiconductor Index and ethereum
Leaving this note up until something changes: That weak low on Transports still irks me, but we've rallied so far from it, that we're likely to encounter support ahead of any retest of the lows.
Only update this week is we seem to have found the upper boundary of balance. Here is how the setup appears.
See below: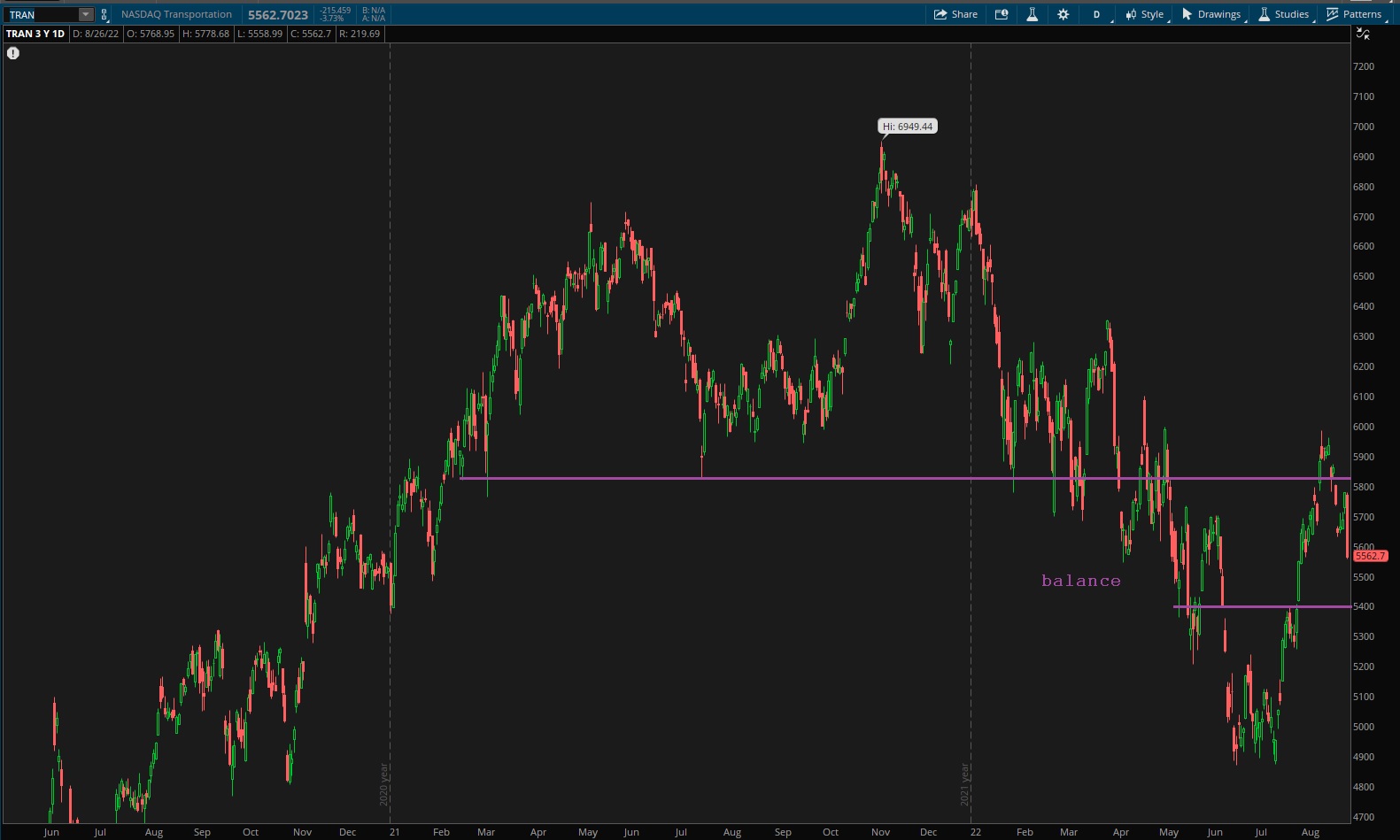 Semiconductors also clarified their balance zone a bit.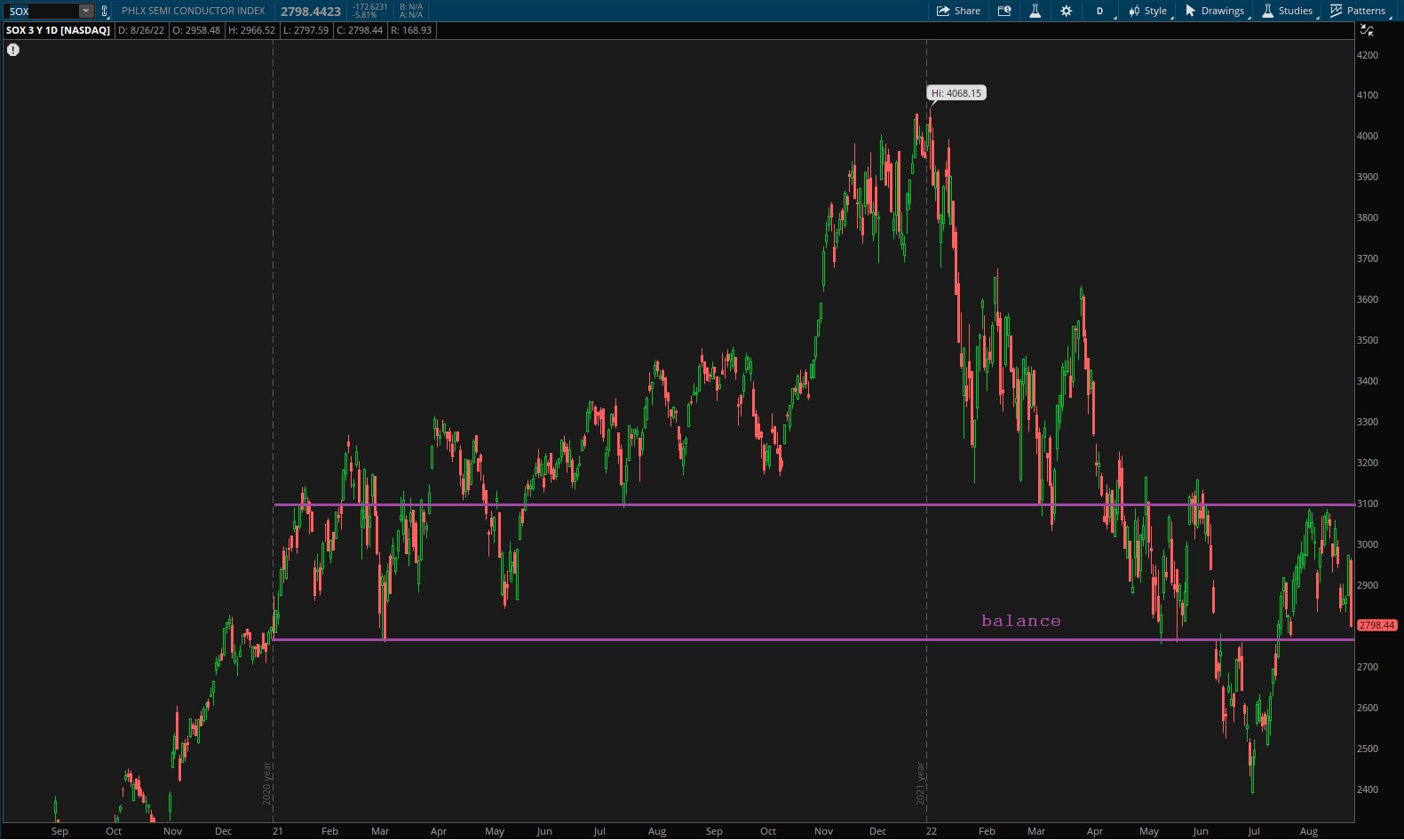 Ether less clear. We can see clearly that 2,000 was a wall. 2,000 lines up with the 'underlay' wedge from the last clear picture we had (overplay for the underlay). Now it seems perhaps that the major volume pocket below could be a magnet, and also a support zone for balance.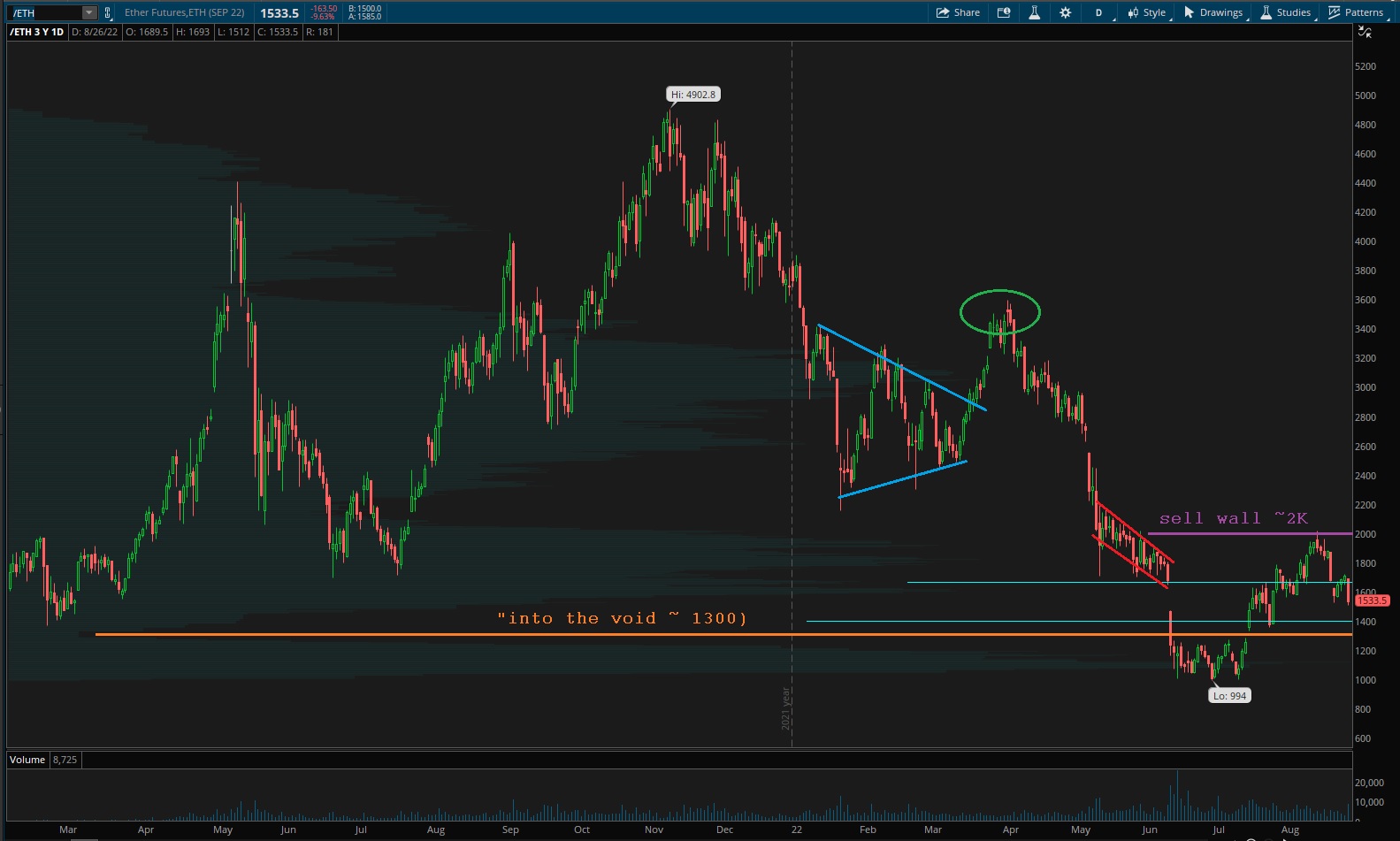 V. INDEX MODEL
Bias model is neutral for a second consecutive week after several weeks of signaling.
No bias heading into next week.
There were four Bunker Busters in recent history — nine weeks back, sixteen weeks ago, twenty-nine reports back and a third thirty-seven reports back.
Here is the current spread: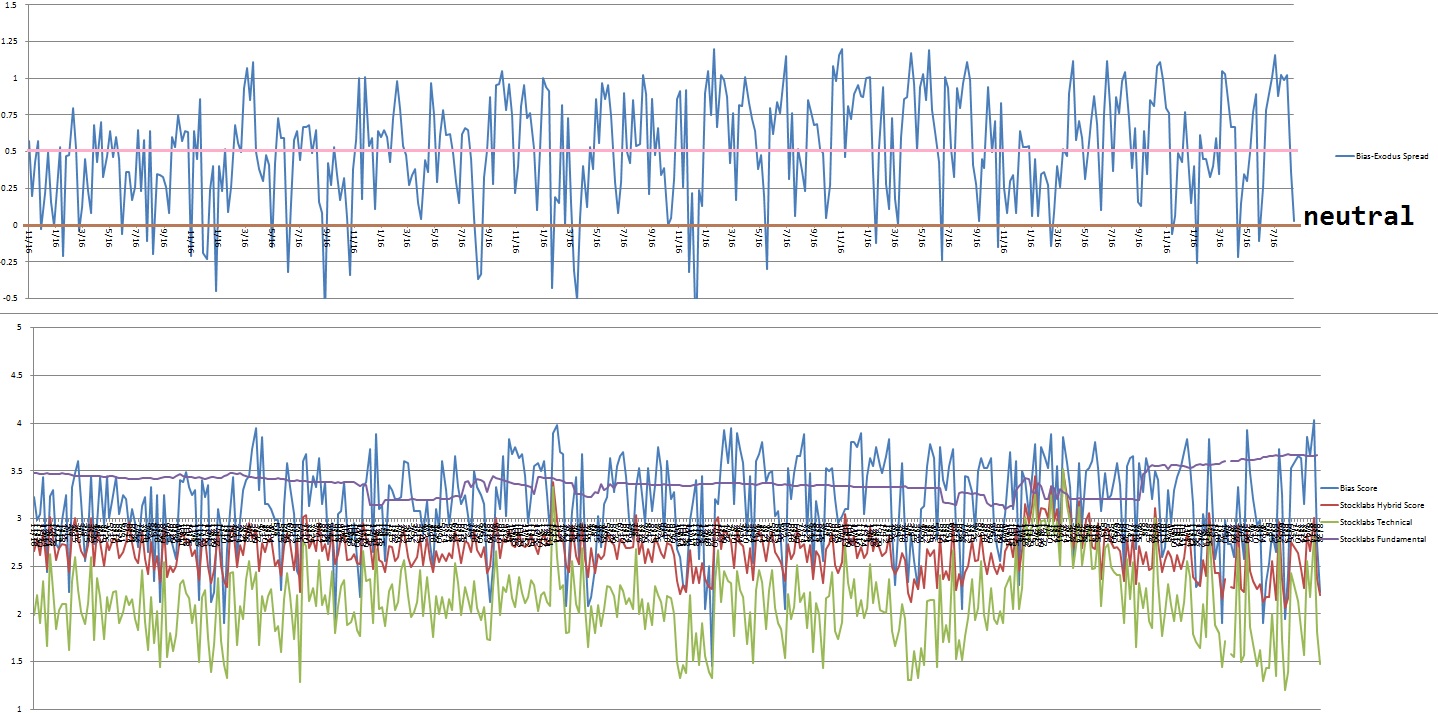 VI. Six Month Hybrid Overbought
On Friday, August 12th Stocklabs signaled hybrid overbought on the six month algo. This signal has bullish statistics. The cycle runs through Friday, August 26th end-of-day. Here is the performance of each major index so far: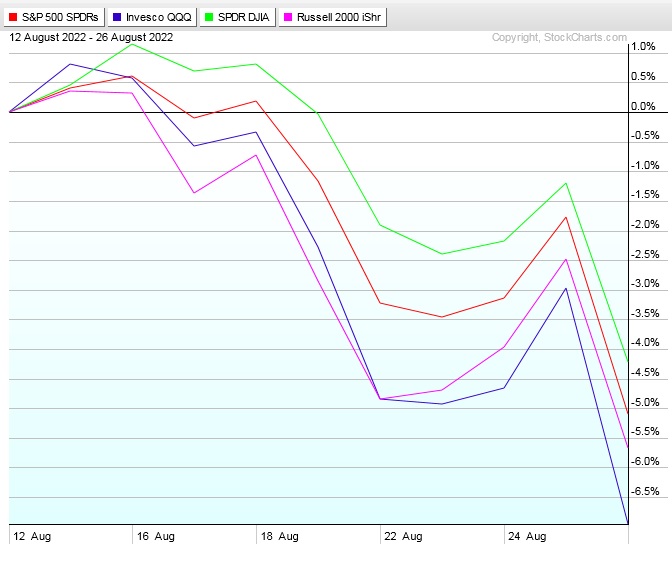 VII. QUOTE OF THE WEEK:
"We suffer more often in imagination than in reality." – Seneca
Trade simple, expect nothing
If you enjoy the content at iBankCoin, please follow us on Twitter