Greetings and salutations dear readers of the humble Raul blog [hRb]. Some kind of pump last week, eh? Finally. Emm hmm.
Reckon that was the finest pump all year.
Anyhow last week's pump is the past and while it is the recent past it is still the past and whilst we will consider it in our analysis this week what is done is done okay? And that's fine.
I am steadily working to clear up my mind after about a year of NFT shenanigans, aggressive urban land grabs and no dang good imbibing.
I keep wondering if low-of-year is in. That's how screwed up my mind is like, I always think the worst is behind and better days ahead. It's delusional maybe, defiant optimisim more likely.
Way too many people around me think we're on the brink of total chaos and that that's a bad thing. That the United Steaks is about to shatter into a thousand pieces and the dang Chinese are going to launch a military invasion because Mancy wants to visit Taiwan. Or the oceans gonna crash into Miami or the food is poison or the city is ruined…on and on fear. Seems irrational but what do I know?
I'm just a humble speculator turned hobo gardener who really needs to get back to work extracting fiat from the global financial complex.
After having my teeth and cock kicked about for the first half of the year I've managed to claim some victories in July.
Now the month is coming to an end and not without a heavy docket of economic data. We have the FOMC rate hike on Wednesday. The gambling halls in Chicago are placing 80% odds of a 75 basis point hike.
We have our benevolent Big Tech overlords due to report earnings—Microsoft, Alphabet, Meta, Apple and Amazon.
We also have the White House teasing some executive orders due to hit this week.
Elon of course got out in front of all this noise, with his little ai/robot/energy company, TESLA, reporting some hecking sweet numbers, sending prices of his shares higher. Thanks Elon.
I dunno. The model is bearish. Stocklabs is bullish. When you put all the data from the Strategy Session on a ledger the bulls have more going for them than the bears.
Maybe low-of-year is in.
Again. We don't know.
We do know that there are goblins all across the interwebs and streets who want nothing more than to put me, you and anyone else below them in the great American fight for glory.
Which is fine.
My muscles follow lines that make exotic sports cars blush. Ma hair is long and I'm growing a nice Jacked Dorsey gotee. The dang F-250 shitkicker diesel is fueled up and ready to steamroll any combative drivers. My corn and cock stand high. My demeanor is calm and regal.
This is difficult set of circumstances to beat.
So maybe it is time to get back to work. Boy do I have some studies to update first. But maybe it is time to do all of this.
Maybe low-of-year is in.
We don't know.
Raul Santos, July 24th 2022
And now the 394th edition of Strategy Session.
---
Stocklabs Strategy Session: 07/25/22 – 07/29/22
I. Executive Summary
Raul's bias score 3.15, neutral*. Expecting some upward price action early in the week before sellers step in (perhaps after the FOMC decision) and work price lower by week's end.
Watch for third reaction to the FOMC decision to dictate direction into the second half of the week.
**Most Big Tech names are set to report earnings this week, from Tuesday-Thursday. These major NASDAQ components could steer the overall market.**
* Rose Colored Sunglasses [RCS] bearish bias triggered, see Section V.
II. RECAP OF THE ACTION
Big selloff Monday around opening bell before buyers stepped in early Tuesday and began campaigning higher. Then price rallied through most of the week, until a spike higher around opening bell Friday sharply reversed. Most of Friday was spent working lower until a bid stepped in late in the afternoon.
The last week performance of each major index is shown below: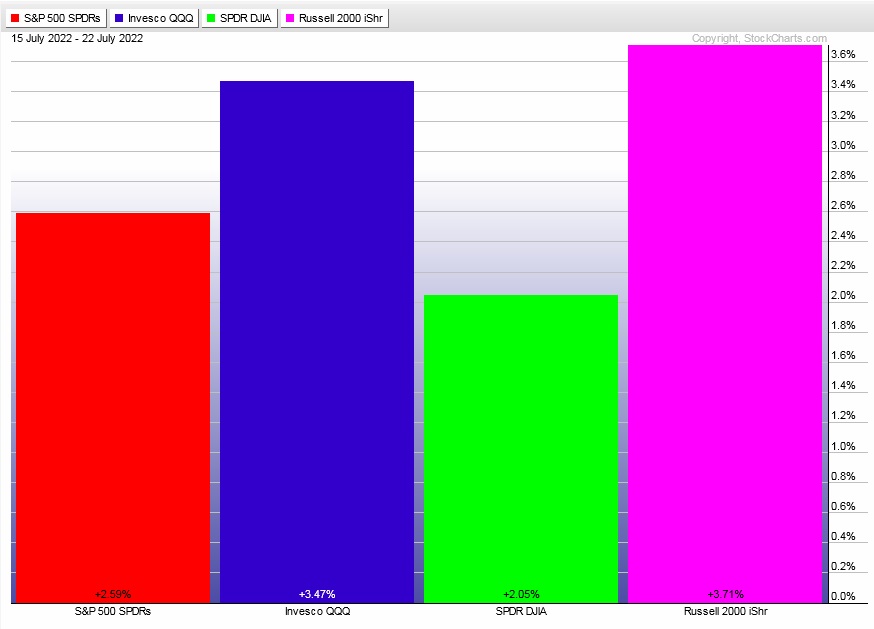 Rotational Report:
Last week's rotations were strongly in favor of buyers, with key Tech and Discretionary sectors putting in a strong performance. Meanwhile risk averse sectors like Utilities and Staples lagged.
bullish
For the week, the performance of each sector can be seen below: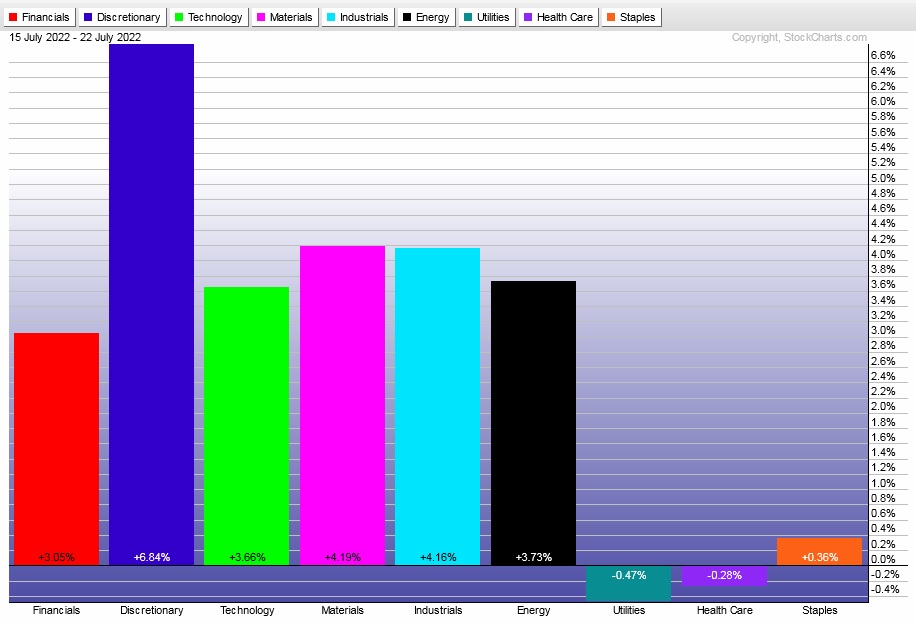 Concentrated Money Flows:
After six or so weeks of aggressive battle between buy and sell flows, There were two weeks of mundane money flows.
Then last week buyers skewed the flows heavily to the bullish side of the ledger.
bullish
Here are this week's results:

III. Stocklabs ACADEMY
Signals crossed into a busy week
Last few weeks we've had a clear picture from the data in this report. Not the case this week. We have a bullish overbought cycle in play from Stocklabs (triggered Tueday, 7/19). We also have a bearish Rose Colored Sunglasses from IndexModel.
Sector rotations and money flows were bullish. Meanwhile our key contextual indices are nearing resistance in established long-term discovery down phases.
All this with Big Tech set to report earnings throughout the week. The White House teasing some green energy news. And the Federal Reserve set to hike rates on Wednesday.
Tough week to form a bias.
Note: The next two sections are auction theory.
What is The Market Trying To Do?
Week ended searching for sellers.
IV. THE WEEK AHEAD
What is The Market Likely To Do from Here?
Weekly forecast:
Expecting some upward price action early in the week before sellers step in (perhaps after the FOMC decision) and work price lower by week's end.
Watch for third reaction to the FOMC decision to dictate direction into the second half of the week.
Bias Book:
Here are the bias trades and price levels for this week:

Here are last week's bias trade results:

Bias Book Performance [11/17/2014-Present]: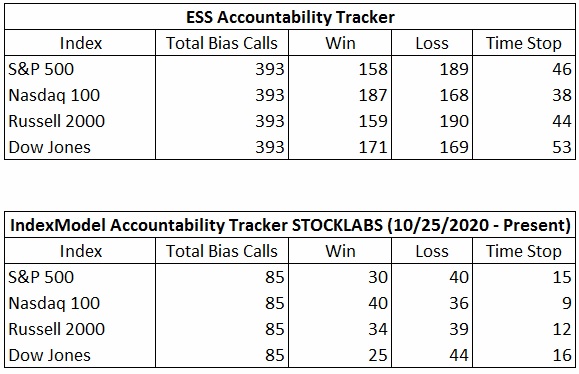 Kind of sloppy but potential support below
Readers are encouraged to apply these techniques to all markets. Markets fluctuate between two states—balance and discovery. Discovery is an explosive directional move and can last for months. In theory, the longer the compression leading up to a break in balance, the more order flow energy to push the discovery phase.
Market are most often in balance.
Every week this newsletter uses auction theory to monitor three instruments, the Nasdaq Transportation Index, PHLX Semiconductor Index and ethereum
I don't have a ton of conviction in the low on Transports, but they have set up a potential support level for buyers to lean onto in the coming days.
See below: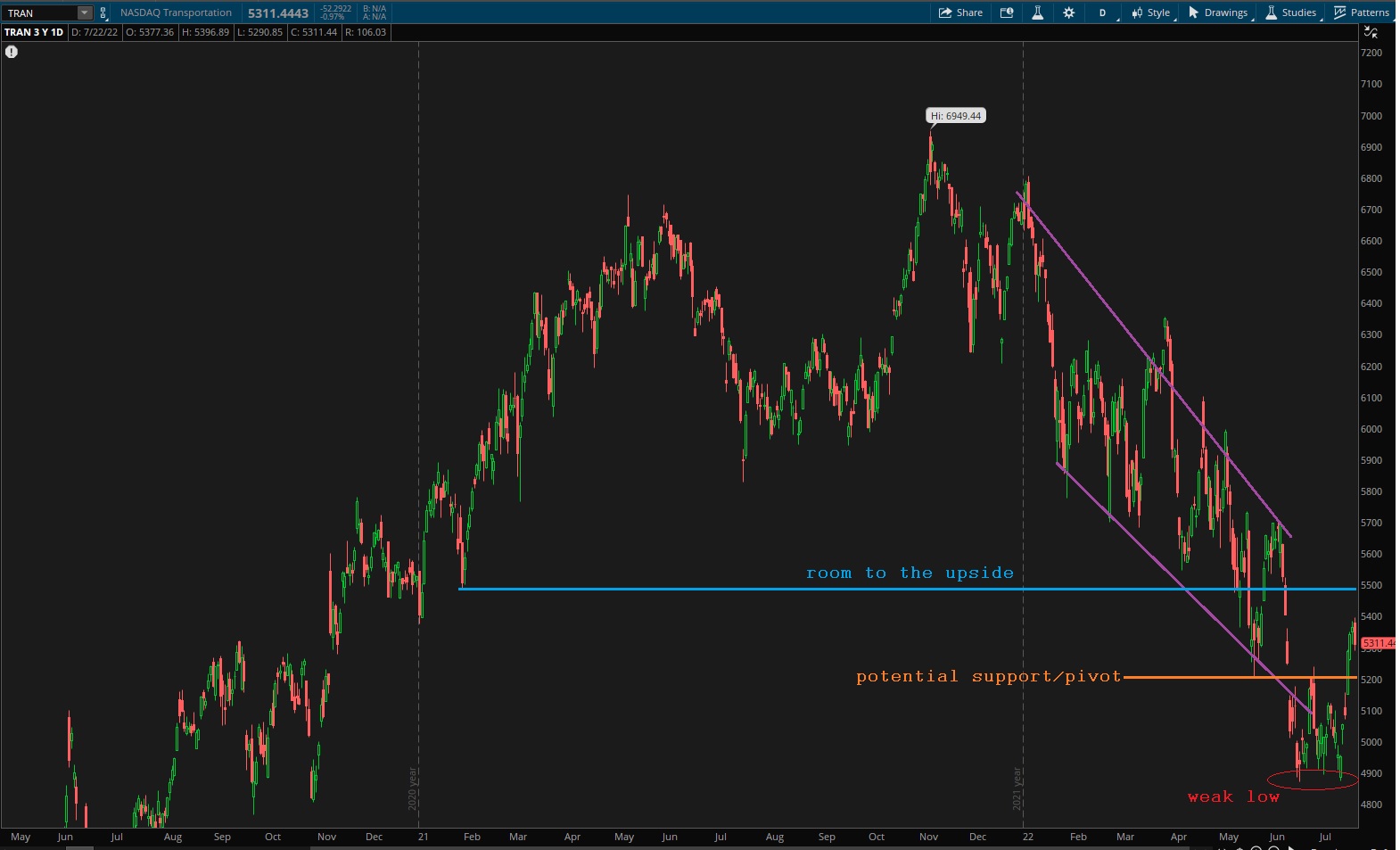 Semiconductors have a similar picture, except the low looks much less sketchy than transports. This index is in a discovery down phase long term but we can see it has had many pullbacks.  Each rip becomes less likely to be a good short entry. That is unless we see something major to the downside that sets up a whole new phase.
Overall I see a bit of room to the downside, then primary expectation is for the potential support to hold.
Ether kind of choppy. Could see the 1,300 level being tested near term for support.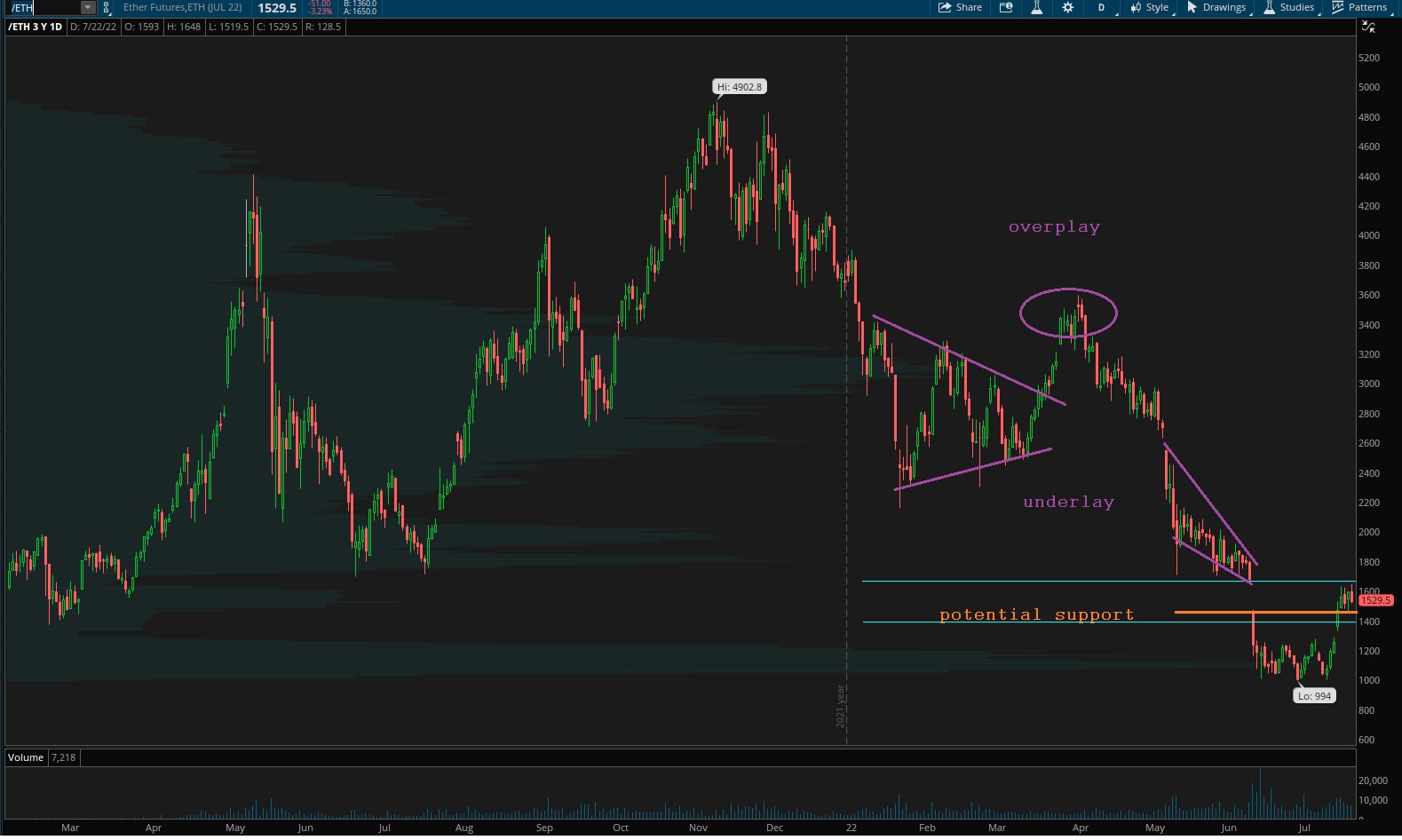 V. INDEX MODEL
Bias model is Rose Colored Sunglasses bearish after two weeks of e[RCS] bullishness.
There were four Bunker Busters in recent history — five weeks back, twelve weeks ago, twenty-five reports back and a third thirty-three reports back.
Here is the current spread: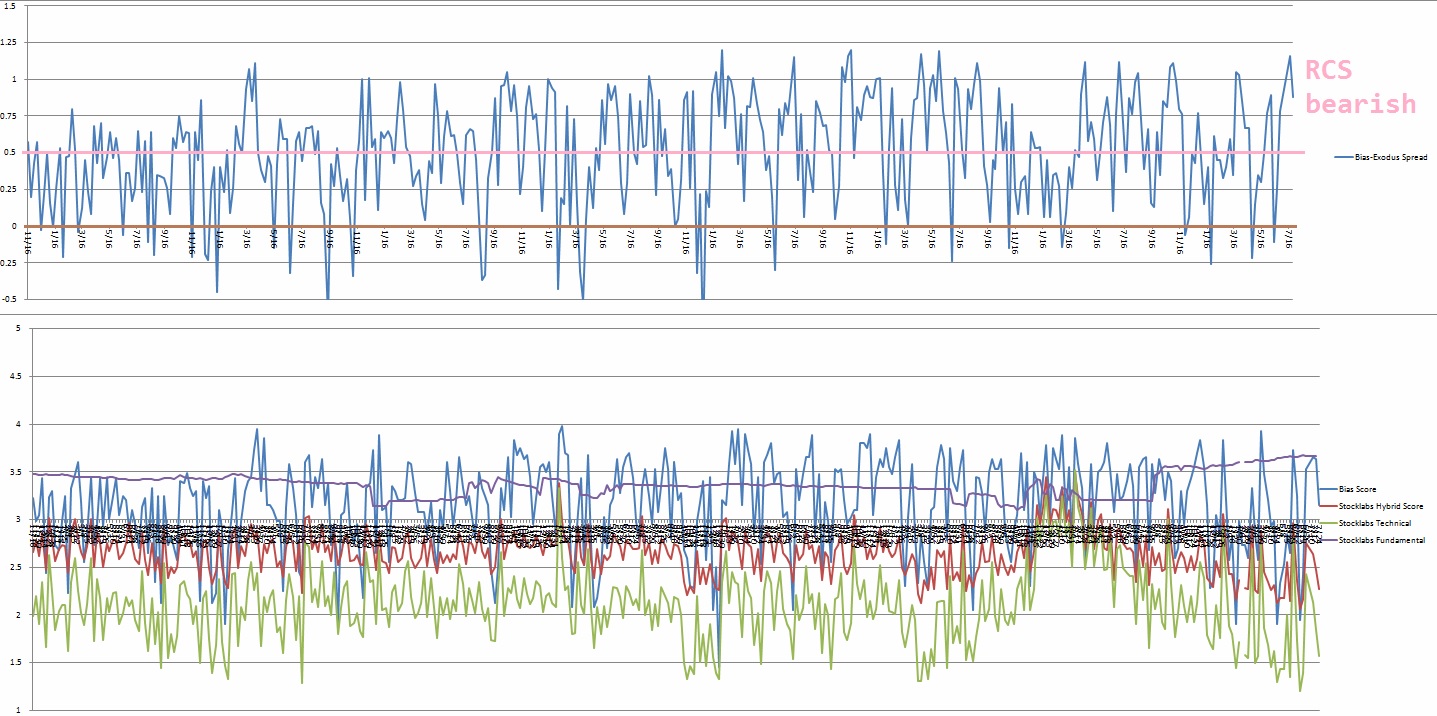 VI. Six Month Hybrid Overbought
On Tuesday, July 19th Stocklabs signaled hybrid overbought on the six month algo. This signal has bullish statistics. The cycle runs through Tueday, August 2nd end-of-day. Here is the performance of each major index so far: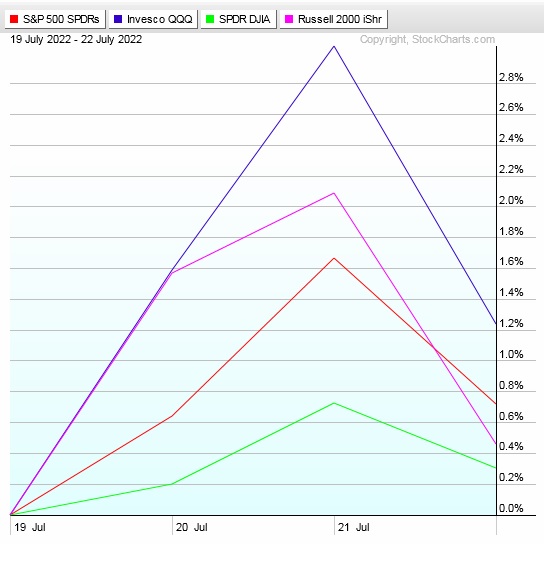 VII. QUOTE OF THE WEEK:
"I have no special talent. I am only passionately curious." – Albert Einstein
Trade simple, stay humble
If you enjoy the content at iBankCoin, please follow us on Twitter