Even though Europe has lost its autonomy and its economy is being rugged by US foreign policy and all thinly veiled Neo-liberal western "democracies" are fast approaching authoritarian despots controlled by a satanic cult of groomers hell bent on causing pain and suffering for the purposes of humiliation rituals, we should trade up in December.
According to the seasonality tools of Stocklabs, December is a fine month, with exception to 2002 which is what 2022 feels like to me.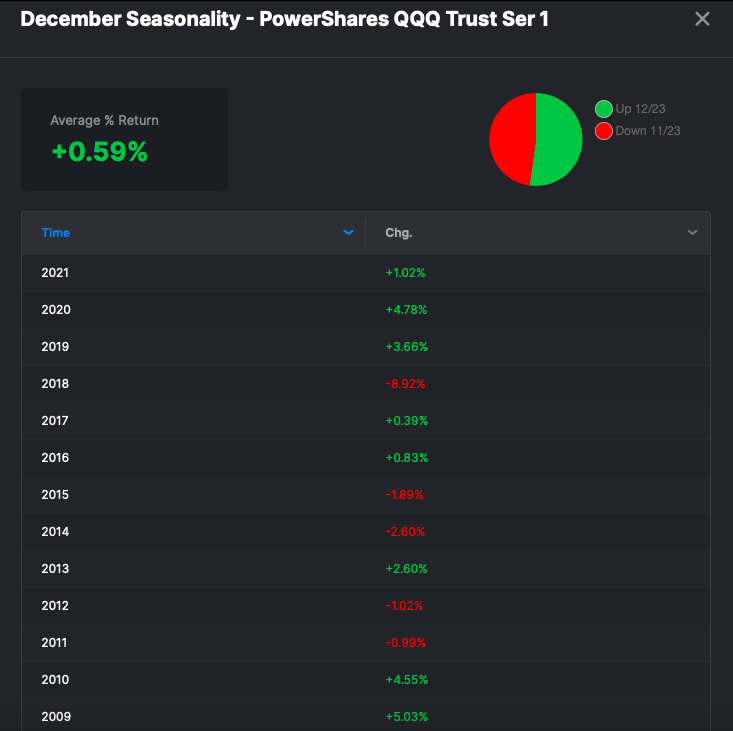 But I'm not here, taking time away from making my AWARD WINNING stuffing, to discuss stocks or politics. Every so often it's important to take a step back and be appreciative of the things that make you happy and to acknowledge the people around you who make your lives better. I find great pleasure coming here every daily, blogging like the wind, and shit posting all over the internets. I understand the futility of posting things in a vacuum, but I like to do it nonetheless.
Thank you for coming here and reading my missives and following my "breaking" news items on Twitter and if you're a member of Stocklabs — thank you for helping me fund the Orbital Space Cannon (OSC) project which is designed for offensive purposes only.
If new to the site, have a look at a Gentleman's Guide to Thanksgiving Decorum, which was written by me during a much friendlier time when hope and change was the US policy but instead we got rot and decay and malovolent devils ruining the equanimity of the world. There I go again.
Ok, farewell for now. I have several bottles of wine with my name written on them and lots of stuffing to manufacture. Eat well and I'll see you tomorrow and perhaps later on Twitter.
If you enjoy the content at iBankCoin, please follow us on Twitter