Vegans woke up today to a bowl of mueslix and apples — thinking they too would make money in their BYND positions. Nothing could be further from the truth.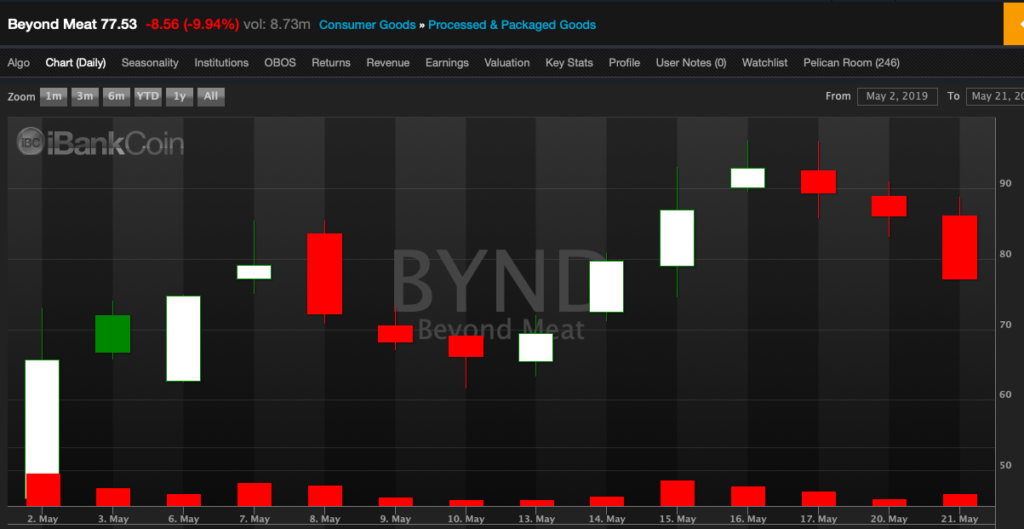 As we speak, a cordon of fate is wrapped around the vegan share price and a collapse is almost an assured outcome. Trading at 51x sales, one could make a strong beefy argument for a 90% decline in the share price. Not only is this stock over priced, but the entire concept is faux.
Once the shroud of hypo-feminine brainwashing is lifted from men and they realize being a vegan is literally the worst lifestyle any person could manage to conceptualize, they'll throw away those Alpo smelling dog food "burgers" and reclaim their positions on this flat planet as fierce eating alpha male Apex predator carnivores.
It's not important to spare the lives of animals, since they are inferior to man. We can eat them because they haven't invented the wheel yet. Along that thinking, Europeans sacked America because the Natives hadn't invented the wheel either. If the English were hungry enough and needed to survive, they would've ate all of the natives in America instead of just wasting their meat in senseless massacres.
What I'm trying to say is BYND got ramshackled today and the selling has only just begun. I'd expect shares to immediately slide into the $60s this week, led by tall and muscular men eating beef jerkies, imposing their will on the weaker Vegan underclass — who might as well be considered 'virtual meat' for the market now — to be eaten at discretion.
If you enjoy the content at iBankCoin, please follow us on Twitter