I woke up and was instantly made butler of the residence. My job entailed cooking, cleaning, and also chaffering the residents of House Fly in and around Princeton, NJ. We visited numerous farms and took a quick opportunity to see how cheese was made for the thousandth time. I spotted a wine tasting room and partook. It was just like Napa, minus the quality and cache.
My lunch consisted of a tin of Virginia peanuts that I bought and a cider donut.
After the food job ended, we had to explore the area for "articles of decor", since we're selling the house and really really need a new table. That's gonna make people buy it, not the tens of thousands of dollars invested into trim work and fancy ceilings and shit like that. When I was a younger man, I tended to spend money more freely. My thought process was that I needed to push myself to make more and to not concern myself with budgeting or constraining myself in any way from the hedonistic lifestyle I both desired and deserved.
By late afternoon, my head began to pound due to lack of crack-coffee and I quickly grew bored of Mrs. Fly's caprices. I'm here now in my study, drinking a Cafe Americano — trying to get past the personal stuff of my day and into the sticks of why you should be concerned with equity prices here.
This market is like the best days of your Grandparents, the halcyon days when they were old, but wise, still agile, and seemingly impervious to the age that crept up on them. Fast forward just five short years and time took its toll, tremendously, and their frailness showed, like a snowcap melting under the heat of the sun.
This trade war doesn't look like it's going to be resolved. And US investors don't seem to give a shit about anything at all. But there is something happening now that is beyond the scope of our control. China isn't immune to this war and even if they were — they like to fuck with their currency, by depreciating it to gain an advantage on America via trade.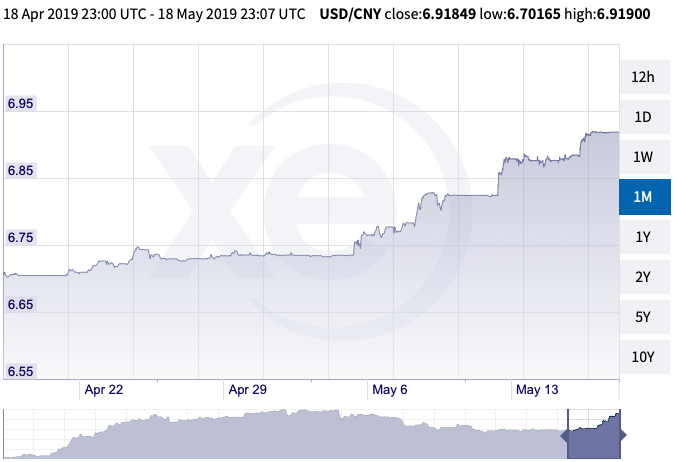 Watch the USD/CNY cross very closely this week, for your pathetic lives might depend on it. Should it break $7 to the upside, you'll want to get your priorities in order and make arrangements for the after-life — for shit is gonna pop off and markets will get BOGGED the fuck out.
"Capital flight" will be the catch phrase.
Happy Saturday, fucked faces.
If you enjoy the content at iBankCoin, please follow us on Twitter