All of the writing that we're in a bear market is on the wall. However, even with that being said, nothing goes straight up or down. This generations Lehman or General Electric and the boogey man resides in high yield and the enormous amount of debt on corporate balance sheets. Those worry about student debt are foolish. However, if this drama with China doesn't recede, there is a real threat to America's top universities who host scores of intelligent Chinese students.
Expect a lot of chop inside of this downward and do not anticipate a reversal to the upside anytime soon. Most spikes will likely be met with trepidation and end up failing. Trump's two magic bullets, the China trade war deal and Fed pause have been expended. If he doesn't broker a deal with China soon, this market is going to get fucked in a way you've never seen before. More than $150 billion in US sales are born in China and not having that strong trading relationship, in spite of how unfair it was, will cause irreparable damage to our multi-nationals and also the US consumer — who will inevitably get hit with price hikes.
The manner of this downturn is pretty standard, with losses stacked in the smaller cap stocks. But it's also worth noting, Tootsie Roll is the big winner the past three months. If you look at those defensive stocks now, you'll notice they're also struggling here — which has created an environment with our safe havens.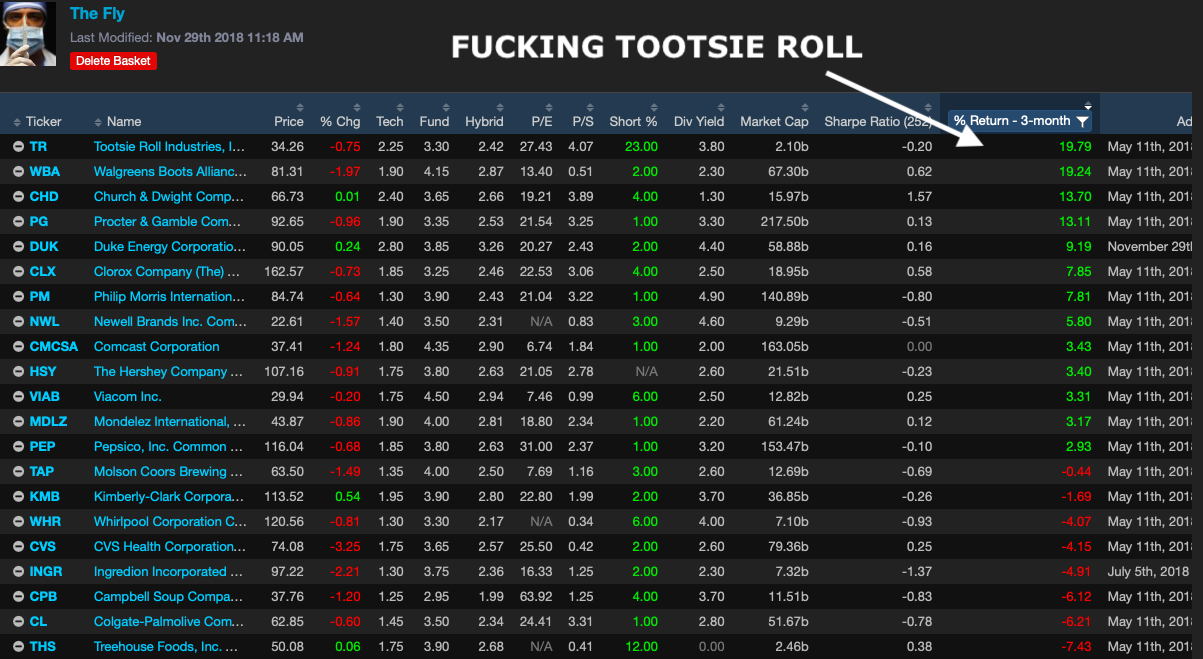 I barrel into tomorrow a strong man — heavily long SOXS, LABD, TLT, and gold. I will most likely book profits tomorrow, however, as I suspect the market will soon consolidate recent losses before making a fresh leg lower. The true action, mark my words, lies ahead for us in January.
If you enjoy the content at iBankCoin, please follow us on Twitter