In an amazing feat of claw-back excellence, the law firm Picard has managed to regain ALL LOSSES for Madoff's many powerful victims. At the height of his scheme, the fund was worth $65b, of that $19-20b was principle.
The law firm Picard is very close indeed to making a full recovery.
Just last month, Picard's lawyers asked a U.S. appeals court to revive about 80 such lawsuits in which he's seeking up to $4 billion—perhaps the last big chunk of money available in the case. A lower court threw the suits out two years ago, ruling the money was beyond the trustee's jurisdiction because it had been been transferred from feeder funds to foreign banks before Madoff's arrest.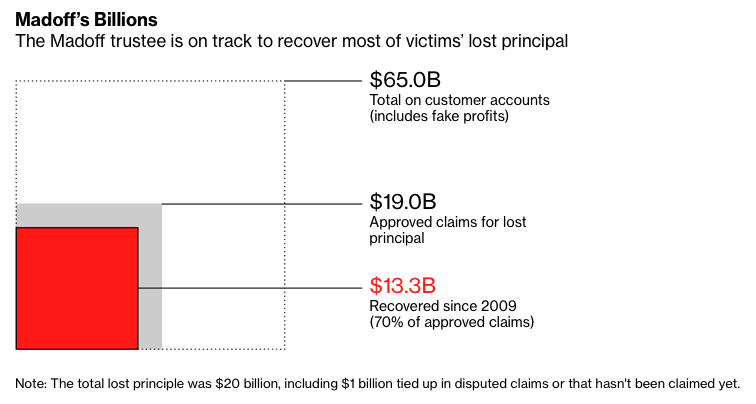 "That kind of recovery is extraordinary and atypical," said Kathy Bazoian Phelps, a bankruptcy lawyer at Diamond McCarthy LLP in Los Angeles who isn't involved in the case. Recoveries in Ponzi schemes range from 5 percent to 30 percent, and many victims don't get anything, Phelps said.
What's equally amazing is the fees Picard has been able to siphon from the public via SIPC.
For its work, the trustee's firm has been paid $1.67 billion over the past decade by SIPC, not from the customer funds. The industry group also provided $639 million in advances—up to $500,000 each—to victims who were waiting for claims to be paid.
Some people never lose. Happy holiday's to Madoff victims.
If you enjoy the content at iBankCoin, please follow us on Twitter