Enough is enough. The bears had their fun and the trade wars aren't easy and pleasant anymore. I've been analyzing the data very closely and we're very close to having a nervous breakdown. About 20% of stocks are off by 20% the past month, with a very large percentage of stocks just behind the threshold.
What's important to note, as the market dropped, both bonds and gold were defensive. This is exactly how a bear market might play out, or something akin to a poor tape. Bear in mind, sometimes these squalls last awhile, and could persist for another 6 months before heading back up. I don't have enough information yet to make that assertion. After all, the economy seems to be doing fine. Although I did not like the Beige Book data and what that mean for the consumer. There is an economic slowdown being priced in now.
Interestingly, the SAAS sector has been hit the hardest, mainly because it was the hottest sector. This is why we have stop losses people. Had I held onto these stocks, I'd be dead right now, blogging from beyond the grave.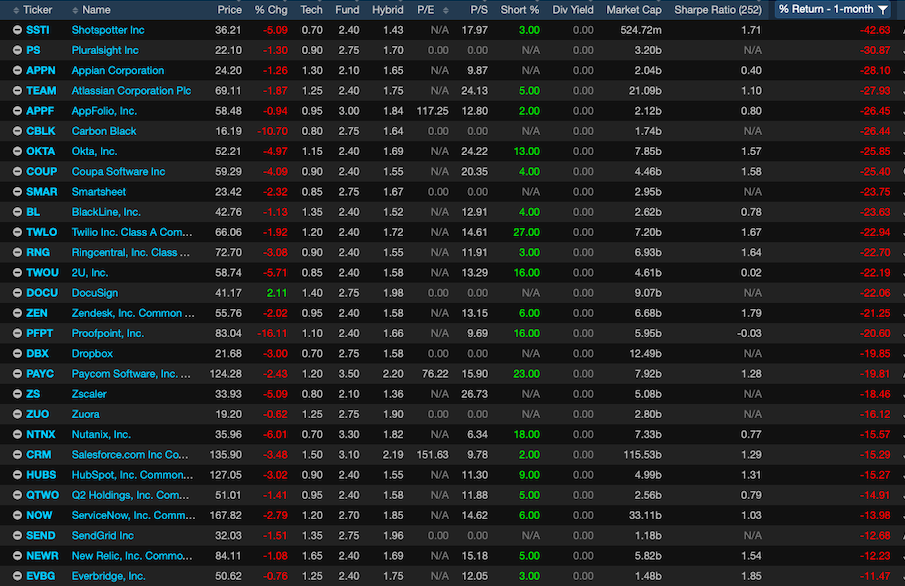 I am going to show you a chart of the QQQs next and I do not want you to look at it with trend lines or support/resistance levels in mind. Look at it and think of ownership and how people obsess over their cost basis and how it might effect overall investor psychology.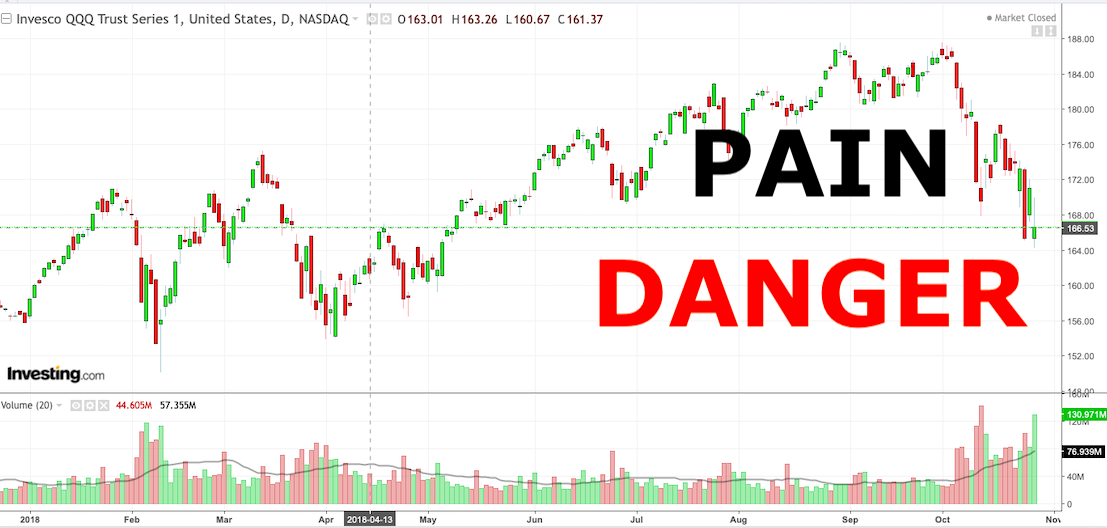 A house of pain has been built upon a very weak foundation. If we continue to travel lower at this rate of speed, I'm afraid it could portend a truly brutal dislocation in markets that would make you regret the day you opened up a brokerage account. Lots of accounts are underwater now and we're at a point in this narrative where the buyers must assert themselves, else risk losing longer term investors who have stops at or slightly above their cost basis.
Should we rally, just know and understand, it will not be a V shaped recovery. There's too much technical damage. It looks like a giant head and shoulders there, which means that shoulder might run into a buzz saw of sellers and we might just barrel back down and retest the lows.
I'm assuming we bottom soon and we get to retest that shoulder. If a different narrative plays out, a complete breakdown into the danger zone, we'll likely form a new shoulder upon bouncing at a lower level, which would only serve to complicate matters more, and build another layer of uncertainty into the market.
Did I confuse you?
Bottom line: we must bounce next week.
If you enjoy the content at iBankCoin, please follow us on Twitter