Morning lads
I saw futures plunge and European markets fall in tandem and began to worry about those god damned Italians again. But then I looked at Italian bonds and saw they were rallying, offering me a well deserved sigh of relief.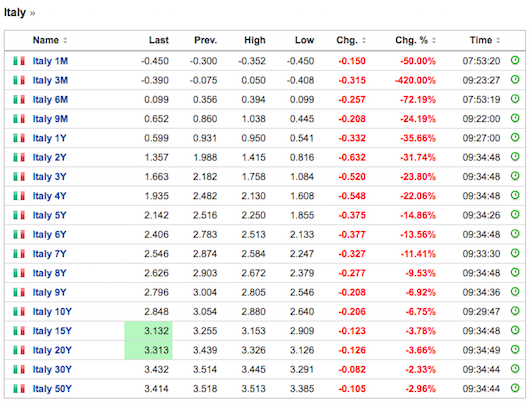 Then I got curious about the drop in the DAX and all of the recent chatter around DB — a fucking stock down more than 45% this year, and voila — I found the news.
It was already a terrible week for Germany's largest bank, when the Italian turmoil sent its stock price below €10 for the first time since the bank's existential crisis in the fall of 2016, and it just got worse this morning, following reports that the Federal Reserve has designated Deutsche Bank U.S. operations to be "troubled condition" which the WSJ said was a rare censure for a major financial institution and is being reflected in its price this morning, which is now down over 5%, at €9.35, and rapidly approaching the all time low of €8.834 hit in September 2016 when speculation was rife that Germany would bail out Europe's largest lender.

As the WSJ reports, the Fed's downgrade took place "secretly" about a year ago, and hasn't been previously made public until today.
In short, the Fed put DB on their 'to worry about' list last year and revealed it today, so now everyone is running around with their hair on fire. Please. Buy stocks.
Gains in the euro have dissipated and the Dow is off almost 100, the Nasdaq is higher. While DB is a horrible bank with fraudsters at the helm, only interested in bonuses, I do not think their $50 trillion derivatives book blows up today. Higher rates doesn't help — but last time I checked — German 7yrs are in NEGATIVE territory, so higher rates isn't really an issue in Germany.
Is it?
If you enjoy the content at iBankCoin, please follow us on Twitter