Now that the 10yr is above 3%, the newest and latest obsession is the 2 year yield — because fake news has to print something.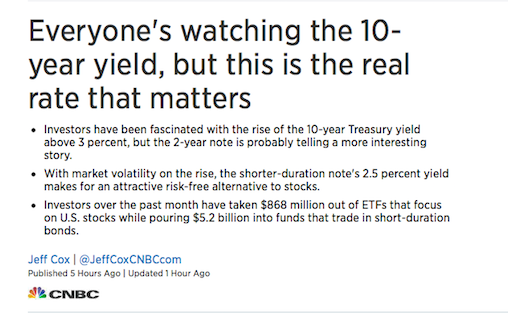 It's a beautiful narrative, spawned by the devil himself. No matter what happens, paint it as bad news. Rates drop — sell stocks. Rates rise — sell stocks even more. The purblind always see things through a distorted prism because their minds are addled by hormone imbalances and narcotics.
When will the U.S. yield curve invert?: https://t.co/rVouFq84Fg by @MishGEA $TLT $IEF pic.twitter.com/R4ZtUoSTSH

— Jesse Colombo (@TheBubbleBubble) April 25, 2018
Nevertheless, I am net short in my trading account now — because of the mentality that seems to be sweeping my peers into jam jars filled with poison. I'll happily buy their margin liquidations and leave a single rose upon their freshly dug graves.
Donald Trump and Kanye West bonded today — much to the chagrin of the Hot 97 morning crew — hosted by 'Ebro' and 'Rosenberg' — both of whom are complete imbeciles.
You don't have to agree with trump but the mob can't make me not love him. We are both dragon energy. He is my brother. I love everyone. I don't agree with everything anyone does. That's what makes us individuals. And we have the right to independent thought.

— KANYE WEST (@kanyewest) April 25, 2018
we got love pic.twitter.com/Edk0WGscp6

— KANYE WEST (@kanyewest) April 25, 2018
Thank you Kanye, very cool! https://t.co/vRIC87M21X

— Donald J. Trump (@realDonaldTrump) April 25, 2018
Aside from Kanye, another Trump fan is that new Rainbow Hair'd rapper — 6ix9ine. Here's a clip from an old interview with the fat fuck named Joe.
So what does it all mean? Absolutely nothing, other than the fact the culture has a glitch in its matrix.
The chaos Gods are smiling.
Top picks: SOXS, LABD
If you enjoy the content at iBankCoin, please follow us on Twitter