Yield fags need to be stopped, once and for all. I don't know about you, but I am sick and tired of these people shitting on my parade — bringing their problem to the table and crying about it like little bitches. If you're employed on a fixed income desk, listen to me now: go fuck yourself.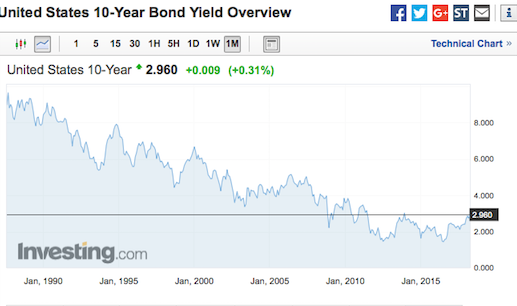 As the 10yr treasury approaches 3%, the first time since the Taper Tantrum crisis of 2013, bond nerds are out in full force proclaiming it to be the end of the bull market. Last time yields cocksized up against the 3% mark, stocks fucking raged higher with retard strength. Hell, 2013 was the best year of all time. We made so much money in stocks that year, Le Fly was lighting cigars with bank notes.
Here's the top story on CNBC now, warning people of dark times because MUH 3% was going to convince people to ditch their stocks in favor of fucking bonds.
"I think there's still a lot to go," the firm's chief investment officer said Thursday on CNBC's "Futures Now." "[The] 10-Year Treasury yield has been below fair value for nearly ten years thanks in large part to central bank bond purchasing that's been going on."

His thoughts came as the 10-Year yield, which moves inversely to debt prices, made another run to 3 percent. On Friday, the benchmark rate hit its highest level in more than 4 years.

"If you take a look long-term, where the 10-Year Treasury typically trades, it matches nominal [economic growth]," Ablin said. "And, the last nominal [growth] number we got in December of last year suggested that the 10-Year Treasury should be about 4.1 [percent] not 2.9," he added.

Stocks historically become less attractive as yields move higher. In the easy money environment since the financial crisis, low yields created great demand for stocks.

"The fact is that the bond market has been in this tug-o-war for capital for the last ten years with one arm tied behind its back," Ablin said. "The equity market has essentially been the only child of that relationship."

With the Federal Reserve normalizing its interest rate policy and the European Central Bank hinting it'll soon do the same thing, Ablin expects Treasuries to become more attractive.

"We see the 2-Year [Treasury] now nearly at more than 2.4 percent. So, yields are starting to get more attractive on the front end where the Federal Reserve has its influence," he noted. Shorter-dated yields surged to its highest level since September 2008. In the past year, the yield has surged more than 100 percent.

Ablin, who's bullish on the 2-Year, said that not even a "fantastic" earnings season will prevent the stock market troubles likely coming down the pike.

"The fact is the European Central Bank has already said they're likely to end their program in September. So, I think the bond market is starting to sense that, and that's why we're seeing rates rise there," Ablin said.
Now for the facts, via WSJ circa 2013.
Since 1967, during periods when bond yields have risen while confidence has increased (i.e., a "good" yield rise) average annualized stock price returns have been almost 13% and despite rising bond yields, the stock market has only declined about one-third of the time. For comparison, when yields have risen and confidence has declined, the stock market has declined nearly one-half the time and with an average annualized price return of -6.4%.
In short, yields rise when the economy is doing well. When the economy does well, earnings are increasing, which eventually results in higher stock prices. Ignore the bonds geeks and embrace the idea that inflation might be something worth having — as long as it's under 3%.
If you enjoy the content at iBankCoin, please follow us on Twitter