This story is a lot of take in and I don't want to get into the minute details of it here.
The cult leader is a man named Keith Raniere — a poser who lied about his intelligence and credentials — claiming to have the Guinness Book of World Records highest IQ — founder of the sex cult called Nxivm. This story was in fact discussed in detail back in 2003 — yet authorities only bothered to arrest them now in 2018.
Here's where it gets interesting. This nobody loser started up a company to help motivate people, located in update NY. Two actresses from the former hit teevee show Smallville were roped up in it: Allison Mack and Kristin Kreuk.
The leader, Raniere, called himself "Vanguard", would get fresh recruits, aka sex slaves, with the help of Allison Mack — who rose to #2 in the organization and was considered a 'master slave' who helped starve women on 500 calorie per day diets and also brand them near their vaginas with the initials of Raniere and her own.
During one of Raniere's motivational speeches, he ran into the heiresses of the Seagram's fortune, Sara and Clare Bronfman. Needless to say, they hit if off and they soon joined his cult.
Together, these loons formed a foundation: The Ethical Humanitarian Foundation
Here's their mission statement.
Historically, the discovery of scientific thinking and logic created improvements in civilization. The enticement of these conveniences caused many influential people to forget the source of this thinking: Humanity.

We believe transforming this thinking throughout the different branches of society; education, business, science and government is vital for the future of our children and future generations.

We believe it is essential for our decision processes to evolve to a humanity first foundation.

It is our hope the effects of such a shift in thinking and process will set a new course for humanity; steering us towards a more noble civilization.
Raniere's motivational success company, ESP, has offices in Albany, NY, NYC, Mexico City, Los Angeles, Guatemala City, Guadalajara, Vancouver, and Monterrey.
Why?
How did this seemingly ordinary fellow manage that? Answer: Seagram's fortune.
The heiresses tapped into their trust and funded him in the amount of at least $150 million. Here's where it gets really funny from a Wall Street point of view.
Back in 2007, Keith took a run at the commodity markets, when oil was well over $100 and seemingly going up forever — until it didn't. He claimed to have developed a super super algorithm that could predict movements in the energy market. He used said algo to buy and sell oil — losing an astounding $65 million in the process.
After taking so many Ls, Raniere blamed the patriarch of the Seagram's fortune, Edgar Bronfman, father of Clare and Sara, for meddling in his affairs because (get this) he had proof that the holocaust was a giant fiction, the biggest lie of the 20th century.
There's also the matter of a motherless 3 year old boy living in the Nxivum compound, who was tended to by nannies and being groomed to be the successor for Raniere. What in the actual fuck?
So many questions arise from this story, such as, how the fuck did this loser from upstate NY convince Hollywood stars and heiresses to billions to join his fucking sex cult and finance him to the tune of $150m on retarded trading schemes? Also, who else is involved in this conspiracy? Over the years, Nxivum had a lot of high profile guests, one of which was almost the Dalai Lama.
Lastly, here's a clip of Allison Mack losing her shit while interviewing Keith. On his Youtube channel, he uploaded a series of self-aggrandizing videos, all complete shit.
BEHOLD the power of mind control. Look at this shit.
Then there's this young boy on Mack's instagram account giving a speech, which could not have come from his own words.
And lastly, for rich irony, Mack, a self proclaimed feminist, in between forcing women into a life of sex slavery and starving them on 500 calorie per day diets in order to conform with the body type "The Vanguard" prefers, posted this on her IG.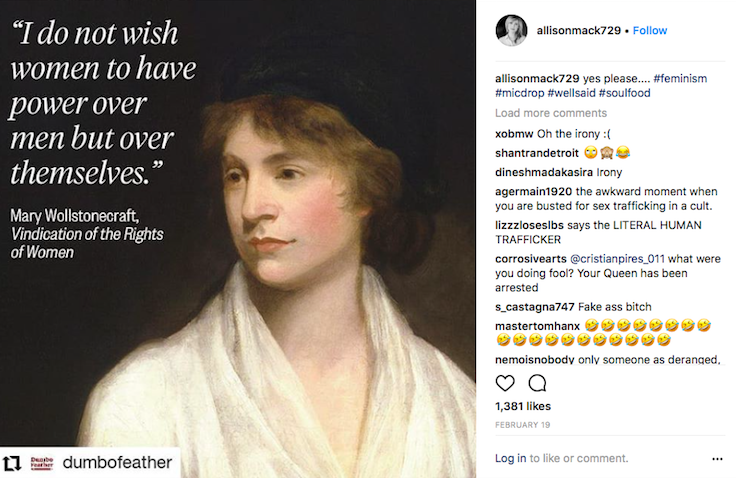 Feel free to troll her Twitter account for more lovely jewels.
Oh, I almost forgot this small item. She posted a picture John Podesta's spirit cooking celebrity back in January. Food for thought.
H8VRVViW.jpg (512×512) https://t.co/Si1wYHhRAL pic.twitter.com/cFKHBB3BPh

— Allison Mack (@allisonmack) January 23, 2018
If you enjoy the content at iBankCoin, please follow us on Twitter