A quick rundown.
Hamburgers, Fish and Chips, and Croissants bombed some borscht marinated pita bread — with a ~30% success rate — due to ancient USSR era missile interceptors.
.@mod_russia : of 103 missiles, 71 intercepted by Syria's air defences. No serious damage at airfields. Two former industrial sites hit with no people or equipment in place.https://t.co/7g05zNTWoX pic.twitter.com/0qqNZ2Pfvu

— Russian Embassy, UK (@RussianEmbassy) April 14, 2018
The Pentagon rejected claims of their missiles being shot down — and some are upset that we didn't use more.
Source: NY Times
Defense Department officials batted down those claims, saying that the entire American-led operation was over and the targets were destroyed before Syria launched any of the 40 missiles it fired into the air.

"Taken together, these attacks were able to overwhelm the Syrian air defense system," Lt. Gen. Kenneth F. McKenzie, the Pentagon's Joint Staff director, said at a news conference. "None of our aircraft involved were successfully engaged by Syrian defense forces."

He added that the barrage of missiles had hit their targets within a couple of minutes at most. He said that all three targets had been destroyed, and that all warplanes had returned safely to base.

But the strikes were limited, with an eye on making sure they did not draw retaliation from Russia and Iran and set off a wider conflict. For that reason, Mr. Assad may still be able to use chemical agents in the future.

"I would say there's still a residual element of the Syrian program that's out there," General McKenzie said. "I'm not going to say that they're going to be unable to continue to conduct a chemical attack in the future. I suspect, however, they'll think long and hard about it."

The limited nature of the strikes left some observers underwhelmed.
Russia called an emergency meeting regarding the topic, but their resolution was rejected by the council.
NBC NEWS: UN Security Council rejects Russian resolution condemning airstrikes by US, UK and France in Syria

— Josh Caplan (@joshdcaplan) April 14, 2018
Nikki Haley, in a most cringeworthy moment at the UN, told Syria that Trump was 'locked and loaded' to attack Syria again, should they use chemical weapons again. If I was a terrorist, I'd be using chemical weapons like a motherfucker right now.
China condemened the attacks.
Source: Zerohedge
"Any unilateral military action violates the United Nations charter and its principles and international law and its principles. [The strikes] are also going to add more factors to complicate the resolution of the Syrian crisis," Chinese foreign ministry spokeswoman Hua Chunying said in a statement on Saturday afternoon.

Beijing also called for an investigation into claims of a Syrian poison gas attack on the rebel-held town of Douma that rescuers and monitors say killed more than 40 people, and prompted the Western action.

"The Chinese side believes a comprehensive, impartial and objective investigation should be conducted into the suspected chemical attacks and it should come up with reliable conclusions … Before this, no conclusion by any side should be made," Hua said.

Hua also said the Chinese embassy in Damascus was in close contact with Chinese citizens in the country. "So far they are all safe," she said.

Beijing was reacting to air strikes launched by the United States, Britain and France carried out on what the US said were three chemical weapons facilities – one scientific facility near Damascus and two storage facilities near Homs. A total of more than 100 missiles were fired and the air strikes lasted no more than 70 minutes.
Putin responds.
Russian President Putin reacts to Syria strikes. pic.twitter.com/4kYgHqP6m1

— Fox News (@FoxNews) April 14, 2018
Lastly, Trump declared 'Mission Accomplished'.
A perfectly executed strike last night. Thank you to France and the United Kingdom for their wisdom and the power of their fine Military. Could not have had a better result. Mission Accomplished!

— Donald J. Trump (@realDonaldTrump) April 14, 2018
Something to consider.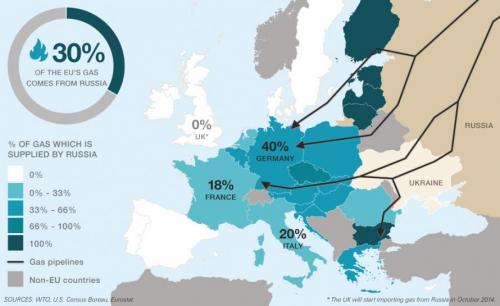 Lastly, Alex Jones had a profanity laced meltdown last night. He's officially off the Trump train. He believes 'the deep state' gained leverage off Trump when they raided his lawyers offices and are now controlling him.
If you enjoy the content at iBankCoin, please follow us on Twitter