Whatever. These people are lunatics in the first place. The decadence and the excess cause them to lose equilibrium and that leads to bad choices.
For 114 years, the Explorers Club hosts an annual dinner — attended by assholes who enjoy eating goat dicks and spiders. They discuss the planet, outer space, and the ocean — casual discussion over lizard brains and the eyeballs of sheep.
Here's Jeff Bezos enjoying a bug and a spider.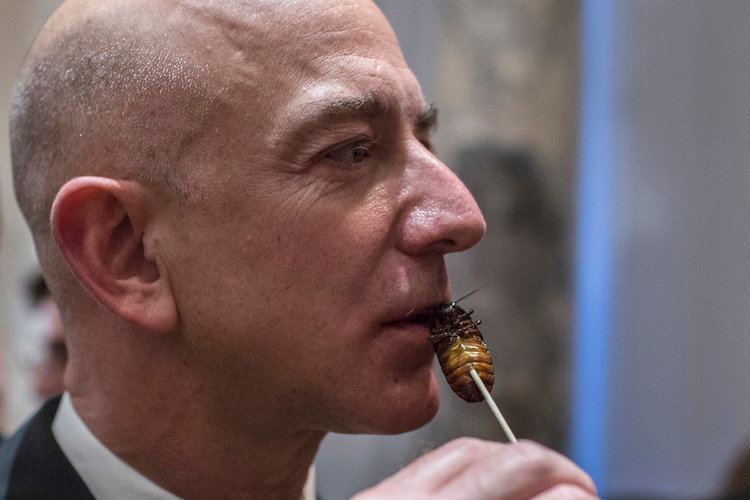 And here's Jeff this weekend digging into a fucking iguana.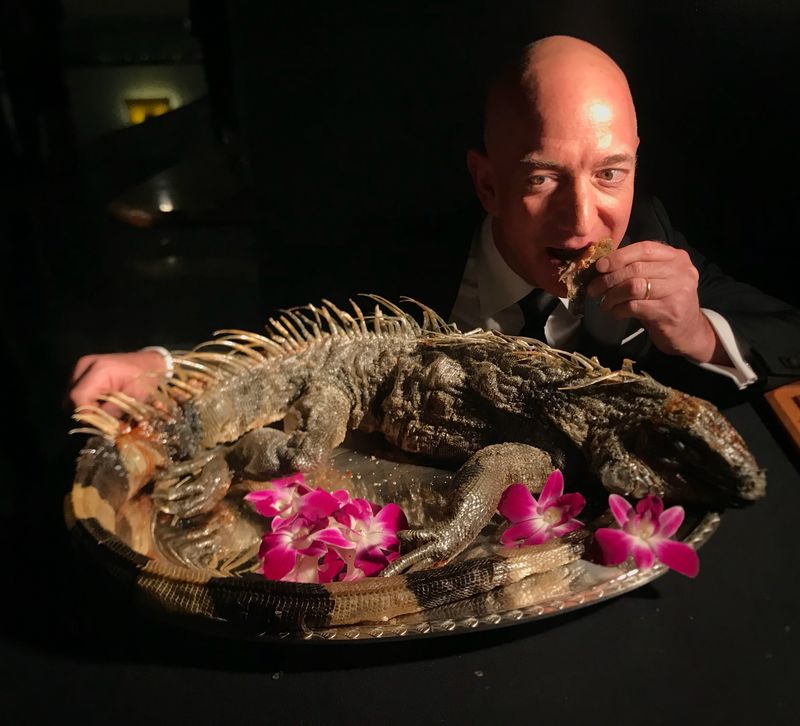 The more interesting part of the story is Jeff's statement that he's going to spend his "Amazon Lottery" winnings on space exploration. With a net worth of $131 billion, perhaps for the first time in mankind's history, we can go visit the moon.
"The price of admission to space is very high," Bezos said Saturday night in New York, accepting the Buzz Aldrin Space Exploration Award at the Explorers Club Annual Dinner. "I'm in the process of converting my Amazon lottery winnings into a much lower price of admission so we can go explore the solar system."

Bezos previously said he's funding rocket company Blue Origin LLC to the tune of $1 billion a year through the sale of Amazon stock. His comments at the event suggest that may be only the start of his financial commitment to the project, which is developing reusable rockets. His net worth is $131 billion, with $125 billion of that in Amazon stock — and that "keeps on going up," his mom, Jackie Bezos, said during the cocktail hour. His fortune has grown more than any other on the Bloomberg Billionaires Index this year.
It would be nice if Amazon bought Tesla and Musk could work in conjunction with Bezos to figure out how we, as humans, could travel to the fucking moon for the first time.
If you enjoy the content at iBankCoin, please follow us on Twitter