As an aside, I was reading about The Man Who Knew Too Little from the NY Times and enjoyed it thoroughly. For some of you who are unable to deal with current events and the unseasonable events of the day — dare I say you should lead a life of carefree ignorance?
On the issue of sheer ignorance, I've concluded my life experience in being a vegan. It has been about 9 months of a meat free, dairy free life. During that time, I've cavorted with members of the vegan community, pretended to be one of them, infiltrated their upper ranks, and have preached to meat eaters the numerous and indelible evils of meat consumption.Alas, my mission has ended and I will shortly resume a sinful life of wanton meat consumption — ultra thick rib eye steaks and hammed sandwiches. Over the past 3 years, I've hopped from one diet to the next — from a strictly protein based, near Keto diet, to gluten free, to dairy free, to vegan, to pescatarian, I can honestly say I am a better informed consumer of food and have enjoyed my heuristic journey into a black world of mushroom burgers and cauliflower tacos.
As for other happenings in my life — I'm still in the process of opening my advisory business — which will be powered by Exodus strategies. I've joined a new gym, Lifetime Fitness, and look forward to its grand opening in my area in May. My new dog resembles a coyote and is probably the smartest dog I've ever had — likely because she was a stray and had a hard life before I adopted her. I haven't started part three of my book series yet. I've also created an outline for a fictional story about a man from Ireland who got rich by accident, bumbling into one bubble trade after the next with space alien precision. If I write it, I am sure it will be the funniest thing I've ever written.
Regarding the market, does it get better than this?
Here are the top technically rated stocks in Exodus.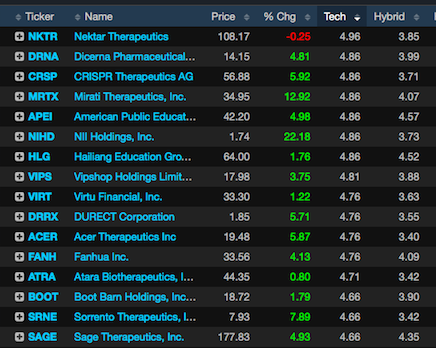 If you enjoy the content at iBankCoin, please follow us on Twitter