Bitcoin and the whole kit and caboodle are getting ravaged tonight — off by ~10% or so. Truth is, and this cannot be debated, the crypto currency asset class has been dead money for weeks. At the same time, we've been making inordinate sums of money long crypto currency equity proxies.
Observe 7 day returns in cryptos, spearheaded by a 40% drop in Ripple.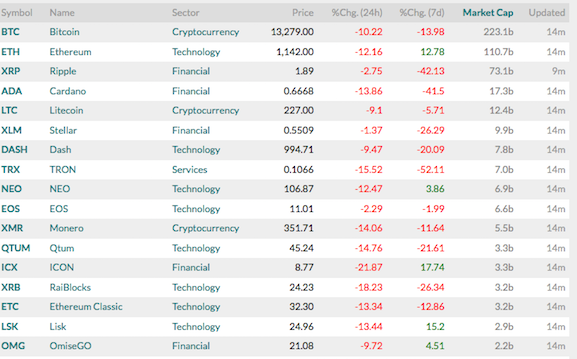 Meanwhile, we're cranking out 100% winners inside minutes in crypto land, blessed with actionable news events that cause stocks to spike without pause, and are having a generally great time during a period of distress in the crypto-currency correction.
Wall Street wins again.
If you enjoy the content at iBankCoin, please follow us on Twitter