I am working on a new project which entails a lot of manual rigor. Part of my job is to sift through the 1,300 or so ICOs and extract what they do, since no one else has actually deemed this to be an important factor in ascertaining information about cryptos. To date, all that is available to crypto investors is price action, which is, mighty I add, inexorably retarded.
To do this, I am forced to read thru white papers, detailing exactly what these companies do. Admittedly, many of these companies are laughable jokes and the valuations are out of whack; but many of them are in fact very real. The best way I can describe what is taking place is we are witnessing an entirely new internet being built — Web 3.0.
To that end, decentralization is about to happen on an industrial scale. While I cannot speak for valuations and the opaqueness of the market place, which is something that needs to be worked through, there are immense opportunities here — especially in storage. If you're long BOX or any other cloud based server company, you should pay attention to what is going on in crypto land — because they're about to snatch your wig.
Due to the current market intelligence platforms in crypto land being horrible and wretched places of ill-repute, most prospective investors wouldn't know where to start, if they wanted to maybe look into a storage based coin. That will end soon.
Observe one small part of the functionality we're building into the platform — keyword searches — which draws from a reservoir of information that is all being manually uploaded by my own hand.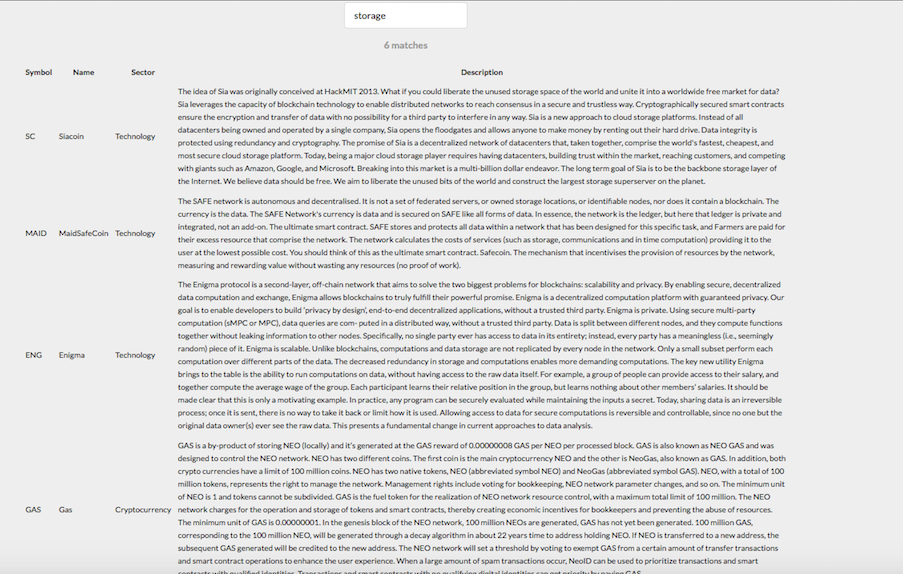 Another interesting coin is Revain, ticker R — who seeks to supplant Yelp and they make valid charges in regards to Yelp's fraudulent business, pertaining to fake reviews done to hurt businesses with extreme malice.
The list goes on and on. While some might view having to read 1,300 white papers as a chore, I see it as an educational undertaking. I've read through over 100 papers last night and inside the next month will have read them all. By then, I'll have a firm handle on the asset class and will be able to speak about it with authority.
What we intend to offer is a platform, free of charge, that will overlay the algorithms in Exodus onto cryptos, in addition to a sundry of helpful information that will allow investors make informed decisions. I do not know if our predictive mean reversion algorithms will apply in this asset class — but at a minimum, users will be able to do powerful screens and use it to learn — which is the whole damned point.
If you enjoy the content at iBankCoin, please follow us on Twitter