UPDATE: Terrorist identified.

At least one person is in custody after a bomb exploded in the very busy Port Authority terminal in NYC this morning. As you can see by the live footage below, people were injured and possibly a lot more than that.
MSNBC is reporting this is an ISIS attack and the man who was apprehended was wearing a device with wires sticking out.
UPDATE: The terror suspect taken into custody tried to detonate his homemade device, but it was a dud. He is alive.
UPDATE: Via Zerohedge
The suspected bomber – a 27-year-old who lived in Brooklyn – had wires attached to him and was armed with a five-inch metal pipe bomb and battery pack as he walked through the Manhattan transit hub, sources said.

Police took the man into custody.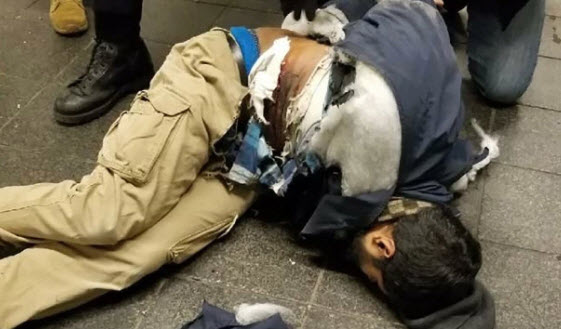 Former NYPD Commissioner Bill Bratton told MSNBC's "Morning Joe" that the man was inspired by ISIS and originally from Bangladesh.

There was at least one injury and the wounded was the suspect. The man, who was seriously injured, was taken to Bellevue Hospital.

Investigators briefly spoke to the man, who told them he made the explosive device at the electrical company where he works.

Update 2 : The Terrorist in NYC attack is injured and in custody. Bomb exploded prematurely. The suspect is reportedly a Muslim man from Brooklyn, east Flatbush area, Investigators are on the way to his home, for further investigations
If you enjoy the content at iBankCoin, please follow us on Twitter