Back to the moribund world of equities. Shares of SHAK are barnstorming higher this morning after a Morgan Stanley upgrade, raising his target to $41. Naturally, people are retarded, bidding up the stock way past $41; but I digress.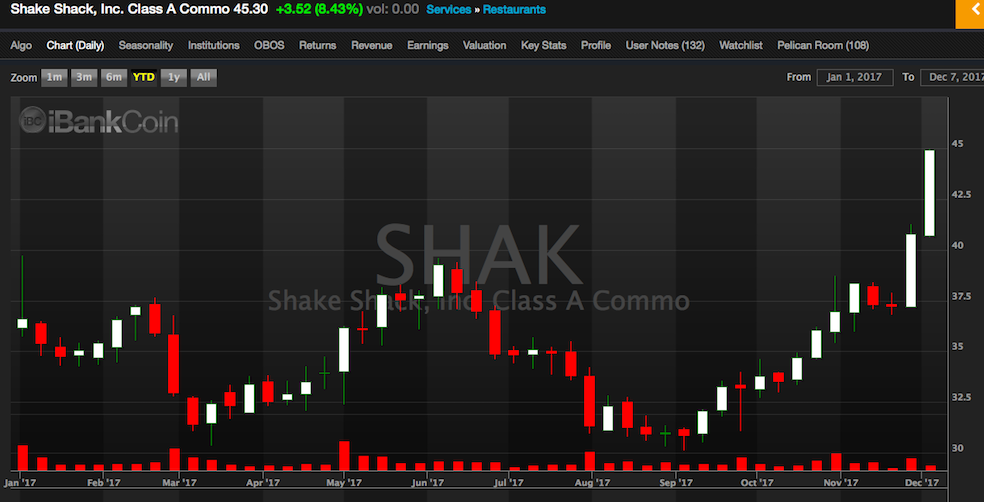 Via FlyontheWall:
As previously reported, Morgan Stanley analyst John Glass upgraded Shake Shack to Equal Weight from Underweight, noting that the company has lifted its unit openings forecast in each of the last three years and is now growing company units at nearly 40%, which he points out is the fastest in the restaurant sector. Additionally, better disclosures from the company have increased his confidence in his long-term model and validated strong performance at the store level, added Glass, who raised his price target on Shake Shack shares to $41 from $34.
Via Benzinga:
Glass' upgrade of the burger chain is based on three factors.

The company's unit growth has consistently come in ahead of expectations in each of the past three years with no reason to think 2018 would be any different. In fact, company units are growing at 40 percent which represents the fastest growth rate among any restaurant and each new unit adds up to $750,000 in EBITDA.

Management's improved disclosure on average unit volumes (AUVs) and margins by region should improve investor sentiment and confidence in understanding the longer-term outlook.

The analyst's revised valuation model based on updated unit growth and improved margin profile implies a value of $41 under the current tax code but a tax reform program could add another $9 per share of value.

Bottom line, Shake Shack is among the very few if only emerging growth company under Glass' coverage to consistently meet or beat top line results, the analyst said. As such, with fewer than 100 units in the U.S., there is "ample room" for the company to more than triple its store base.
Bottom line: SHAK is one of the few companies in the restaurant biz who have been growing very rapidly. When the stock came public several years ago, it shot higher, but couldn't sustain prices because the underwriters priced it too expensively. Remember, the underwriters are part and parcel of a great global Ponzi scheme and their sole concern is fees and ripping you off. At any rate, since then the stock has 'grown into' its valuation, as the shares have done nothing at all for two years.
Here, have a look at the valuation compression, courtesy of Exodus.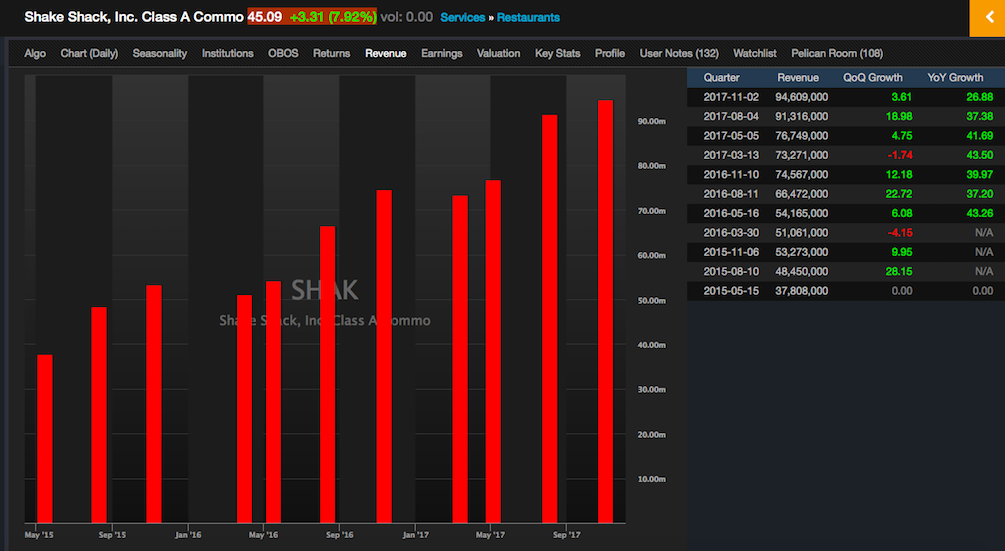 If you enjoy the content at iBankCoin, please follow us on Twitter