It all makes sense to me now. I feel like Neo from the Matrix, at the end when the bullets are whizzing towards his brain. You cannot stop the Bitcoin, but only hope to contain it. All of your stocks are hideously retarded and you should neck yourselves for having money in stocks instead of coins.
Being the owner of iBankCoin, I feel it is my duty to let you know this.
Also, Bitcoin just past 17,000. How's them apples, fucked face? Note: BTC hit a high of 19,600 today.
Bitcoin's market cap just passed Wal-Mart.

Yes, that Wal-Mart:
Founded in 1962
World's largest employer (2.3 million employees)
World's largest company by revenue ($495 billion)
World's largest retailer$BTC.X $WMT pic.twitter.com/JQuCdsRtcQ

— Charlie Bilello (@charliebilello) December 7, 2017
Sadly, this is only a Bitcoin party, as the rest of the cryptofags are getting inexorably beat down.
Have a look.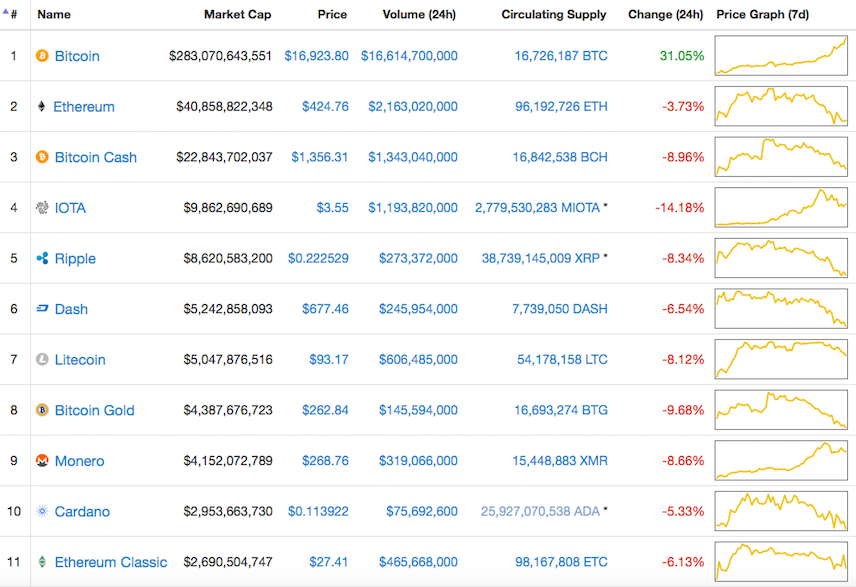 Quite sad, isn't it?
Don't worry, I'm sure this pullback is a buyable dip and all of you nerds will be making computer money again.
If you enjoy the content at iBankCoin, please follow us on Twitter