The stock hasn't taken much of a downturn on this news, probably because the food poisoning in question didn't happen to an A list star. One of the supporting actors on the CW show Supergirl, Jeremy Jordan, says he 'almost died' after eating at Chipotle. He was violently ill and needed to be hospitalized. Here's Jeremy reporting in from the hospital, looking rather grim.
In a cryptic note to his fans on Twitter, Jeremy wrote, "I just died."
I just died. https://t.co/nyV8V3cD4U

— Jeremy Jordan (@JeremyMJordan) November 13, 2017
In the full video, which has all but been wiped clean from the internet, Jeremy said
"I know I've advocated for them in the past, but they're terrible. I, as you can see, am in the hospital. I have fluids in my arm because the food did not agree with me and I almost died. I just want to thank my wife for being amazing and talking me off the ledge when I was on the phone about to die and for holding my hair back metaphorically."
He concluded:
"I love all of you; thank you so much. It's been a night."
Chipotle responded to the non-A list actor with a short statement, denying any involvement in the hospitalization and projectile vomiting of a certain Jeremy M. Jordan.
"There have been no other reported claims of illness at the restaurant where (Jordan) dined. We take all claims seriously, but we can't confirm any link to Chipotle, given the details he shared with us."
Shares of CMG are down 26% for the year and nearly 60% since the spate of food poisonings began several years ago.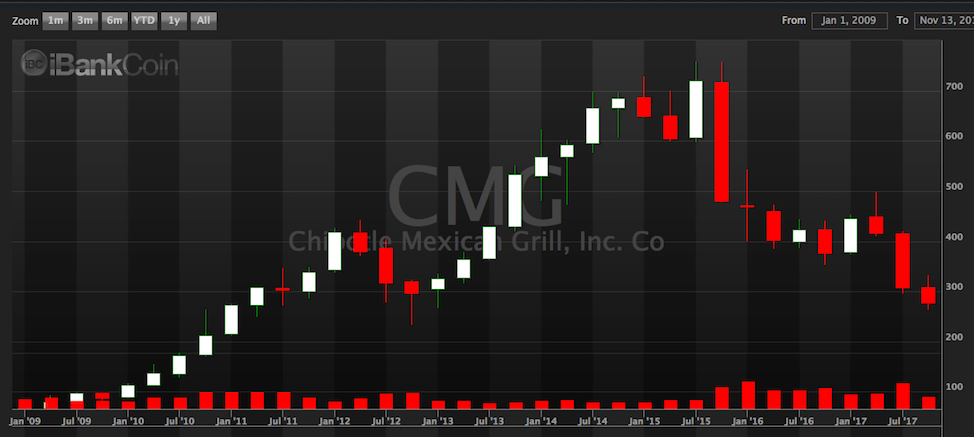 If you enjoy the content at iBankCoin, please follow us on Twitter