Sad revelation for olde time iBCers. It appears the old Jason Treu blog from 2009, the one which drew an outrageously violent response from my readers, is gone. It looks like Jeremy nuked it, probably because Jason was going to help us coordinate the iBC Conference in 2015. For the fucking life of me, this pisses me off more than anything else.
For those of you who are unfamiliar, Jason blogged for me briefly in the summer of 2009. Bear in mind, this site was a lot different then. I was uncultured, raw, and violent and I attracted savages to the comments section who couldn't care less about anything Treu had to say. So he started his blog discussing how a man should dress, how to fold a pocket square, which watches to wear, and how to work a room. The comments section roasted his fucking balls off. It was littered with over 100 comments of people leaning into him with a heavy foot. It was, without question, the funniest comments section we've ever had. Sadly, it's lost forever.
UPDATE: I fucking found it in the Wayback Machine. Enjoy.

Hello "Fly World." I am the new lifestyle blogger and will be sharing information on how to build an incredible social life. I'll share practical tips and also discussions on how to change your mind set to help you get whatever you want in life. You can now Bank Coin, WHILE becoming the person everyone envies socially.

Have a great social life is a gateway to everything you could want in life: networking, business, friends, relationships, etc. Building one takes a lot of work and that's why most people don't! It is like getting in shape, it doesn't happen overnight, but if you keep it up, you can make significant progress in a short time. BUT, you must know what you want.

Today, I'll start discussing an extremely powerful way to help shape the right mindset when you go out. Visualizations and affirmations should be a cornerstone of your daily routine. I do them twice a day, once in the morning and at night. I build a list of no more than 3 to 5. You must be very specific and put them in the present tense. Putting them in the present tense is important because you tell yourself you already have it. So hence, you act like it. "I am the social mayor of X city." "Beautiful women want me and pursue me."

One of the things that may be responsible for your unsuccessful evenings out, is how you "see it." In other words, when you think about the night ahead, you start remembering all the bad things that happened last time and hope they don't happen this time. So, you're visualizing failure, and then it becomes a self-fulfilling prophecy.

If the above is true then doesn't it make sense that if you convinced yourself of the opposite, that would also be true?

Try a new strategy. Start visualizing success. I've give you above some tips to start out. You can do a Google search and find quite a bit of information on visualizations. Creating a "mind movie " is the best way. You can make your own with Microsoft PowerPoint and Animoto and other ways as well. It combines pictures, words and music. I watch one daily.

This works really well before you go out on the town. Start thinking about your night out before you leave the house.

Top athletes use this strategy all the time. They know that their opponents are all at the same level, so each competition actually becomes a 'mind game'. Before a game, they'll visualize every step, jump, hop, etc. They compete in their mind before actually playing…and, of course, they visualize winning.

You should be applying this to your social life.

Here's how you do it:

Before you go out I want you to close your eyes and focus. Now, imagine all of the things that are going to happen to you when you walk in the place you are going to.

* You're going to walk in feeling great, confident and full of energy

* Every person looks your direction and fantasizes about being lucky enough to speak with you

* You approach people at bar and the first group of women/men. You say, How's everything?, 'Great' they respond. You can tell that they're in awe of you.

* You never get rejected, other women/men see this and start approaching and talking you

* Within moments of approaching you, women start making out with you and ask you to leave with them for a private champagne party

*And onwards…

You get the point.

Fashion advice:
Great way to dress and look good is follow a couple simple fashion tips below. I spent this week at night talking to more than 50+ women on ways guys could look better. Here is what I found.

1) Wear blazers: Makes a look classy and adds something to the wardrobe. You can get good ones at Express for Men , Banana Republic , etc. Find a good tailor. Ted Baker has fantastic blazers, more money, but fit well (more european cut). Good to add one or two to your wardrobe.
2) Solid shirts: Forget the prints, and please don't ever wear an Ed Hardy shirt. I found this new designer, Bogosse . The shirts are classy and eye catching. Not many people have them, so they stand out.
3) Jeans: Need some good pairs of jeans. 7 for Mankind, Diesel, etc
4) Pants: Can get good ones at Express for Men, Banana Republic, etc
5) Pocket squares: This adds some class. Women like it. Do it. Silk ones, not cloth. I go to Neiman Marcus outlets. I get some at Barney's (more expensive, but look great).
6) Jewelry/watch: Don't clutter yourself up with them. I only wear a watch: it is rather large one (classy, not cheesy), but it is a conversation starter, an Invicta diving watching . Small classy rings are good. I have a friend with a small silver one with a blue stone. Guys with necklaces, rings, leather bands, etc are totally out.

Have a great week, and let me know what you think!

Jason
http://www.facebook.com/jasontreu
Tweets by jasontreu
http://www.asmallworld.net

PS: Here was my last champagne party in May: http://www.flickr.com/photos/jasontreu
I'll share with you over time way to have pre- and post-champagne parties, as well as happy hours.

Posted by jason on Friday, July 24, 2009 at 6:12 pm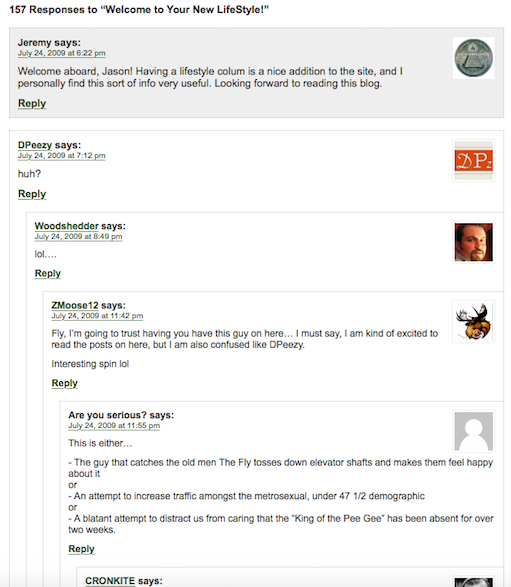 And here is the comments section.
Fly cartoons parts 5,6 of 11.
If you enjoy the content at iBankCoin, please follow us on Twitter