This experiment or crucible or penance that I've been conducting on myself, resorting to a vegan diet, would make sense — providing I actually gave a fuck about my lifespan. To be clear, my fatalistic, blowing up in a cloud of black smoke persona is very real and does not mix well with a health conscious diet. Ergo, and this goes without saying, I am ebbing towards quitting this RIDICULOUS diet in order to only eat meat.
That's right, I'm gonna attack the fucking deer in my yard and eat them alive, fur and all. The problem with vegans, in my brief experience knowing them, is that they're mainly assholes. Anyone who precludes themselves from foods, based upon the premise of wanting to be healthier, should be shot. Now I don't mean that metaphorically; I actually mean get shot.
Look at Bill Clinton. He used to look good; now he just looks like a GIGANTIC FAGGOT.
On the matter of part 2 of my story, I intend to write it, even though it's a grande giant waste of my fucking time. There's no money in it for me, so I do it solely for the pleasure of documenting and creating good prose. I intend to make this one longer, mix in new characters, like The Devil and Chuck Bennett, and discuss the grimness that I endured during the blow up, the very worst of times that presided over a 78% decline in the Nasdaq in 30 short months.
For those of you who read part 1, what would you like to learn about in part 2? Any feedback is appreciated, since this long form of writing is all new to me.
UPDATE: I just started part 2. Opening paragraph, subject to change.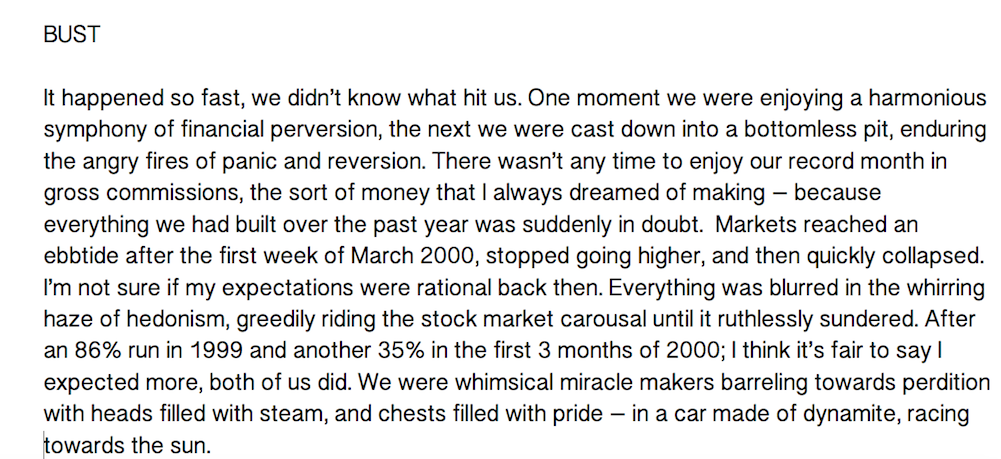 If you enjoy the content at iBankCoin, please follow us on Twitter