FLASH: My book is out. Now go buy it.
Because they're fucking crazy. Or are they? I tried to find info on this via Stocktwits and could not. It has become a denizen of spam and retards shitposting — utterly useless.
First off, HMNY owns 52% of Moviepass.
What is Moviepass?
For starters, the CEO is a co-founder of Netflix.
For $9.95 per month, members can see a movie once per day all month long.
What?!
Indeed, Moviepass is using the same bet that gyms make — people won't go. They will pay the theaters the price of the ticket and stand to lose GOBS of money, should people truly go to theaters. I am certain they're negotiating deals with theaters at lower price points, especially since more foot traffic means more popped corn sales.
AMC is not impressed.
"From what we can tell, by definition and absent some other form of other compensation, MoviePass will be losing money on every subscriber seeing two movies or more in a month," AMC says in a statement.
AMC is, quite literally, trying to BLOCK Moviepass in their theaters. The logic is, do not get people's hopes up with this nonsensical business model that will fail. Once it fails, people will be pissed off and never see a movie again, or something like that.
The chain says that it doesn't object to the concept of movie subscriptions: But the one from MoviePass "is not one AMC can embrace. We are actively working now to determine whether it may be feasible to opt out and not participate in this shaky and unsustainable program."
I find it hard to see how Moviepass can succeed with the largest theatre chain in America blocking them. With 4 million shares in the float, it probably doesn't matter today.
Look at that stock run.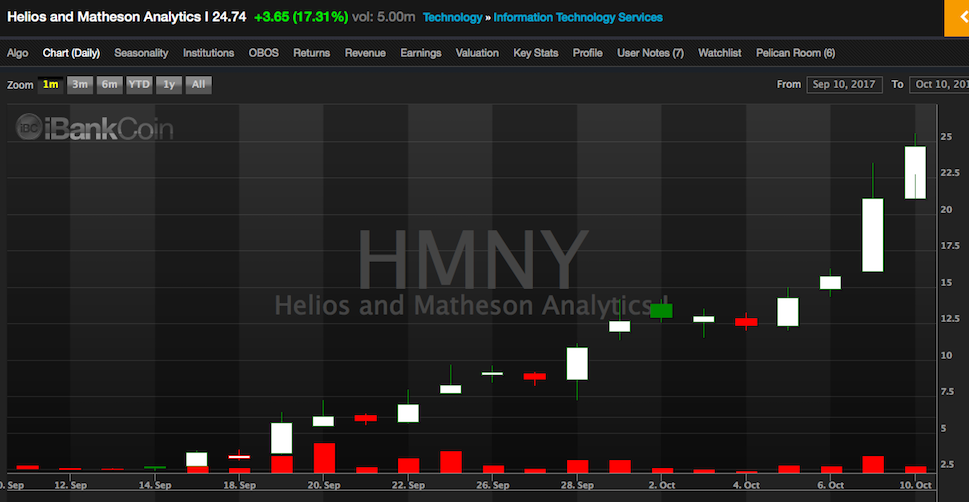 For the love of God, they only have 27,000 followers on Twitter. If this got big, HMNY would go to a gazillion.
If you enjoy the content at iBankCoin, please follow us on Twitter