The lithium story is as old as the day is long. But for some reason, which I am apparently ignorant about, this is happening again. Perhaps it's Tesla related, or maybe the automobile industry is truly trying to adopt these batteries in a large way. Other than dicking around with lithium batteries inside of my flashlight, I have little enthusiasm for the sector.
But what the fuck do I know anyway, right?
Lithium, as represented by LIT, is up 62% for the year.
The main play, Chilean miner, SQM, is higher by 121% this year.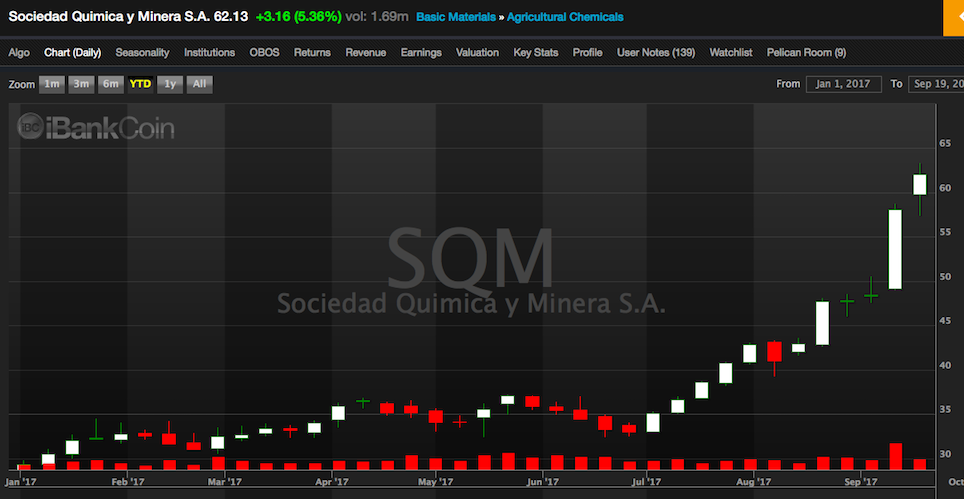 Some other plays include, but not limited too, BYDDF (+21%), HPJ (+109%), ALB (+57%), FMC (+63%).
Now I could do a cursory google search or ask a friend of mine to send me a report on the industry, summarize it and then post it here for your pleasure. But why bother doing that? What in the fuck is your purpose anyway, aside form leeching and complaining, taking, and stealing?
How about you tell me why Lithium is such a great investment now and I'll patiently wait here, waiting a bowl of cereal (coconut milk) eagerly anticipating your report?
If you enjoy the content at iBankCoin, please follow us on Twitter