Back in 2000, a good friend of mine who managed a small fund for a handful of clients came to my house in Bay Ridge, NY to show him his paycheck for the quarter. He was ecstatic to have made so much money at such a young age. Both of us were in our early 20s. Back in those days, the brownstones we were living in cost about $400,000, hardly a hot market.
With his small fortune, he bought 2 more brownstones, both to be used for rentals. A few years after that, he bought another home for himself, near the shore, and then a building on 5th avenue to house his business. Fast forward to today, he's a rich man — all through his real estate holdings.
I grew up in Brooklyn, when it was a fucking shit hole. You could not travel to neighborhoods like Bedford Stuyvesant without getting robbed or shot. It was really that bad and I went to all of the worst neighborhoods — having grown up in East Flatbush.
I was perusing Bed Stuy's real estate values this morning and was shocked to see brownstones fetching for $3 million, upwards of $900 per sq ft.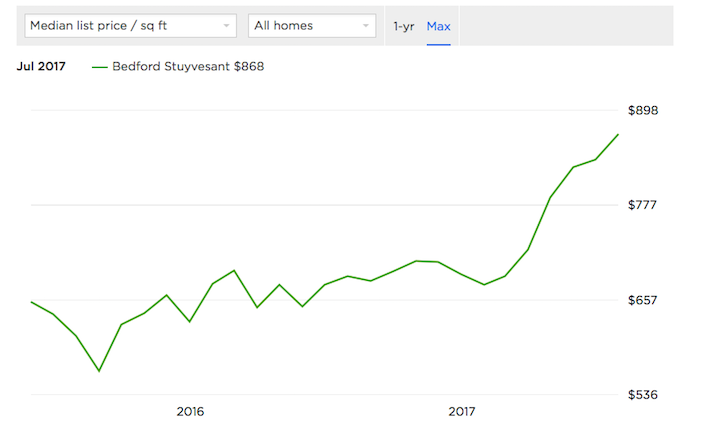 Across the board, Brooklyn's real estate market is ebbing towards equanimity with Manhattan, by the square foot.
The best neighborhood has been Park Slope, a place of ill repute when I was cavorting there in the 90s. It was filled with gangs and people who wanted to punch you in your face. I recall being accosted by a lad with a group of 10, accusing me of being with a group of teens the week prior and beating up his friend. I was seconds away from being pummeled to death when I managed to convince them I was a man of extreme repute and honor. Then I bribed one of them with my 40 ounce of malted liquor and we quickly became friends. Back in those days, sharing a 40 ounce of malted liquor, with total strangers,  was something to be cherished.
Here is the real estate values of the now gentrified Park Slope.
Sandwiched between Park Slope and Bay Ridge is a neighborhood called Sunset Park. I spent much of my teenage years hanging out there, with most of my girlfriends domiciled in that locale. It is, without question, an interesting neighborhood, filled with drug dealers and people who run around at night beating up people for cash. It's a mostly hispanic neighborhood with strong ties to the Puerto Rican community. It is vibrant and fun, providing you can avoid getting razor bladed to your face. I once recall being accosted by two gents who attempted to kill me with a mallet.
Real estate values for Sunset Park.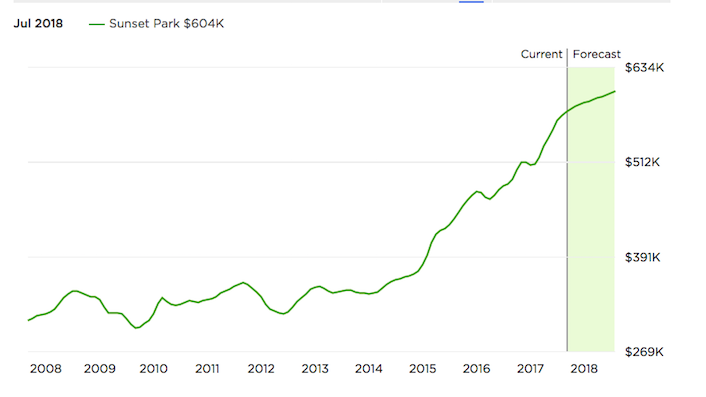 Juxtapose those values against where I live now and it's not even a contest. Suburban and rural areas in the United States have been BTFO over the past decade, beset with stagnant prices. Aside from the elite zip codes, all of the appreciation has taken place in urban areas. I suppose there is justification for that, since that's where the jobs are. But is the suburban dream of a 2 car garage, pool, and 4 bedroom house dead?
If you enjoy the content at iBankCoin, please follow us on Twitter