The damages inflicted upon Houston will cost upwards of $50 billion. The fact that only 10 people have died from the storm is truly amazing, considering the widespread damage. Bear in mind, Houston is not a place where flooding is supposed to happen.
Unlike Katrina, where most citizens in the afflicted areas were insured, only 20% of the people hit by the flooding have flood insurance. This is going to be a GIGANTIC boon for insurance companies in the future, who will descend upon Texas like the wrath of God — scaring them into buying flood insurance. In the meantime, construction related stocks are moving higher, in anticipation of the rebuilding efforts.
You want to own Texas based companies, for obvious reasons. STRL is being gobbled up by greedy investors, up 25% over the past week.
Florida based engineering firm, NVEE, is moving higher — due to their expertise in flood related pollution.
Houston wire and cable (HWCC) has enjoyed a 17% weekly run, thanks to the vast amount of infrastructure damage done to the region.
According to Exodus, there are 193 publicly traded companies based on Texas. Here are today's top performers.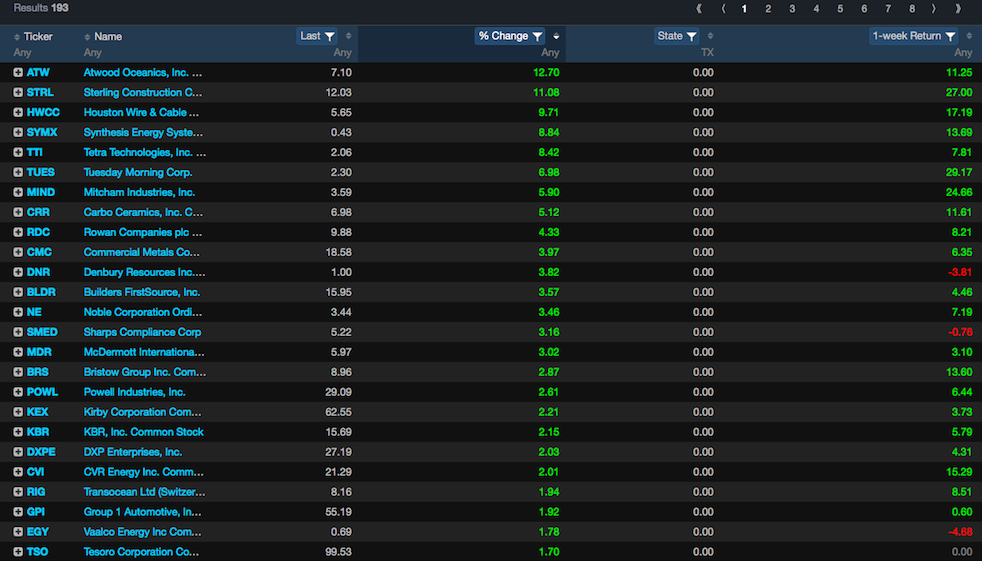 Having traded through several natural disasters, I can tell you that this hype will soon fade. The infrastructure and sheet rock story gets old fast. But what lasts are the changes made to the region, such as a brand new customer base for insurance outfits.
One should presume PGR will see more flood insurance policies thanks to Harvey, as well as TRV, MET, AIZ and ALL.
Other obvious plays are trucking companies like CVTI, ARCB, KNX and YRCW. Then you have the whole demand for steel, copper and supplies that make up the rebuilding efforts. This is what traders are looking to trade now, even if it's the stupidest fucking trade on the planet.
If you enjoy the content at iBankCoin, please follow us on Twitter