After last year's market rout in China, accompanied by an FX crisis that presented the great dog eating nation with horrible problems, the Shanghai has been under complete government control. Some cynics out there might call it 'rigged.'
The Shanghai has now gone 84 trading days without going down by 1% — the longest stretch since their experiment in stock market shenanigans began in 1992. Of the 13 trading days that the index dared to trade down by 1% or more, the index always rebounded into the close. I am sure it's all a great coincidence, that the biggest and shittiest and most overvalued market in the world is suddenly and inexorably docile.
Nothing to see here. You must all be getting tired now after a long day's work. You should stop reading this now and go tuck yourselves into bed. Soooo sleepy, ZzZzZzZ.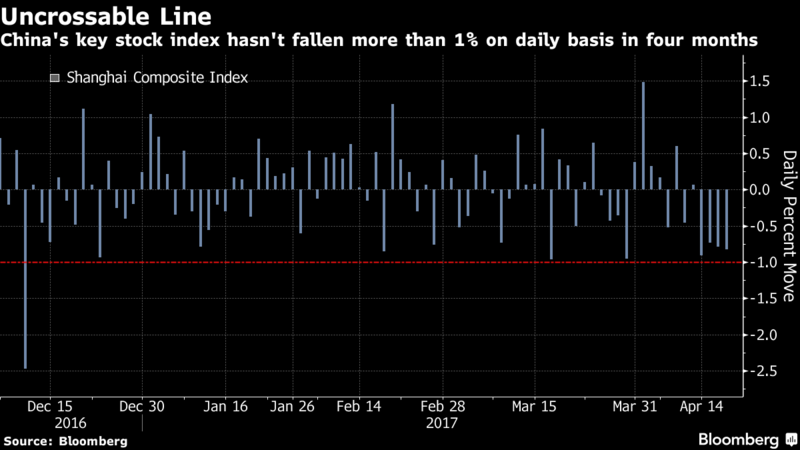 According to an unnamed source talking to Bloomberg, the Chinese government has been 'limiting the extent of declines' by injecting funds into stocks. You don't say?
CSRC Chairman Liu Shiyu said last year that the state will intervene "decisively" if needed to bolster the market, while stability has been a key focus of policy makers in 2017 as the ruling Communist Party prepares for a twice-a-decade leadership reshuffle toward year-end.

Authorities favor a steady stock market because it helps companies fund investment and repay debt by issuing new shares, which could help boost economic growth, according to Yin Ming, a vice president at Baptized Capital in Shanghai.

"The national team is behind it," Yin said. "State funds will likely continue to be a market stabilizer."
How wonderful. I can't envision anything that could ever derail such a great plan. What can go wrong?
If you enjoy the content at iBankCoin, please follow us on Twitter