I know most of you will dismiss the fact that Jim bought some TST stock, thinking he's emotionally attached to it. Truth is, this is a bold statement by Jim, buying the stock of his horrendously mismanaged website.
Being intimately familiar with the business of operating a website and subscription services, I can tell you TST is nothing short of a goldmine.
Revenues aren't growing at TST, according to recent reports. Subscription revenues, which make up 80% of revenues, have been flat. Media revenues, which is basically ads, were flat as well.
Nevertheless, Jim is buying the stock. Why?
As you can see by the income statement, there is nothing awe inspiring here. It's your run of the mill, boring grind lower to an eventual watery grave.
Why the fuck is SG&A so high? This company has shitty margins and that should/could be fixed.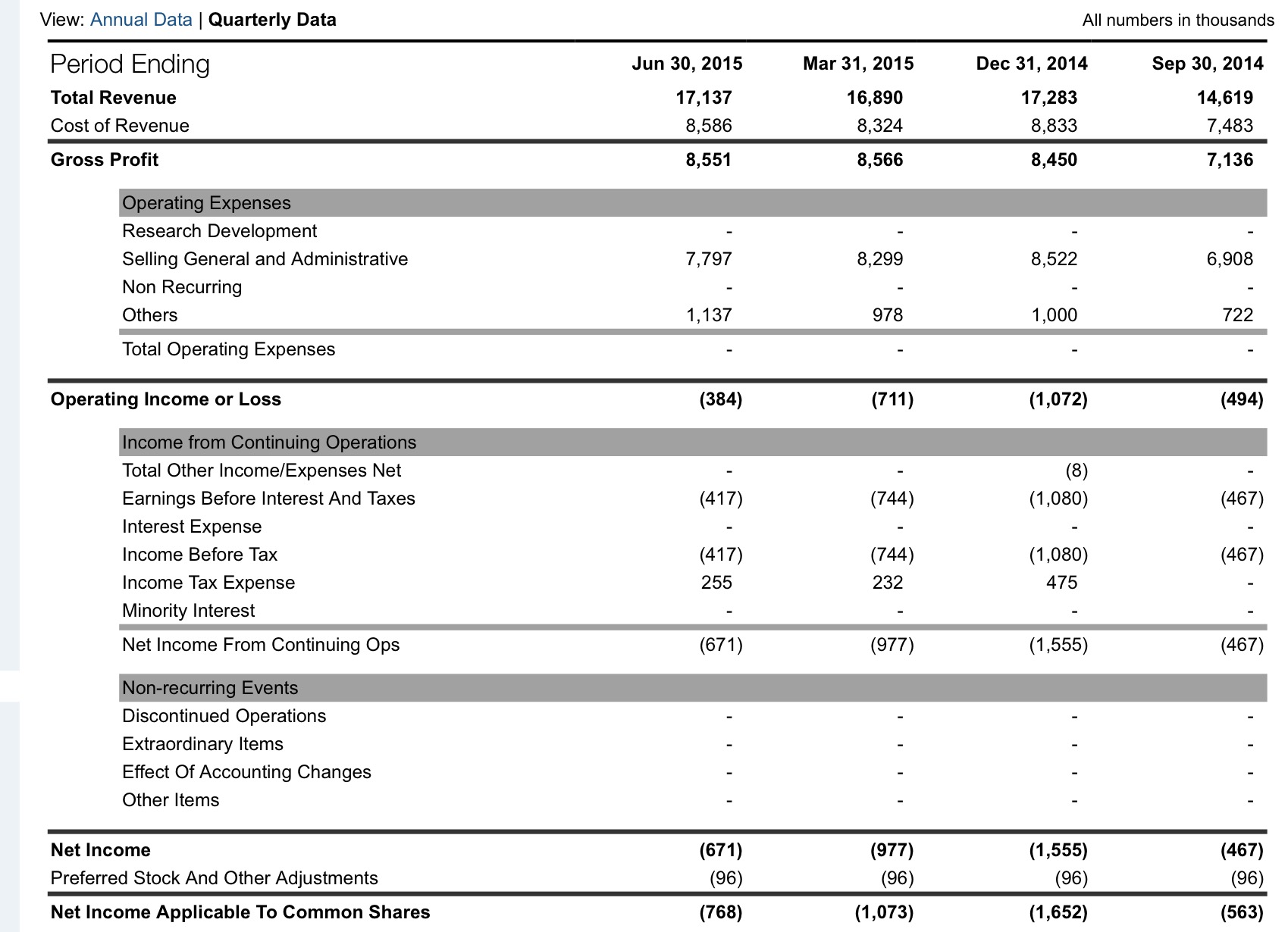 Revenues appear to be higher; but they're not. It's due to an acquisition of a company called MDL. What does MDL do? Who gives a shit? They aren't growing. Why is TST buying companies that aren't growing? This is absurd.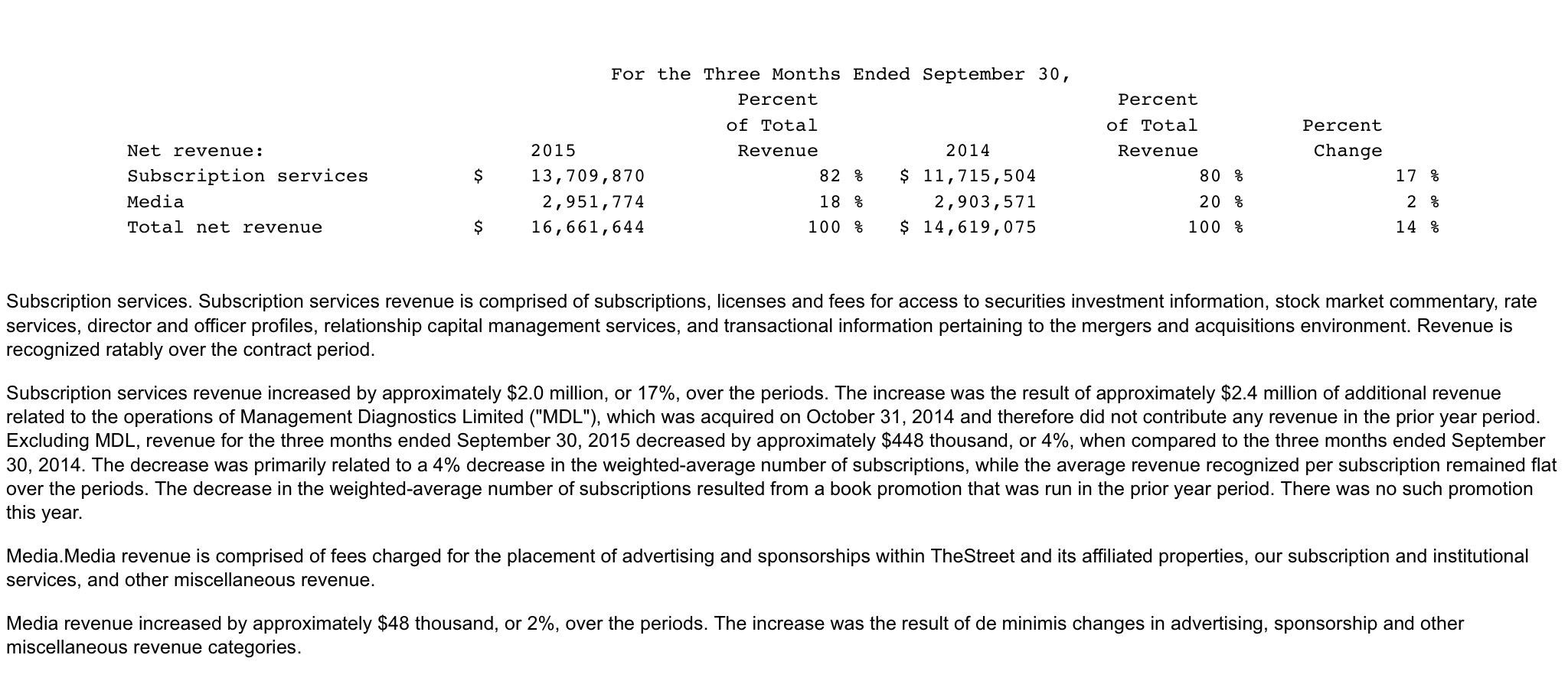 Why is TheStreet.com a goldmine? Traffic. It's a top 1,000 site in the country, valued at just $54 million. Shit, Wall Street values TST at a little more than 1x sales and BusinessInsider just sold for 9x sales. If I were in charge over there, I'd fucking cull the dead weight. Just because someone is getting traffic and drawing in revenues, that's not good enough to keep him/her. If revenues aren't growing, and the talent isn't hustling on social media to draw in subs, they should be fired. Cramer should use his celebrity status to draw in real talent, younger talent, who can bring excitement to TheStreet again.
Hate it or love it, TheStreet.com is an icon in financial journalism and it's shameful that its share price is under 2 bucks, after 6 years in a bull market.
As stated by their income statement, ad revenue isn't the problem here, it's subscription services. My guess: TST has thwarted any and all opportunities to properly manage their social media channels, draw in new eyeballs, and redeuce turnover, thanks to the low quality of their talent.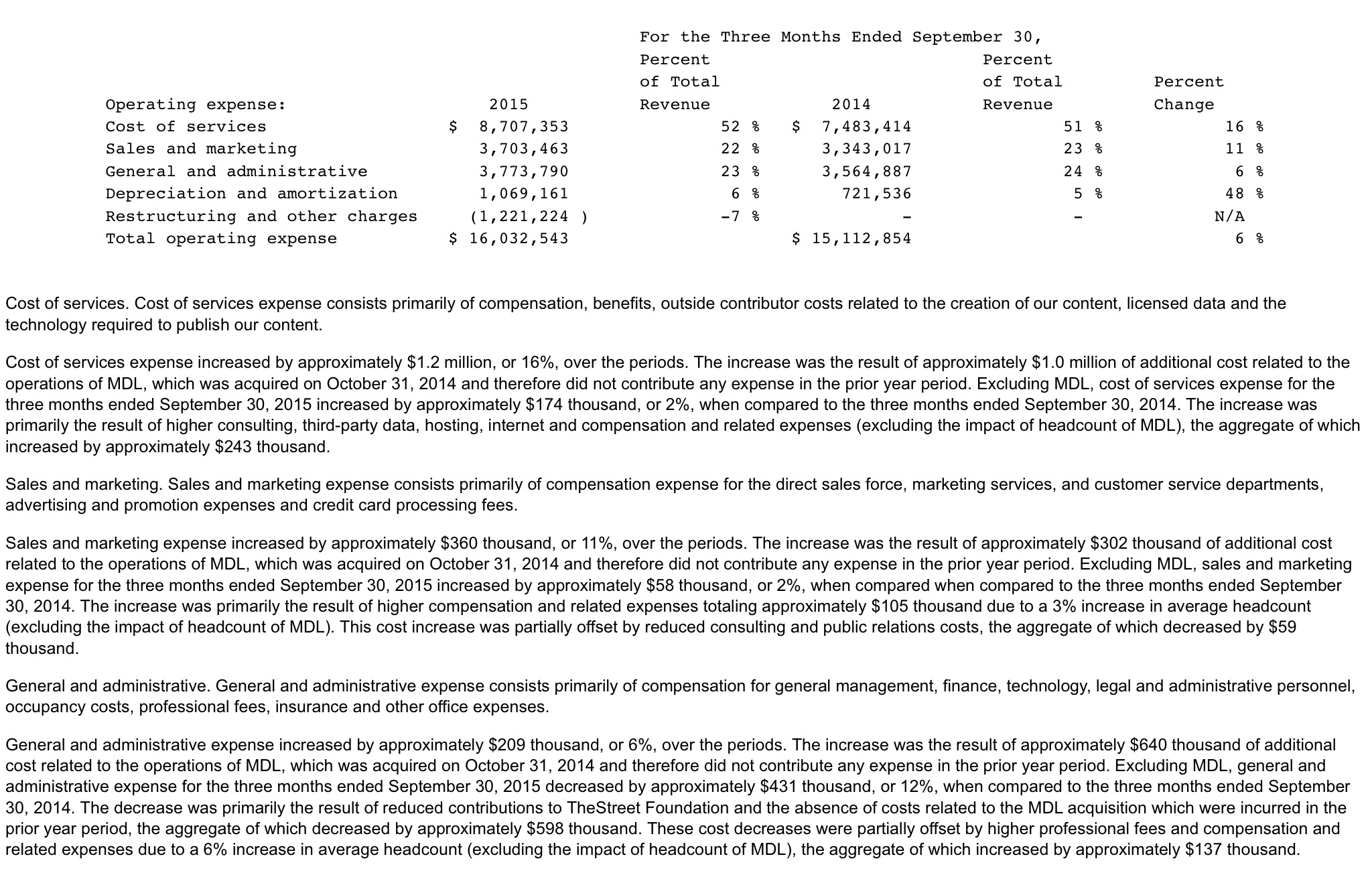 Although much of their traffic is superfluous, I'd kill for an Alexa ranking like this.


Look at the website design for TheStreet.com. If you had a store and 80% of your sales derived from the sale of tires, would you flood your store with wrenches and hide the tires? That might not be the best analogy in the world; but what TST is doing by flooding their front page with a bunch of shit, is catering to ad revenues and trying to maximize page views, while minimizing the importance of subscription revenues.
More than that, the page is too cluttered, confusing, and it has no energy. I know they have a very good biotech guy over there, who kills it. But, aside from him, they have a bunch of ham and eggers on there, like Doug Kass and Helen Meisler.
No offense intended to any of them. But the methods and model TST has followed, almost with a religious lunatic fervor, isn't working. Why not try something new?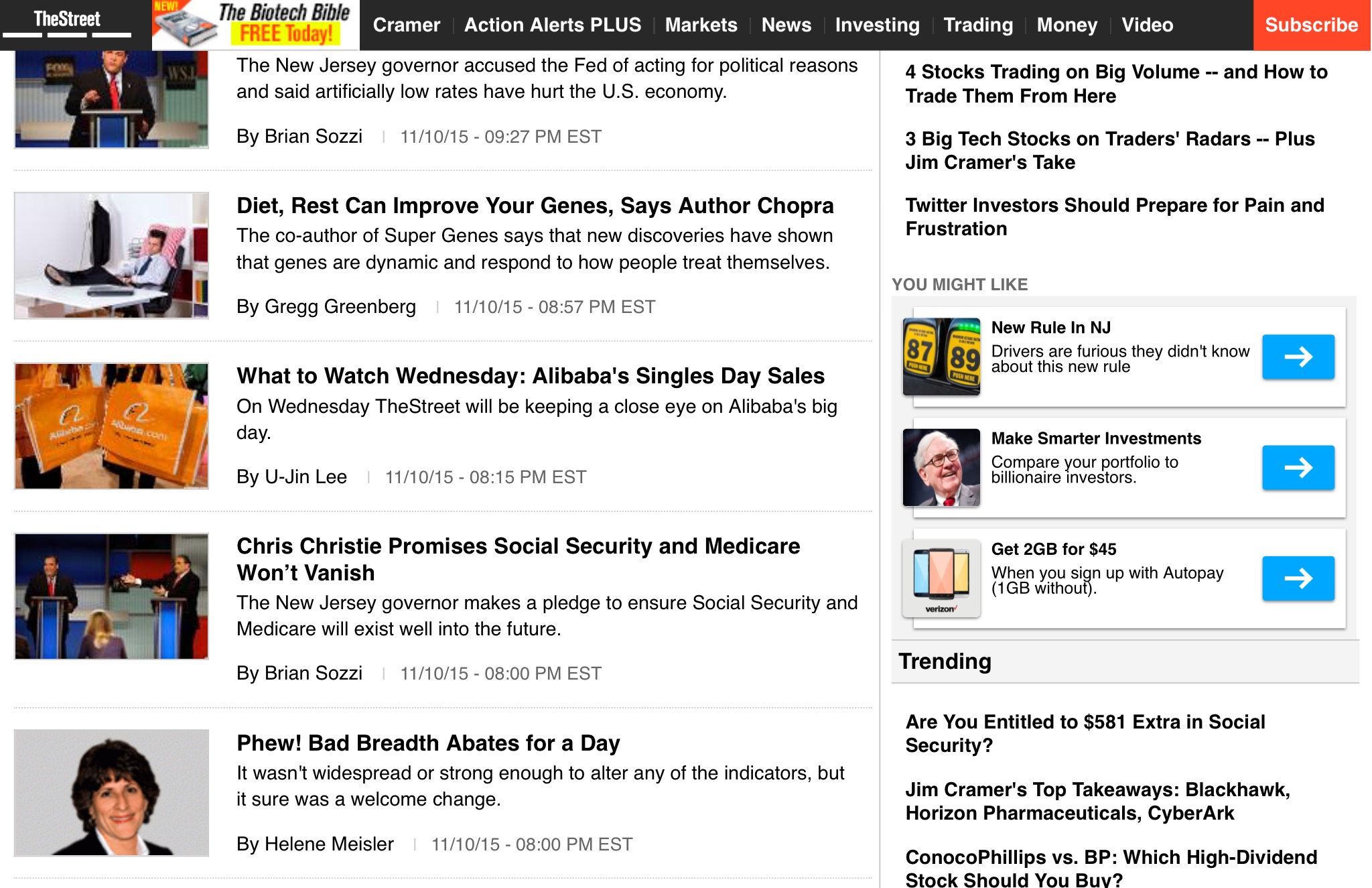 TST has over 200,000 followers on Twitter, which is great. But there's hardly any engagement, if at all, on Twitter. With all of those followers, you mean to tell me you couldn't get 1 person to RT or fav an article? Either those followers are bought, or their content is 100% shit. People do not care.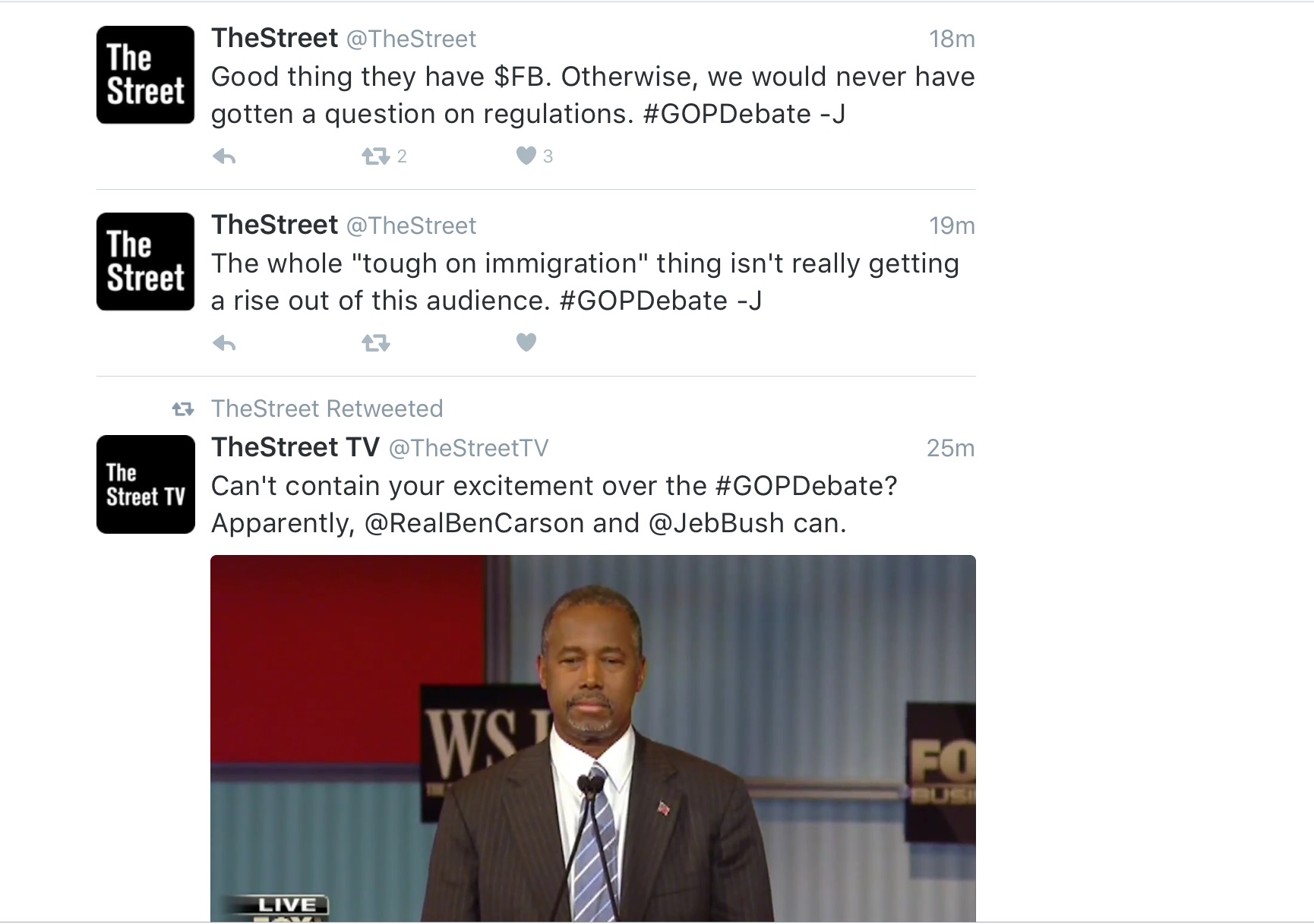 Lastly, I want to bring up StockTwits and how TST is failing miserably there. Howard Lindzon built a great commnunity there, one that has lots of growth, energy and is a significant source of referral traffic for iBankCoin.
Cramer hasn't posted anything on StockTwits since 2012. And, to boot, I have more followers than him there, which is ridiculous, considering his foot print.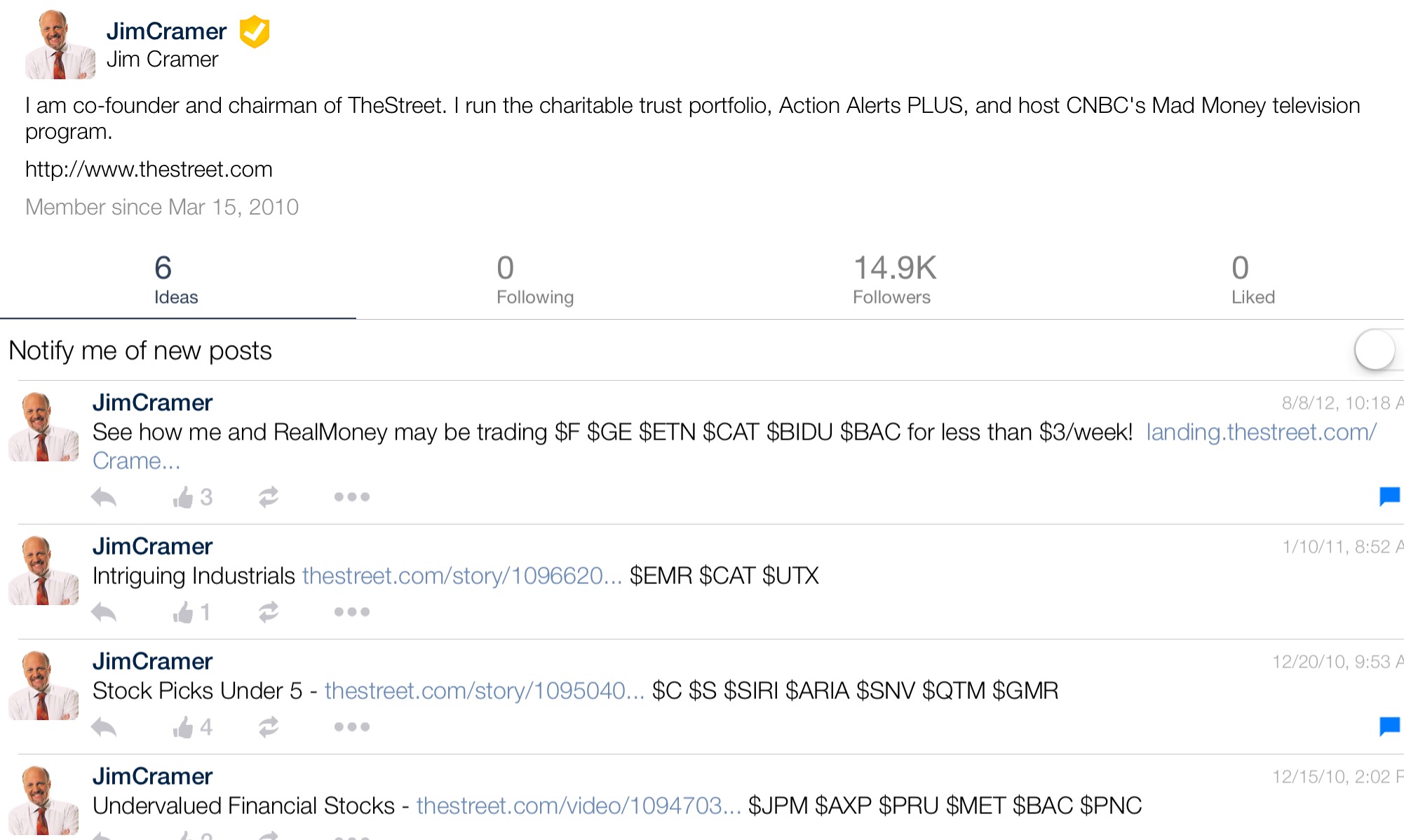 How do I have twice is followers?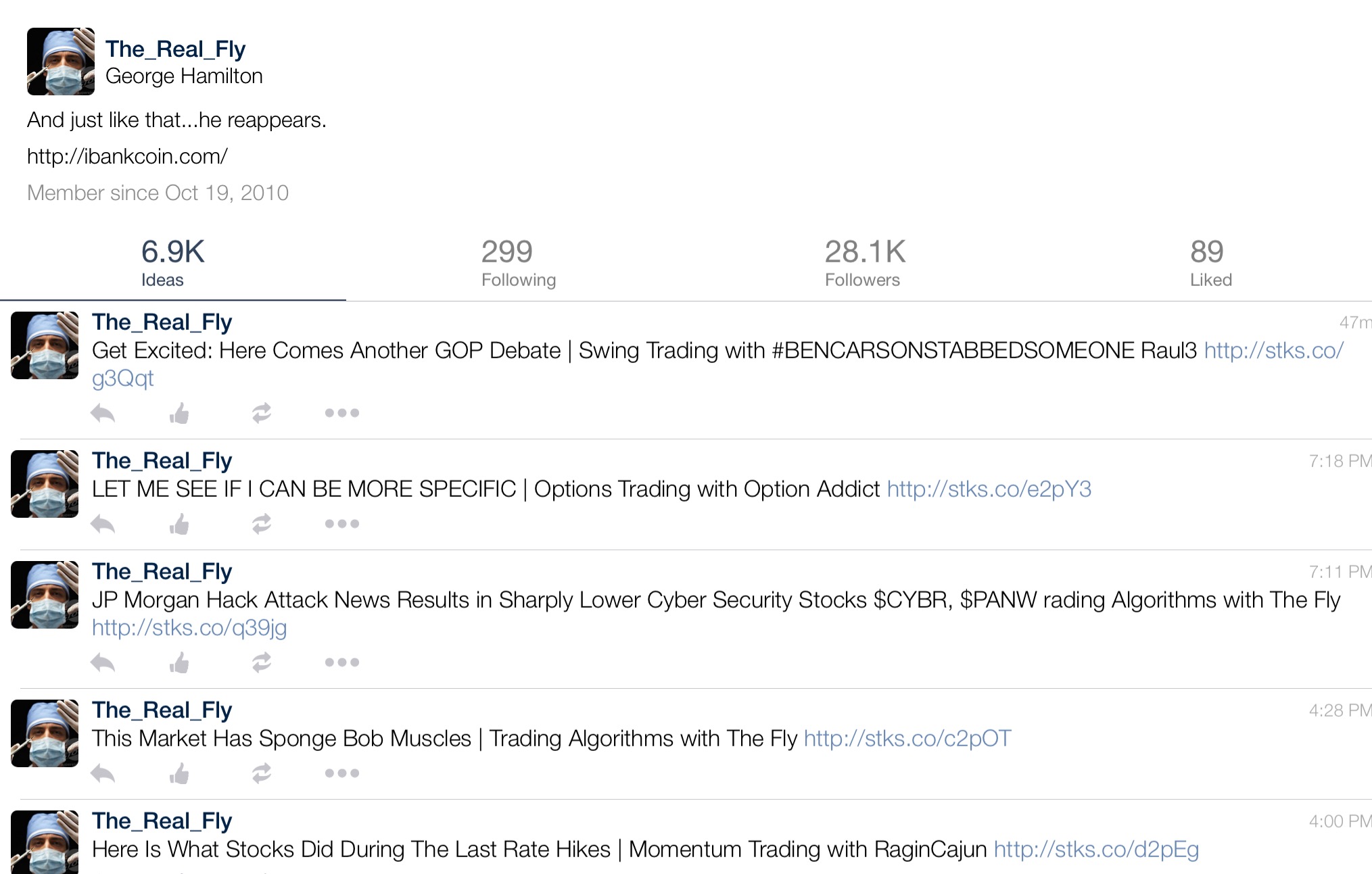 And look at this shit. TST floods StockTwits with links and don't even bother to have them titled. If you saw these links, would you click on them? With the amount of overhead at TheStreet.com, you'd think they'd dedicate a few responsible people to manage their social media platforms.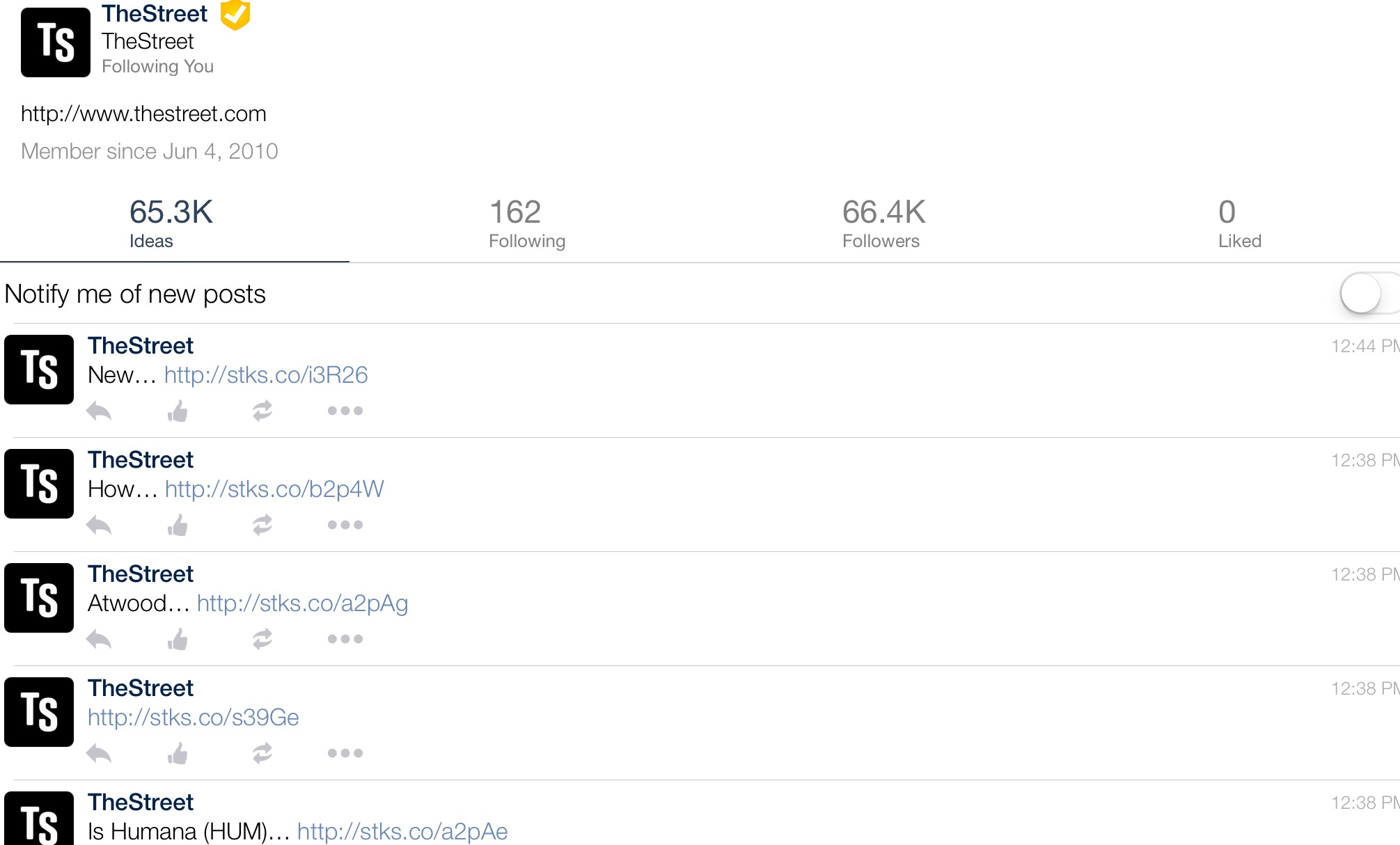 The root problems at TST runs very, very deep. They're dependent upon aging gurus to keep the company afloat. Any idea how many Exodus subscriptions I could sell if afforded the footprint and traffic of TST?
A fuckload.
If you enjoy the content at iBankCoin, please follow us on Twitter