You are all well aware of The Option Addict's unparralleled skill during roaring bull markets. I've never seen anything like it, quite frankly. ChessnWine has established himself as a man who knows when to play his cards and when to fold them, as evidenced by his avoidance of any drawdown–whatsoever–when most were taking line drives to the scrotum about a month ago.
But Ragin Cajun has been killing it since the site launched, back in 2007–almost unnoticed. He's very quiet, almost mouse-like, going about his business of picking supreme winners whilst bench pressing 400 pounds of iron (he owns two gyms). There is something to be said about a person who dedicates his/her life towards the betterment of their body. I find these people to be motivated, disciplined, and most of the time successful.
Have a look at the recent winners by Ragin Cajun inside of the confines of 12631.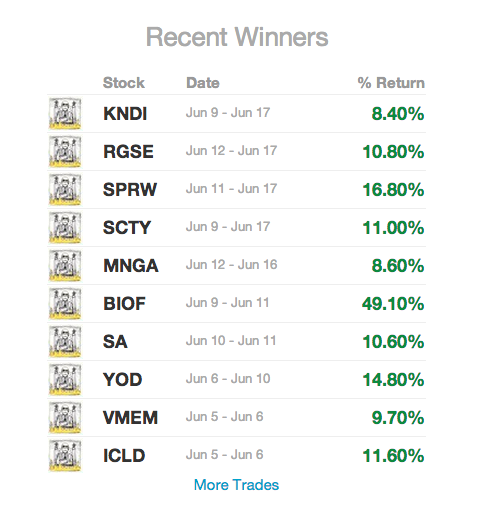 If any of you are on the fence about joining 12631, pay attention to the graphic I just posted above. As industry professionals, it's imperative that you invest in your research to help buttress your sales, otherwise clients will simply leave–head on over to Bill "Montauk" Ackman's joint. This is not to say that The PPT (investment tools), After Hours with Option Addict (After Hour's trading wrap up) and 12631 (real time trading room) aren't suited for the everyday Joe, desperately seeking to make enough money to take his family to the local Red Lobster. However, I can only relate to those who wear the same shoes that I am wearing and you'd be remiss to not tap into the wealth of information and industry experience that is being shared on a daily basis– within our private halls.
If you enjoy the content at iBankCoin, please follow us on Twitter