SHORT CARNIVAL CRUISE TO ZERO
The god damned tow lined snapped and people are now vomiting on one another, let alone slipping on fecal matter along the deck. The company, totally devoid of reason and rational thinking, offered their 4,200 passengers "full refunds" and coupons towards another cruise.
ROFL.
There are 10,000 well educated Jewish attorneys waiting at dock for  sewage soaked passengers to being filing claims. If I was on that ship ("The Fly" doesn't travel on cruise ships, but privately owned aircraft carriers), I'd sue CCL until every single member of their counsel died. I'd sue them for the rest of my life, for an unprecedented amount of money. With the wins, I'd take the money and short more CCL–until it hit $00.00.
"There's poop and urine all along the floor," Renee Shanar, of Houston, said from her cellphone aboard the ship. "The floor is flooded with sewer water … and we had to poop in bags."

The ship was in sight of the Alabama shore Thursday afternoon when the tow line broke.

Until the repair is complete, the ship is "dead in the water and when they reconnect safely, they then proceed on their way," Coast Guard Petty Officer William Colclough said.

The 14-story ship still has to negotiate a tricky shipping channel before it could dock. Before the line broke, the ship was traveling about 5 mph.

Television images from CNN showed passengers with signs of "Help" and "I love you" hanging from their cabin rooms. Others walked around the deck, some waving to the helicopters flying above. People in boats, presumably officials from Carnival, the Coast Guard and Customs, have boarded the ship.

Shanar, who is on the ship with her husband, said the couple had a cabin with no windows, so they have been sleeping outside for days. She said the food has been distributed on the 9th floor, and some of the elderly have needed younger people to bring it to them. They were initially only given cold cuts, like turkey and vegetable sandwiches. Then another cruise line dropped off hamburgers and chicken sandwiches, but the line for that fare was nearly four hours long.

"And then people started getting sick from the food," she said.
source
There is a whole new breed of animal on that boat, marinating in sun baked urine– sustaining themselves on raw onion sandwiches.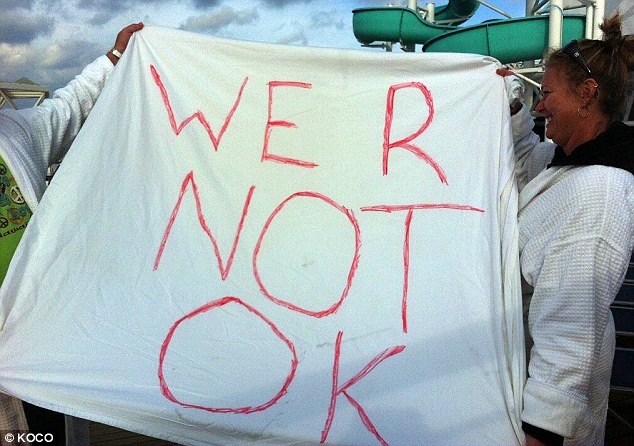 The company has disputed the accounts of passengers who describe the ship as filthy, saying employees are doing everything to ensure people are comfortable.
Imbecille!
"It says the room smells like an outhouse, there's no air conditioning, cold water only," Lanier says, holding up his cell phone with the texts. "She says the toilet hasn't worked in three-and-a-half days."

Another Houston resident with a wife on board the ship, 49-year-old Mike Padilla, was in high spirits as he arrived at the port today and said his wife was handling the situation well.

"She said it was like a tent city, that it was like a big camping trip for her," Padilla says. "She said they were still having fun and still trying to make the best of it."

And this…
Previous Posts by The Fly
34 Responses to SHORT CARNIVAL CRUISE TO ZERO
What a hoot. They expected a wonderful vacation, and received a taste of what the future may bring.
I wonder what the water slides are like?
"mud wrestling"
There's nothing more 'Murican then sitting back on your Lay-Zee Boy, watching your 60″ LED screen, while chuckling at the fecalocalypse happening to other people.
I can't stop laughing…I can't stop laughing…
Scotty, we need some power, We're dead in the water here!
(in Scottish accent):
Sorry Cap'n, I canna do it, there's sh_t runnin down the engine room walls ere, en mi engineers have crrrapped ther pants.
I'm squishing when I walk on the pee soaked carpets ere and a passanger just kicked me in the balls for mi olive pit sandwhioch…
Lol
Have you ever seen a literal piece of shit floating on water? The Tri-humph reminds me of that.
I equate people that enjoy the "cruise experience" to people that have memberships to KOA campgrounds.
Well, for once all that poop and pee is staying on the ship, instead of being discharged into the sea?
Five days is a long time, but really this is more about being stuck with 4,199 other people in a confined space, with the marketing illusion shattered.
It's bad mostly because too many of them are probably freaking out.
Wait till they see poverty or hopelessness with no tow line in sight.
They will never come home. The Carnival Triumph will forever be stuck at sea.
ROTFLMFAO !!!!
If I were one of the passengers, I would slip and fall in the fecal matter and "injure" myself while my wife happens to be taking video of the beautiful sights but catches my fall within camera view.
Without that, a judge will compensate these folks for damages which,m at best, is the cost of the trip.
I wouldn't be surprised if they had four good days on the trip before this shit happened, they'd get a pro-rated refund from the court.
It would be better if when you slipped that you went overboard and then she could have a wrongful death suit.
Before you do this check with an attorney specializing in admiralty law – different rules, etc.
I heard a woman on the ship who lived in Kosovo right after the war. She said the ship was many, many times worse!
Go look what Ichan did to Ackman on HLF.. epic squeeze
'Don't fuck with me' Carl just pulled out his bazooka
Might I suggest a group photo of everybody around the pool taking a piss.
I would poop in the pool.
I have a stock question Fly.
Here is the scenario:
I buy stock and 3 years later it has doubled in price. I sell the stock and on the same day buy another stock with all the money I won.
My question is does the government tax me on the profits even though I moved it into a different stock?
I would say absolutely.
Unless you can somehow 1031 exchange stocks…
Distressed IDEA: OCZ
My fantasy
Why cant a helicopter drop port a potties and supplies down?
For 4000 people? Wouldn't be long before the portapotties overflow.
This is why I don't do cruises.
Trapped like rats in a floating petri dish.
Just wondering if they serve ice cream on the ship?
I am dumbfounded when people announce that they are going to buy the stock because they think the situation is not that bad and the public will forget.
Did Fly just say "ROFL"?
Jesus, bring back the "fucks". This is an adult site after all.
MUNCH better awlreddy. thx
Sounds like a floating FEMA camp, glad I'm not there.
If I were the CEO of Carnival, I make an offer to a drunk, deranged Russian submarine captain to put a torpedo through that fucker. Insurance would probably cover most of the lawsuits and he could play the "victim of terrorism" sympathy card.
What a bunch of pampered wimps we all have become. Sure, it stinks and really isn't what you had planned for – but Suck It Up Buttercup.
I really feel other homepage creators ought to consider this particular internet site as a model. Surprisingly clean and user friendly layout, as well as incredible articles! You're experienced regarding this excellent topic
I think other sorts of site lovers would need to take into consideration this amazing site as a model. Totally clean and intuitive design and style, along with really good information! You're very skilled within this important topic